August 17, 2016
Groundbreaking ceremony launches Byram Pool construction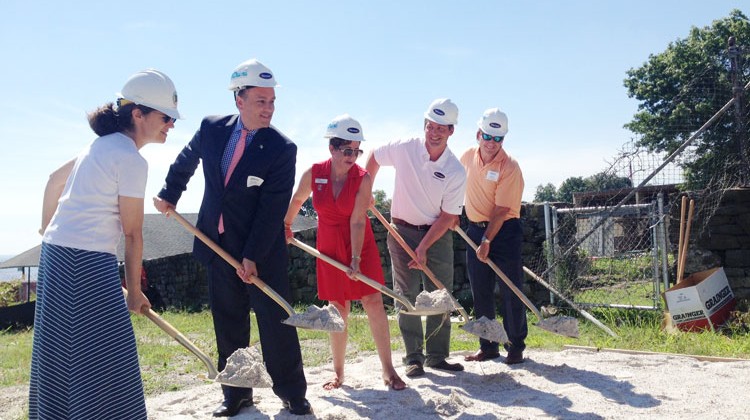 On Monday, Aug. 15, a significant milestone occurred for The Greenwich Pool in Byram Park – the groundbreaking ceremony for a new outdoor community pool facility.
Hosted by the Junior League of Greenwich, the groundbreaking ceremony celebrated the public-private partnership and all those who worked together to bring this project to life.
In attendance were First Selectman, Peter Tesei, the President of the Junior League of Greenwich, Sue Moretti Rogers, the Director of Public Works, Amy Siebert, the Superintendent of the Building Construction
& Maintenance Division, Alan Monelli, the Superintendent of Marine Facilities, Jeff Freidag, The Greenwich Pool in Byram Park Co-Chairs, Carisa Sykes and Debby Lash, The Greenwich Pool in Byram Park Committee members, the Board of Directors of the Junior League of Greenwich, and Board of Estimate and Taxation members.
Peter Tesei has said, "Historically the Town of Greenwich has benefitted from the generosity of many individuals. Public-private partnerships provide opportunities for citizens to demonstrate their support and participate in community improvement projects. The Junior League has consistently been a valued partner and we greatly appreciate their participation in the revitalization of Byram Park and the construction of a new pool to benefit the entire Greenwich community."
In 2010, a public-private partnership between the Junior League of Greenwich and the Town of Greenwich was created to revitalize Byram Park. The new pool complex was designed by Weston & Sampson and includes a main pool with zero depth entry, a kiddie pool, splash pad, and a pool pavilion with restrooms, changing rooms, lifeguard station and concession stand. The pool is scheduled to open in the summer of 2018.
The Greenwich Pool in Byram Park is the centerpiece of the Byram Park Master Plan, a municipal capital improvement project to revitalize Byram Park that will enable all residents to take full advantage of one of the oldest and most beautiful parks in Greenwich. Children, families and seniors will have a welcoming community pool where they can gather and enjoy healthy recreation. The revitalized park will be a great place to swim, play and relax. Funding will be provided by the Town of Greenwich, the Junior League of Greenwich, individuals, foundations and corporations.
For more information, visit jlgreenwich.org/greenwich-pool-and-byram-park
Tags:
Byram Pool Park
,
greenwich
,
groundbreaking ceremony
,
JLG