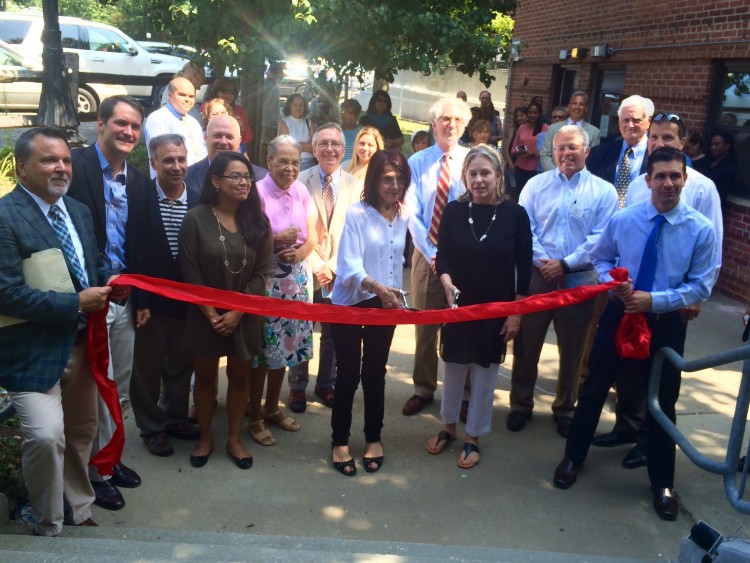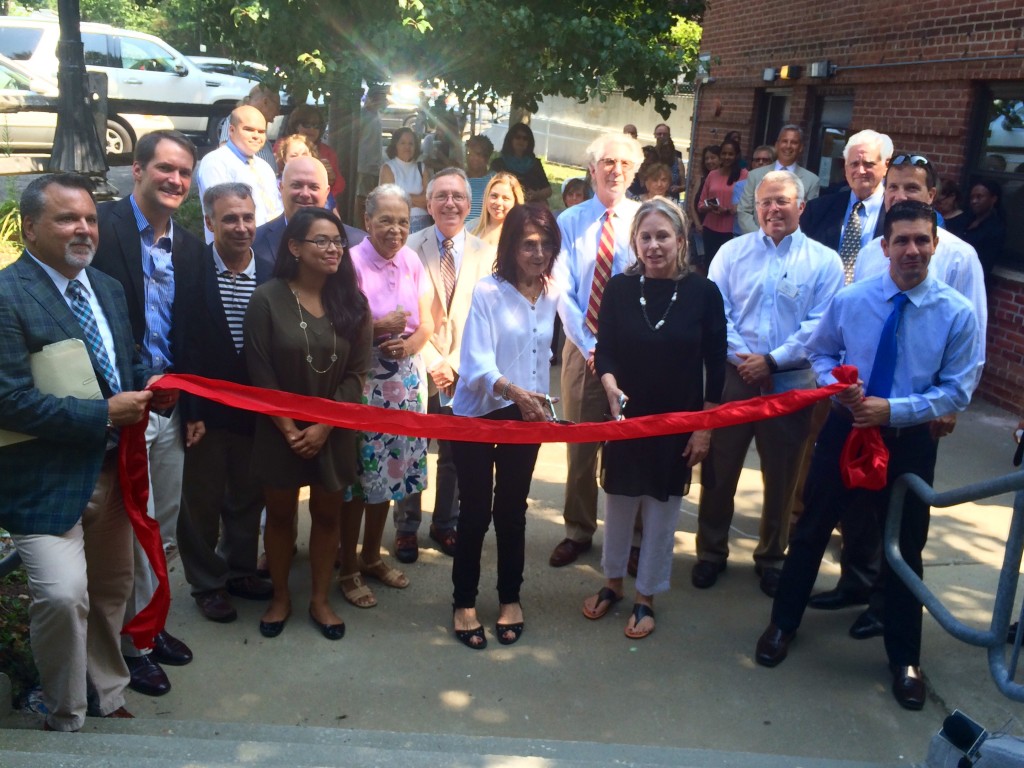 Family Centers and Wilbur Peck Court celebrated the opening of the new Family Centers Health Care Clinic, which is embedded into the public housing community, with a ribbon cutting ceremony Monday morning.
Elected officials including U.S. Rep. Jim Himes, Selectman John Toner, and state Reps. Fred Camillo and Mike Bocchino were on hand for the opening of the easily accessible health clinic.
"We knew that folks in Greenwich, who were primarily living in public housing, who were having to go to either Stamford or Port Chester for medical care, or they would end up at the emergency room of Greenwich Hospital for just routine care," said Dennis Torres, Family Centers' director of Health Care Programs. "We wanted to expand the access, right here on-site, where there is very little excuse for missing an appointment."
Staffed by nurse practitioners, dentists and other professionals, the Federally Qualified Health Center (FQHC) will provide health service to children and adults living in Greenwich Public Housing communities and in surrounding neighborhoods.
"I couldn't be happier or prouder to have Family Centers have this facility in one of our properties," said Anthony Johnson, executive director of the Housing Authority of Greenwich. "It's going to be an asset to the community as a walk-in clinic, a place for general healthcare diagnostics and dental care. I think it's a tremendous asset. I think housing authorities around the country should take this as a model and put them in all of their facilities."
Johnson added that if any future projects are slated for large enough facilities, incorporating this kind of health care facility would be ideal.
The path to getting the Family Centers Health Care Clinic to the Wilbur Peck Court housing community was not always smooth; it took multiple attempts to finally secure federal funding for operating expenses.
"It's hard to believe, but it's almost two years now since we applied for that grant," said Torres. "We waited many months, and were initially rejected. We did at one point receive a letter from U.S. Department of Health and Human Services (HHS) saying the proposal scored well and was well liked." 
The roughly 1,300–square–foot building holds three exam rooms, one dental operating room and three other swing offices located just steps away from the housing community.
Torres added, "At the end of last summer, the administration made another large sum of money available for access health clinics. One of the strengths of our proposals was that this clinic was to be embedded within public housing. It's just a dream to be able to stand here and to open up this clinic."
Robert Arnold, president of Family Centers, Inc., said the efforts of all those involved, especially those of Molly Byrne and Arlene and Reuben Mark, helped make the opening of the brand new facility possible.
"Needless to say, we are really indebted to the Greenwich Housing Authority for partnering with us from day one to make this a reality," said Arnold. "It says a lot about the Housing Authority and how much they care about residents and the people in Greenwich. All of us at Family Centers are enormously grateful for the efforts and energy that each of you has brought so far." 
"My first taste of public service was to be a commissioner of the Housing Authority here in Greenwich," said Himes. "It's not an easy job, and certainly not an easy challenge to try and build and maintain affordable housing and good economic opportunity in a community like Greenwich—although I will say, compared to what I do now, it's pretty easy. I sort of feel like I am coming home here."
Himes rejected Greenwich stereotypes by referencing the economic diversity in the town.
"People stereotype Greenwich," said Himes. "Greenwich becomes this thing of there is only very wealthy people here, and that of course is not true. It is a strength of Greenwich that we have a lot more diversity than people think that we do, including economic diversity. What I mean by that is that we have a fair amount of citizens here, even in the very affluent town of Greenwich, who are economically challenged. As the commissioner of the Housing Authority, I got to know that. An awful amount of people live their lives not actually getting to know the folks that live in places like Wilbur Peck that don't have the advantages of an awful lot of the community that does live in the more affluent parts of town.
"Just because you live in the middle of Greenwich, doesn't mean you don't struggle to get access to employment and healthcare," Himes continued. "This is a huge step forward for a population of people that sometimes don't have those connections that so many of their neighbors do. Greenwich is strengthened by the diversity that we have here."
Tours of the facility were available, and many of the staff were there to greet neighbors and possible future clients. For many of them, the thrill of a new facility and new equipment has them eagerly waiting for their first patients.
"When I saw patients that say they were waiting for two months for a root canal, I was so glad we opened here," said Dr. Ishrat Rangwala, who will serve as the clinic's dentist.
"The most exciting part is to be busy and working," Dr. Rangwala said. "We are booked for the entire rest of the day!"