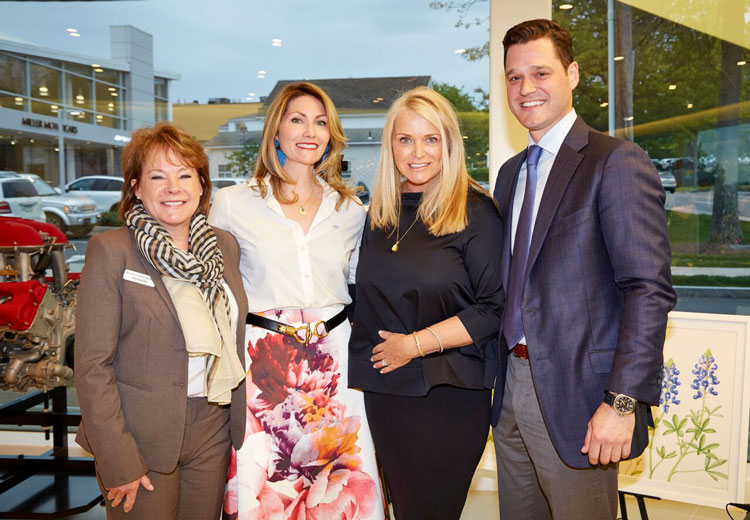 The American Diabetes Association kicked off the 2016 Change the Future Chef Event with a patron reception at Miller Motorcars' Ferrari Maserati Showroom on May 18. 125 guests were treated to a display of some of the world's finest motorcars.
Co-chairs of the event are Shelly Tretter Lynch, James Parker, Taylor Kearns and artist Sandra Harris (creator of this year's logo) announced their plans for the featured event, the ADA Chef Event on Nov. 15, when Master Chefs will prepare a unique and interactive multi-media farm-to- plate culinary experience at the Greenwich Country Club.
The evening will include a reception featuring hors d'oeuvres and aperitifs followed by a seated five-course dinner with wine pairings. Through a live feed from the kitchen to the ballroom, guests will be able to participate in a cooking adventure in real time, guided by Master Chefs including Chef Rui Correia of Douro Restaurant,Chef Frederic Kieffer of l'escale, Chef Adam Truelove of Fleihers Craft Kitchen, Chefs Lisa and Stephen Maronian of Sweet Lisa's, Chef Edward Varipapa of Leon's Restaurant, and Chef Marc Weber, of On the Marc.
This gathering of talented chefs will benefit the Connecticut American Diabetes Association and its "Stop Diabetes" campaign. Over the last three years nearly $400,000 has been raised for research, education and advocacy.
For more information about volunteering, underwriting, sponsorship, and tickets, please contact Hope Jayes at 203-639-0385, ext. 3536 or hjayes@diabetes.org.