July 9, 2016
Greenwich Crew Solid At Youth Nationals Regatta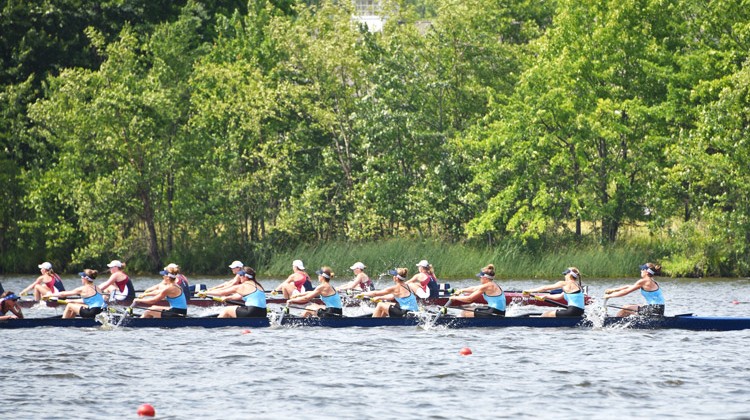 By Evan Triantafilidis
Sentinel Reporter
The Cos Cob-based Greenwich Crew celebrated a trip to this year's US Rowing Youth National Regatta, held at Mercer Lake in New Jersey, with the program's most successful spring season in their 10-year history.
Greenwich Crew sent 23 athletes to the event last month and qualified more boats than ever before to compete in the Youth National Regatta.
"To reach those levels on the national stage for both the boys and girls is just awesome," said program director Mike Wieneke. "The kids really feed off each other's success. I think it really bodes well for the program to continue to grow."
The lightweight women's coxed four, made up by Lindsey DeVore, Jackie Steinman, Isabelle Myers, Camille Boylan and Maxine McMillan. finished fourth overall nationally in this year's event. The boat finished in fourth place in the A final.
In the lightweight men's double sculls, rowers Eric Lee and Jack Seavey placed sixth in the A final and 6th overall.
Head Coaches Heidi Hunsberger and Rob Montague, along with Assistant Coach Catherine Starr, led each crew to maximize their potential throughout the season, with outstanding results.
"The athletes surpassed our expectations this weekend and represented the Northeast Region well," said head coach Hunsberger.
The women's eight, coxed by Leeloo Gilet, brought a mix of veteran and novice rowers to compete in the national event.
Amanda Pyne, Daisy DeVore, Laura Navarrete, Clara Chambers, Sofia de la Sierra, Lucy Koven, Molly Lesser, Natasha Neitzell and Gilet scored a first place finish in the B final, placing seventh overall.
Just missing the chance to compete in the semi-final round, the women's quadruple sculls proved strong with a first place finish in the C final.
The boat's sprint in the last 250 meters edged out the leader and earned the top spot, ranking 13th overall for rowers Madison van Meel, Alexandra Lee, Mary-Ward Freydberg and Abby Lehman.
Assistant coach Starr added that, "this was a team effort top to bottom and really does speak to the depth of our team. The successes these kids had come from a team atmosphere that pushes them day in and day out."
The team, which trains at Greenwich Water Club in Cos Cob and is sponsored by club owner Rick Kral, took advantage of many of the town's resources to rigorously prepare for the Northeast Regionals before placing in the US Youth Regatta.
"You're training to perfect a motion you are doing over and over again," Wieneke said. "Experiencing the natural resources we have in town like the Mianus River and the Long Island Sound, they really started to bond."
The four crews had to place in the top three of their respective regional rowing events which were held earlier in the season in Worcester, MA.
"It's really a team effort," Wieneke said. "I know some of the coaches are celebrating their success and still preparing for the fall season. The kids are already starting to train."
Tags:
Crew
,
greenwich
,
Greenwich Crew
,
US Rowing
,
US Rowing Youth National Regatta
,
Youth Nationals