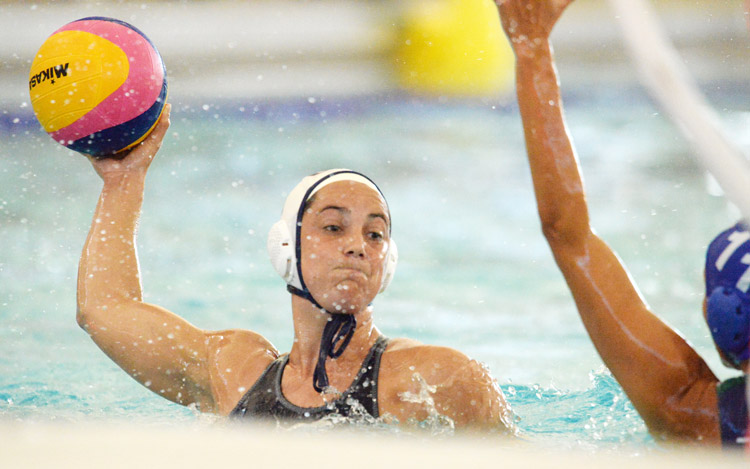 By Evan Triantafilidis
Sentinel Reporter
All eyes were on Team USA last week, as the Women's Water Polo National Team held an open practice and game at the Greenwich YMCA versus the Hungary National Team.
As part of a three-game series with Hungary, as well as a tune-up for the Olympics in Rio later this summer, the USA National Team put on a show in front of local fans, swimmers and polo players of all ages in the 11-6 victory.
"This is thrilling," said CEO of the YMCA, Bob DeAngelo. "It's probably a pre-Gold medal game. For our swimmers and water polo players here, it's a classic role model moment. This is what you aspire to do in representing your country. I'm really excited for the kids of the Y."
Bleachers were filled to capacity during the morning practice and by game time in the afternoon. The sold out event brought out athletes of the Y who wanted to get a glimpse of an Olympic-level match.
"I think we built this pool to have moments like this for families, their kids and all the people associated with aquatics," DeAngelo said.
On hand was players Tate Robinson and Larissa Hodzic, who both said they were at the YMCA to see the higher level of play in hopes of helping their own water polo career.
"This is awesome because we don't have teams from the northeast ever come up here," said Robinson, a water polo player from Mamaroneck, N.Y. "Our girls team won gold four years ago at the Olympics and these are the best two teams in the world."
Hodzic, a player of four years herself and a member of the Greenwich Y Water Polo team in attendance, said it was a great moment to watch the National team in her local pool.
"They aren't always here," Hodzic said. "We don't usually get too many people to come out for water polo."
A morning practice was filled with local fans as Team USA head coach Adam Krikorian geared up his team for a second meeting with Hungary in preparation for the Olympic games this summer in Rio.
"Obviously, the Olympics are around the corner so it's an exciting time not just for our team, but for our entire country," Krikorian said. "We try and take advantage of the excitement and the thrill of the Olympic games. One of our goals as an organization and as a team is to just grow the sport."
With 12 team members hailing from Southern California, and just one player from Florida, the team hopes to expand its popularity to other towns like Greenwich, who already have a notable aquatics program at the high school level.
"We've gotten some great support from this area," Krikorian said. "We also want to give back for all that they've given to us."
Rachel Fattal, an attacker and goal scorer Wednesday night, said the rare home game gave the United States a much needed boost, even if it was from the not-so-familiar East Coast.
"It means a lot to represent the US," Fattal said. "We haven't played them [Hungary] in a long time and it's really fun to be able to play them in our home country. I think any time we have games here, which isn't really that often, it's awesome to see the support we get when we do play here. We usually travel a lot, so to be able to show off in front of our country at home is so nice."
Fattal, who plays for UCLA as a rising senior, says the crowd at the Greenwich YMCA was a good sign of things to come for the sport of water polo.
"I think since water polo is so big in southern California, which is where a lot of us are from, being able to come somewhere like Greenwich, it's nice to see that water polo is so big here too," Fattal said. "We want to keep growing it."
Just four years removed from a gold medal performance, former goalie for Team USA Betsy Armstrong cheered on her former teammates to victory alongside the loud Greenwich crowd.
"I grew up in Michigan and I rarely got the opportunity to see a team like the Olympic team come and play a live match in front of us," Armstrong said. "These kids are sitting on the pool deck not even five yards away from Olympic gold medalists and world champions. It's really cool to see how inspiring it is for these kids. These are the moments that they will remember when they pursue collegiate careers."
The gold medalist said that the experience with the National team in London in 2012 highlighted her career with a team she still misses.
"The opportunity to get to know my teammates and to pursue our dreams together in London was so special," Armstrong said.
When the match ended, the victors signed autographs for young fans and athletes who had seen them from the early morning practice to the entertaining nightcap of a game.
"We really enjoy getting the youth inspired, whether they continue all the way with the sport or not, it's getting them to be passionate about something," Krikorian said. "We try to convey those life lessons that we've all learned from playing this sport of water polo. It's one of the most difficult sports in the world to play and because of that, there are so many lessons to be learned. If we can have any type of positive impact on these kids being here for 48 hours, it's well worth the trip."