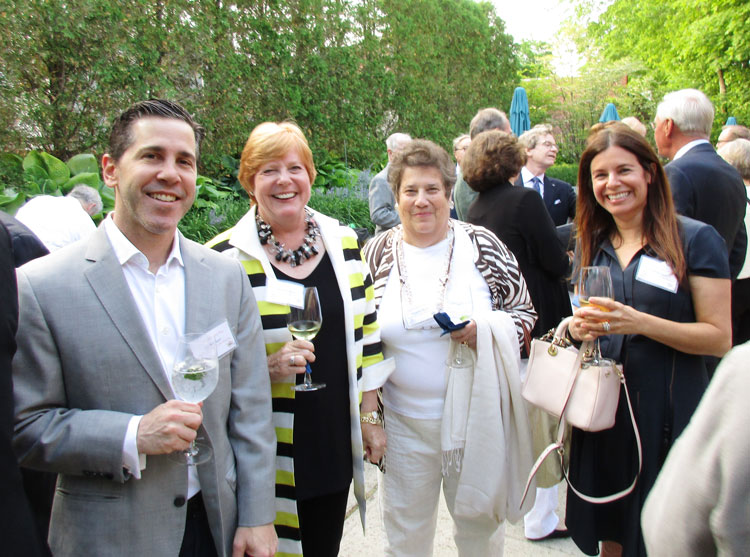 Approximately 40 members of the Greenwich United Way's Alexis de Tocqueville Society met for a private dinner event on June 2 at River House Adult Day Center, a funded agency of the Greenwich United Way. The Tocqueville Society recognizes those whose generous contributions to the Greenwich United Way over the past year total $10,000 and above. As a group, Tocqueville members contribute almost one half of the Annual Campaign funds at Greenwich United Way.
The evening began with a cocktail hour on the River House patio followed by dinner indoors enjoying the River House view. Greenwich United Way Board Member, Marie Woodburn and her husband Bill, kicked off the event with a warm welcome. Board Chair, Karen Keegan, followed with a list of this year's highlights and accomplishments. "In September last year, we kicked off our annual campaign at Town Hall featuring First Selectman Peter Tesei and keynote speaker Rafael Pagan, Executive Director of our partner agency 'Shelter for the Homeless'. As of today, we are $35,000 away from meeting our goal – checking the mail daily looking for pledges we believe are on the way!"
Greenwich United Way CEO, David Rabin inspired attendees with his vision on the future of the organization and plans for the year ahead. Later in the evening Rabin led a Q&A discussion and then turned the stage over to Jeremy Nappi who wrapped up the evening with a list of upcoming fundraisers and events. Nappi highlighted the organization's Annual Campaign kickoff at Greenwich Hospital on Sept. 21 and the annual comedy night better known as "Brew Ha Ha" which will take place on Sept. 30.