June 7, 2016
Greenwich Tracksters Battle the Best at CIAC Opens Meet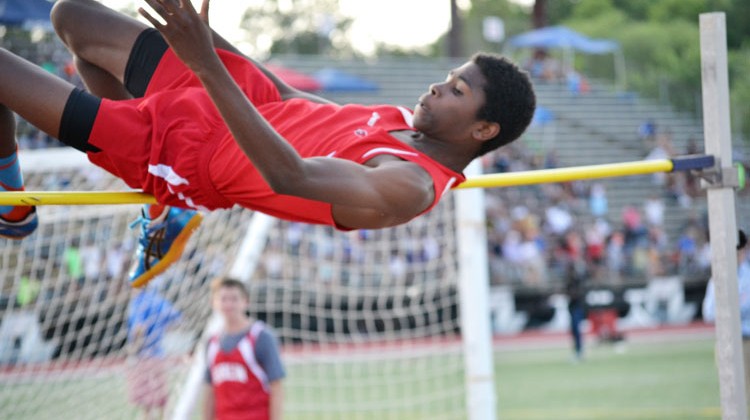 After a highly-successful divisional meet last week, there was little time for celebration for the Greenwich High School boys and girls track and field teams.
On Monday afternoon, Big Red was back in action at the CIAC state open championships.
During the meet, held at Willow Brook Park in New Britain, the Cardinals once again made some noise. The girls squad took home 26 points and that was good enough for eighth overall.
"The girls, once again, did really well," Greenwich High girls track head coach Evan Dubin said. "They are living up to their expectations and not letting down. They are starting to believe in themselves and their performances and it's showing. Selfishly they would have liked to run faster, but when you have so many people finish in the top six today to make it to New Englands, it's not that shabby."
Not to be outdone was the GHS boys team, as they grabbed 16 points and finished 12th during Opens.
"There is just so much potential here," Greenwich boys head coach Brian Robbins said. "What builds a good program is the ability to have young athletes and progressing them to better themselves. We have improved so much since the start of the season. You want to be in these competitions and be subjected to the highest profile competition in the state."
The Lady Cardinals were led by sophomore Emily Phillippides, as she struck gold during the 800-meter run. Her time of 2:11.90 was good enough for top honors and beat second-place Anexandra Alsup of Coginchaug by over two seconds.
"I was really excited to run this race and really wanted to win this because I won the 600-meter indoor race this past winter season," Phillippides said. "So I took it out hard and I was hoping for a PR. I got the win and the PR, so I was excited."
Dubin said that what sets Phillippides apart from other athletes is that while other people want to win, Phillippides doesn't want to lose.
"Just watching her races, she never gets chased down from behind," Dubin said. "When she needs to find that extra gear, she will find it. She just does not lose."
In addition to her championship-winning time in the 800-meter run, Phillippides also helped three relay teams advance to the New England championships.
"For her, as a sophomore, to be state champion again is amazing," Dubin said. "She did it in the winter season in the 600 and to do it again today with her fastest time ever in the 800 is great. She did that after already running the 4×800-meter relay and that just shows the type of athlete she really is and the heart that she has."
Competing in the 4×100-meter relay, Phillippides, along with senior Jenna Restieri, sophomore Katherine Gallagher and senior Treloara Harrisson grabbed fifth place overall and a time of 49.71 seconds. They beat out New Britain, who finished sixth with a time of 49.84.
During the final event of the day, the 4×400-meter relay, Phillippides, along with freshman Jordan Numme, sophomore Hetty McMillan and senior Caroline Frey ended the day fifth overall, netting a time of 3:58.28.
Ridgefield wasn't far behind, posting a score of 3:58.82, but GHS was able to edge them out.
The dynamic duo of Numme and Phillipiddes, along with junior Kristen Lodato and McMillan, teamed up in the 4×800-meter relay and had a stellar outing, taking fourth on the day with a time of 9:26.72.
"I feel like everybody kind of knows each other going into the meet," Phillippides said. "I knew who my competition would be and a lot of them are from the FCIAC and class LL, so I got to race them a few times beforehand and that helped out a lot. There's a lot of talent here, but the competition level and excitement is a lot different from what you get at the beginning of the season."
While Phillippides had a meet to remember, Numme also wasn't to be denied individually.
"Today was very intense, with so many talented people being here," Numme said. "I didn't do as well as I was hoping, but I am very happy with my placements in my events. This event today was very intimidating. I classify myself with the very talented people, so I am kind of annoyed when I don't do as well as I hoped. But then I remember that I am competing against the best in the state."
Battling in the 400-meter dash, Numme advanced to Saturday's New England championship by placing sixth overall, crossing the finish line with a time of 59.03.
"As a freshman to qualify for New Englands in the 400 is huge," Dubin said. "We were hoping that would happen, but for it to actually happen is really exciting. She's such a strong runner."
On the boys side, the team was paced by yet another dominating performance from junior high jumper Safir Scott. 
After cruising to the class LL title last week, Safir came back at Opens and set a personal best. His height of 6-08 was good enough to take the gold and was the lone athlete to clear that height.
"This feels really great," Safir said. "I got a PR today and I am hoping for that 6-10 in my next meet. I was confident coming into this meet but halfway through I got a little iffy because it looked like I was going to come in fourth place. But then I got a strong leg and got 6-06 on my second attempt. The other competitors got 6-60 on their third attempt and that put me in the lead and then I hit that 6-08."
Despite clinching the gold medal, Safir wasn't satisfied and took three runs at 6-10 before calling it a day.
"It's amazing that he jumped 6-08 and still wants to try to get 6-10," Robbins said. "It doesn't get better than that. He already won the competition, but to still have that fire and try for a higher jump is just great."
The Cardinals got five more points in the field events, courtesy of senior Joseph Lanni. Competing in the javelin throw, Lanni launched a distance of 168-09 and that was good enough for fourth place overall.
In fact, Lanni was less than a foot away from beating out Lyman Memorial's Cooper Clang for third on the day.
"Joey throwing that distance was nice," Robbins said. "It wasn't his best day, but still he went out and competed. He put out a throw that was a top performance and can now compete at New Englands. That's what it's all about today, to continue your season and he was able to do that today."
In the track events, the GHS boys foursome of senior Sebastian Oe, sophomore Georgios Karakadas, senior Andrew Kates and senior Kieran Carroll battled in the 4×800-meter relay event and place in the top 10. Their time of 8:10.32 was good enough for eighth overall.
Both the Greenwich boys and girls teams will be back in action Saturday as they once again return to Willow Brook Park for competition in the New England championship meet.
"It's really nice to see that the hard work we put in on a daily basis and the fun that we're having in practice really paid off at big meets like this," Dubin said. "Having the success with a lot of the team, instead of a few people, will only make the future brighter here."
Tags:
Bruce Robbins
,
CIAC
,
class LL
,
cttrack
,
Evan Dubin
,
FCIAC
,
greenwich
,
Greenwich Track
,
New Britain
,
Opens
,
Willow Brook Park