June 7, 2016
Garden Catering-stepping up for Kids in Crisis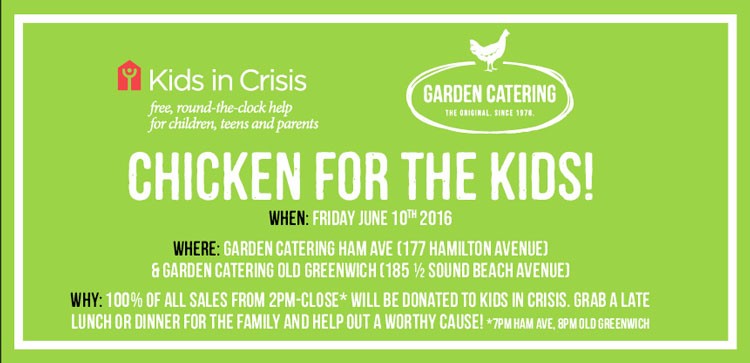 On Friday, June 10, both of Garden Catering's Greenwich locations will be donating 100% of sales to Kids in Crisis. Frank Carpenteri Jr., co-owner of Garden Catering, has grown up in Greenwich and has seen the value that Kids in Crisis provides. "Typically, we'll donate 10-15% of sales to an organization during these types of fundraisers, but we wanted to do something special for Kids in Crisis. We understand the current funding gap is quite large so we wanted to do something that would create an even bigger giving opportunity than our regular fundraiser."
The two participating stores are Garden Catering Old Greenwich, located on 185 ½ Sound Beach Avenue in Old Greenwich, and Garden Catering Hamilton Avenue, located in the Chickahominy section of Greenwich, on 177 Hamilton Avenue. The fundraisers will start at 2 p.m., and run until close. Garden Catering Old Greenwich closes at 8 p.m., and Hamilton Avenue at 7 p.m.
Carpenteri Jr. hopes to raise several thousand dollars, and will also be donating 25% of all gift card sales sold that afternoon. "It's graduation season, so I'm hoping in addition to walk in customers, there will be those who purchase a lot of Garden Catering gift cards for their recent grads."
For more information on how you can help Kids in Crisis, please visit kidsincrisis.org.
Tags:
donating
,
Garden Catering
,
greenwich
,
Kids in Crisis
,
sales