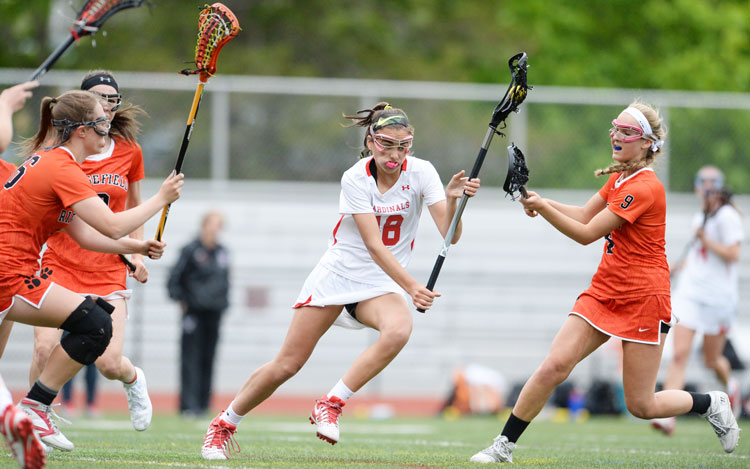 In a back-and-forth matchup between two familiar foes, where overtime was needed to name a winner, the Greenwich High girls lacrosse team took down Ridgefield High 12-11 in the quarterfinals of the Class L tournament with a thrilling game-winning shot two minutes into the extra session, courtesy of GHS' Erika Bloes. 
Tied at 11-11 at the end of regulation, the scenario was routine for a matchup between the FCIAC rivals. Ridgefield had beaten Greenwich just two weeks prior to Thursday's matchup in the regular season finale, coming out victorious in an 8-7 overtime win.
This time around, the seventh-seeded Lady Cardinals flipped the script on the second-seeded Tigers, tying the game with three minutes left in regulation and securing a trip to the Class L semifinals with a minute left in overtime, as Kathryn Harford found a cutting Erika Bloes to earn their satisfying revenge.
OT Game Winner for @ghs_girlslax in 12-11 win over Ridgefield #ctglax pic.twitter.com/YkckcNMh88

— Sentinel Sports (@GSentSports) June 2, 2016
"We definitely didn't want to force it on our final possession," Bloes said. "Sloane Caan came up with the best draw ever right off the defensive line. I saw an opening and went as fast as I could. Katie Harford fed it to me and I shot it as hard as I could into the back of the net."
Bloes' third goal of the game ended the Tigers' remarkable 14-1-1 regular season and lifted Greenwich to the semifinals next Tuesday to play Fairfield Warde.
"This means the world to us," Bloes said. "We did it for our seniors and for them to have another game. We got kicked out of states in the quarterfinals last year and being able to go on to semi's is such a great feeling."
The Lady Cardinals sought and found revenge with a strong end to the first half and by being able to keep up with the pace Ridgefield set early.
A bounce shot from Ridgefield's Allyson Myers got the scoring started and it was followed shortly by a Caroline Curnal shot and score to make it 2-0 Ridgefield in the first five minutes of play.
Elizabeth Lufkin got Greenwich on the board with a goal in the seventh minute, but Ridgefield retaliated with two goals of their own (both by Curnal) to open up a 4-1 lead over Greenwich.
A timeout to regroup and settle down proved to be effective for the Lady Cardinals, as they would go on a 5-2 run to close out the first half, including four straight to end the half – with three coming in the final 90 seconds of play before the halftime buzzer went off.
The scoreboard read a score of 6-6 headed into the half, but Greenwich held all the momentum with the late scoring threat put on in the final seconds of the opening half.
"These guys are a resilient bunch," said GHS head coach Caitlin Young. "We've both comeback in some other games this year and held the lead in a bunch, so I think we're battle-tested there. As a coach, I gave them a little bit of a challenge to get back on defense and they responded."
The Tigers and Cardinals traded leads for all of the second half, with goals coming from Harford, two second-half scores for Maggie O'Gorman, Bloes and Genevieve DeWinter on the Greenwich side.
For Ridgefield, Curnal turned in a four-goal game with her teammate Myers pitched Iin four goals as well, with three coming in the second half of play.
DeWinter's shot with 3:15 left to play in regulation sent the match to overtime, where Greenwich would capitalize on winning the opening faceoff.
Paige Mautner found Kathryn Harford open along the crease, as Bloes cut towards the goal, caught an on-target pass, and fired it into the back of the net.
"For Erika and Genevieve to step up, along with Elizabeth Lufkin on the draw, we've got a complete mid-attack lineup where every single person can score," Young said. "It's a great place to be in as a coach. It's great to have that confidence in so many kids."
For Ridgefield, an impressive season was dedicated to Cathryn "Carey" Depuy, an 18-year-old former teammate who died in a plane crash last September.
"Our seniors were very special," said Ridgefield head coach Cece Berger. "We had two captains but we had many leaders. They led the charge to bring this team together and to dedicate this for Carey. They spread that enthusiasm. They are a strong and amazing group. They played for 50 minutes like we asked them to, and we played for 51. Greenwich is a really good team and we beat them in overtime earlier."
Greenwich now advances to an all-FCIAC semifinals in the Class L tournament, with their semifinal match scheduled for next Tuesday against Fairfield Warde. The winner will meet the winner of Darien and Wilton.
"I'm super happy for Erika," Young said. "She's one of those kids that puts so much work in and she just loves the game. She's someone who has really stepped up for us this year."