May 20, 2016
Brunswick Baseball Claims FAA Title, 20-Win Season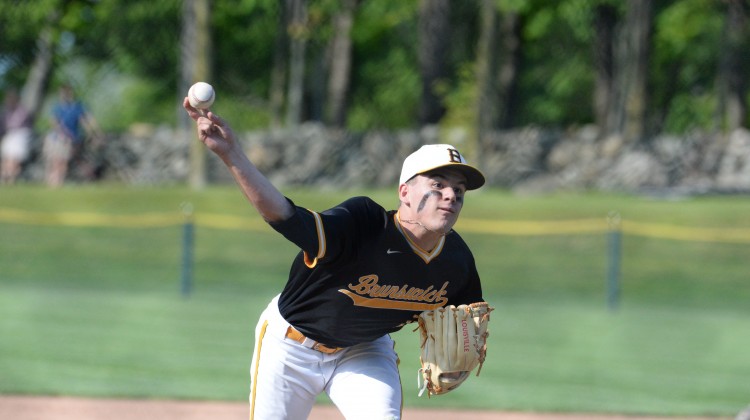 For the second consecutive year, the Brunswick baseball team captured an Fairchester Athletic Association title, capping off a 20-2 season while going undefeated in conference play.
The Bruins defeated Hamden Hall 7-1 in Friday's championship game behind solid performances on the mound from Teddy Sabato and Trevor Johnson.
"Every year these kids come out and give us their hearts and their dedication," said Brunswick head coach Johnny Montanez  "I'm so happy that the boys are rewarded for all their hard work. Hamden Hall is a really good team. We were able to control the tempo long enough to put some runs on the board."
Sabato wasted no time in the bottom of the first inning, as the senior leadoff hitter belted a homerun to left center, giving the Bruins an early 1-0 lead. In five innings of work, Sabato only allowed one run on one hit allowed.
"This means so much to us just for the fact that my boys — the six seniors on this team — we've been playing baseball together since we were 12-years-old," Sabato said following the win. "We've made some life-lasting memories playing together to get this last W. To win it two years in a row against the same team, we knew they were going to give us their all. It's a massive win for us and I'll never forget this." 
"After the pitcher got behind 1-0 in my first at-bat, he threw me a curveball that looked pretty good, but was called a high strike. I told myself to wait for it up again, and when it came around I put a good swing on it. It was a great way to start the game."
The Bruins never looked back, as Connor Redahan followed the tiebreaker with a one-hop double of his own. Aaron Sabato drove in the second run of the inning with an RBI single to give Brunswick an early 2-0 lead.
In the bottom of the second inning, Redahan hit a bases-loaded RBI single to bring the lead to 3-0, as the defense put out a second potential scorer on the play following a rundown.
Sabato tamed the Hornets in a superb outing from the mound, allowing his lone hit in the fifth inning to William Rhone who knocked in an RBI single to bring the game to 3-1.
"I was struggling with my command a little bit, but my defense was making so many plays out there," said Sabato. "Ground ball after ground ball, they were helping me out. I couldn't ask for better teammates behind me. They made every single play. My catcher Will Salomon was calling the right pitches every single time."
A Ryan Popp double to lead off the bottom of the fifth turned into another run scored for the Bruins, as Trystan Sacrone drove in the run with an RBI single.
Trevor Johnson would come in as a relief pitcher and held the Hornets scoreless the rest of the way through as his teammates mobbed him at the mound as the final out was made on a strikeout.
"We made a goal early to go undefeated in the league and to win a championship," Johnson said. "We accomplished our goal and went out on top. As a senior, that's really unbelievable. I'm really grateful we went out on top and I'm going to miss them so much."
 Just two days removed from their graduation day, the group of Brunswick seniors reminisced on their second consecutive FAA title and the program's fourth title in six years.
"Every one of us are brothers," said Sabato. "We're a big family. Coming out after our graduation to play in that semifinal game, we were mad that they wanted to play us without our best players, but getting that win after graduation was the greatest day. I couldn't ask to play on any other day, graduating gave us seniors that extra motivation."
For Brunswick, the early momentum from Sabato proved to fuel the Bruins all seven innings behind excellent defensive effort from the middle infield with Redahan at shortstop and Aaron Sabato at second base.
"When you got a one-hitter like Teddy [Sabato], who can run, hit for average and hit the ball out of the park, it's a luxury," said Montanez. "He's been doing it for us all year long."
Trevor Johnson's two strikeouts in the final inning of play shut down any comeback effort Hamden Hall had in their plans, as Brunswick defeated the Hornets for a third time this season — but no win as big as Friday's title game.
"I'd like to think that this class and this team is the best as Brunswick's ever had," Johnson said. "Especially this senior class as we've accomplished all of our goals and it's been unbelievable."
Tags:
Brunswick
,
FAA
,
Hamden Hall
,
NE Prep Baseball
,
NEPSAC