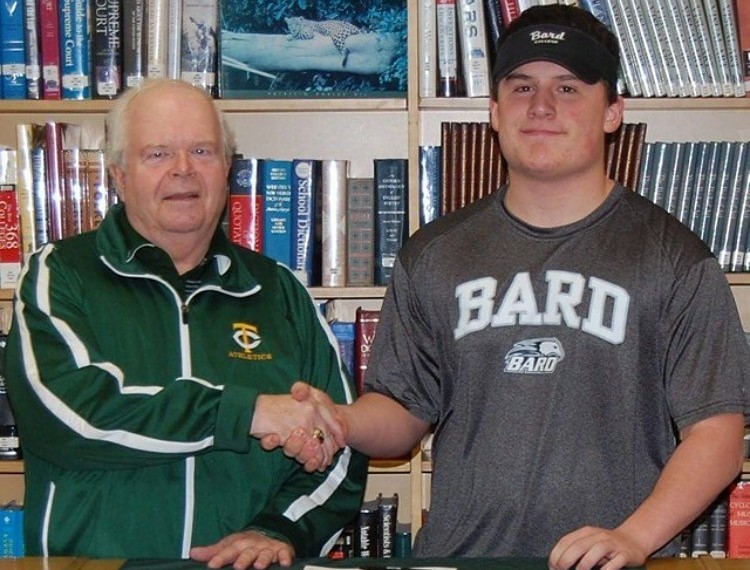 Growing up and residing in Riverside, Dillon Daine has put a twist on the meaning of home-field advantage.
As the first baseman for the Trinity Catholic High School baseball team in Stamford, Daine remembers and cherishes the time he played in Greenwich youth baseball leagues all the way up to the Greenwich Cannons American Legion team.
Now in his senior year, Daine is slated to meet his old baseball buddies at Greenwich High Wednesday for one final regular season matchup between the former teammates.
"It was weird coming out of eighth grade and knowing that I would never be on the same team as the Greenwich kids," Daine said. "Now for my last time being on the field with my Greenwich friends, it went by fast. I remember playing travel baseball with them, playing in-house leagues with them and growing up with these kids in Babe Ruth leagues."
Daine last played with the Greenwich Cannons during the summer of his freshman and sophomore years, but in his final high school season, Daine is one of three returning players for the Crusaders of Trinity Catholic.
"There is definitely a little rivalry, but it's always fun to play against them," Daine said.
The lefty-hitter had always been able to prove himself on the baseball diamond with his powerful swing and his reliable defense in the infield, but in his senior year, Daine has stepped up to the plate in a bigger way for his teammates as he prepares to make the jump to the collegiate ranks next season.
"In the past, I've been the guy to talk with my bat, talk with my glove and talk with my play," Daine said. "This year I've definitely stepped up as a leader. It just felt like something I needed to do this year and I got used to it pretty quickly."
Named to the All-East FCIAC team last year and advancing to the FCIAC semifinals, Daine received interest from schools around the area and committed to playing baseball at Bard College next year.
"College baseball has always been a dream of mine," Daine said. "When my mom and I went to visit Bard, I just fell in love with the school. It's the total package. Academically it's my best option and it's a beautiful campus right on the Hudson River. Athletically, they are only in their fourth year of NCAA baseball. They are a team on the rise. It's a great opportunity for me to get some early playing time and to make an impact."
"They also just added a $2 million turf field which I thought was awesome. They were really impressed with my swing, so I'd love to bring some power into their lineup and be one of their best hitters. Hopefully we can put Bard on the map and win some conference championships and you never know, maybe a D3 national championship."
It was a pair of swings from Daine last year that helped knock off the Cardinals in walkoff fashion, as a double from the lefty played a key role in the 6-5 win for Trinity Catholic.
With teams across the FCIAC fully aware of Daine's gap-to-gap power, pitchers have become hesitant to give the slugger a pitch to work with, resulting in an increased number of walks for the future collegiate athlete.
"I've been getting walked a lot lately," Daine said. "I've been very anxious to get a hit actually. A big part of my game this year is to keep the mindset right, relax at the place and look for singles. The extra base hits will come naturally if you have that mindset."
While the opportunities are at a premium for Daine this year, he says it gives him the chance to mentor the younger kids on the team in hopes to bring the program back to a championship contender.
"The best advice I offer our young players is that you got to get your mindset straight," Daine said. "I'm not going to teach them how to hit or anything, it's too late for that. You can't go into the game saying, 'Oh, we're facing Staples.' You have to have the mindset that it is an opportunity to beat one of the best teams in the FCIAC or even in the state."
"A lot of it is thinking about nothing else but baseball for the two hours you're out on the field. Hopefully with that mindset, it will help us a lot as a team."
When Daine takes the field against his friends and cross-town rivals for one final time, he says it will be undoubtedly a highlight in his baseball career that still has plenty of innings left in it.
"I'm definately going to cherish the moment," Daine said. "I'm really excited to see my friends. Hopefully it will be a great game and one to remember. It went by quick and I'm sad it has to end like this, but unfortunately it had to end sometime.