May 10, 2016
Brunswick Baseball Blasts King En Route to its 15th Win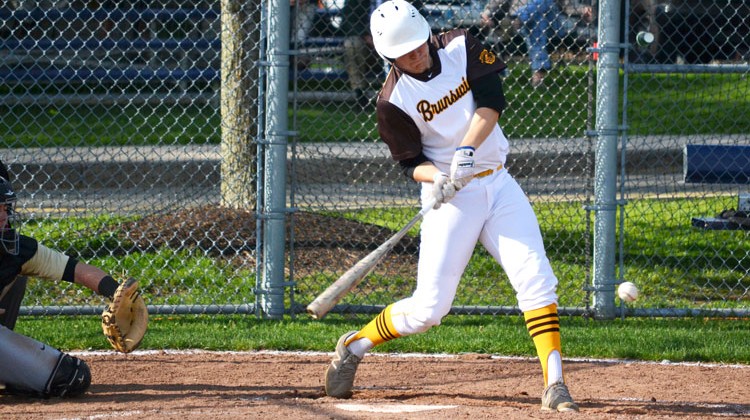 By the performance from the Brunswick School baseball team, it's obvious they put Saturday afternoon's game behind them.
Coming off a loss that snapped the Bruins' 14-game winning streak, Brunswick traveled up to Stamford's King School and made quick work of the Vikings, coming away with the convincing 14-2 victory Monday afternoon.
"This was huge," Brunswick head coach Johnny Montanez said. "The last thing you want is people worrying about a loss. Baseball is a game that's designed to play every day, so you're going to win and you're going to lose. This group has been fortunate enough to do what it takes to win on a day-to-day basis."
With the victory, the Bruins upped its overall record to 15-2 and remained perfect in the Fairchester Athletic Association.
Helping Brunswick get back to its winning ways was Trystan Sarcone. After a shaky first inning, the sophomore pitcher settled down and dominated King School. He finished giving up six hits and two earned runs while striking out seven batters and walking three.
"I give all the credit to my teammates," Sarcone said. "They gave me the lead. I struggled a little bit early on, but I was able to find it after I struggled with the help from my teammates. Will [Salomon] called a great game back there really helped me out. I was able to zone in a little more after the first inning."
In fact, Sarcone made quick work of King School in the third and fourth innings, striking out two batters and forcing a soft roller to short in the third frame and getting two more strikeouts in the fourth and not allowing the ball out of the infield.
"He was able to command his off-speed pitches today and keep them off balance," Montanez said. "He then used his fastball to get outs. That's really impressive. When they put up that two in the first inning, he wasn't rattled at all. He just threw strikes and kept pounding the strike zone. He actually got better as the game went along, which is good."
With Brunswick leading 7-2 and King still within striking distance, the Bruins put the game out of reach with a seven-run fourth inning.
After Teddy Sabato led off with a single to center, Connor Redahan drew a walk, but was eventually picked off first. Up next was Trevor Johnson, who uncorked a deep fly ball to center that one-hopped over the fence and plated Sabato for the 8-2 lead.
A single by Michael Marzonie and an error by the King left fielder scored Johnson and moved Marzonie to second. From there, Brunswick was patient at the plate and it showed.
Will Salomon drew a walk and with two outs, Aaron Sabato was hit by a pitch to load the bases.
Ryan Popp drew a walk that forced in a run, an error by the King second baseman let Charlie Sealy reach base and plate a run and another walk to Teddy Sabato made the score 12-2.
Redahan, up for the second time in the inning, grabbed an infield single to short that plated a run and Johnson drew another walk to force in the 14th run of the game for Brunswick.
"All year we have been able to produce runs at will," Sarcone said. "Everybody in the lineup, even the bench guys, just produced. It's great and amazing to put up runs like that."
The Bruins started the game off in grand fashion, scoring five times in the top of the first inning.
Marzonie led the way in the inning with a towering shot to left field that plated two runners and later in the inning scored on a wild pitch. Solomon added to the lead with a grounder to short that plated a run and Hanrahan stole home for the fifth run of the inning.
Brunswick added two more runs in the third inning, all with two outs. Ryan Hanrahan led off with a single down the left field line and Aaron Sabato drew a walk. Up next was Popp, who crushed a double over the left fielder's head that went all the way to the fence. Popp's hit plated both Aaron Sabato and Ryan Hanrahan for the 7-2 lead.
"There isn't a kid in the lineup and kid on this team that we don't believe in," Montanez said. "We believe in all of them and they are on this team because they can do it. When it's their turn and their number is called, they are ready."
To read more on the Brunswick baseball team and their quest to repeat as FAA champions, check out Friday's Greenwich Sentinel.
Tags:
Brunswick
,
Brunswick Baseball
,
ctbaseball
,
FAA
,
greenwich
,
Johnny Montanez
,
King School
,
NEPSAC
,
Trystan Sarcone