May 6, 2016
Greenwich's Hayden, a Brunswick Standout, Leads Yale Hockey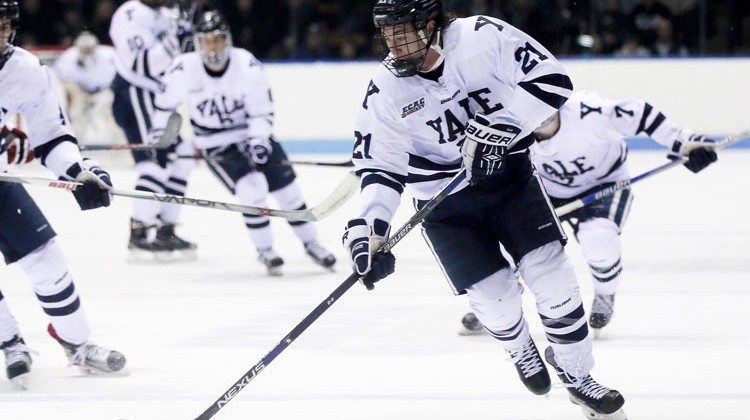 When it comes to taking teams to the next level, Greenwich native and Yale University junior John Hayden has always been a part of the conversation.
He was on the Brunswick hockey team when the Bruins made the switch from a Division II Prep team to Division I and helped pave the way for great success.
Now Hayden gets the opportunity to help the prestigious Yale University ice hockey team go to great heights, as the junior was named captain for next year's squad.
"It means a lot and it's an incredible honor," Hayden said. "Yale has a history of great hockey captains and great leaders and I am really excited for the opportunities and challenges coming next year."
This past season, Hayden, a forward, played all 32 games for the Bulldogs and was lights out. He led the team in goals with 16 and added seven assists to his resume. Hayden was third on the squad with 23 points and was a sniper during the power play, leading Yale with six goals.
To say Hayden was captain clutch would be an understatement. Five of his goals this past season were of the game-winning variety.
"We are proud of all our players that go on to play college hockey, but to have one be named captain at a place like Yale is particularly special," Brunswick School head hockey coach Ron VanBelle said. "John has been a leader wherever he has played, so this news does not come as a total surprise to me."
Hayden stated that Yale hockey and head coach Keith Allain have created a great culture in New Haven, so for him it's more about maintaining that culture.
"The former captains have done a great job with the platform," Hayden said. "Personally I like to lead through a combination of my on-ice presence and my locker room presence. So I plan on using my voice when I need to, but more importantly it's about leading by example on the ice."
While he couldn't be happier having the opportunity to put on a Yale University sweater that has a "C" on the chest, he also understands that he couldn't get that chance without the great teammates, both past and current players, that he shares the ice with.
"I owe my teammates, both current and former, a lot of credit," Hayden said. "The current guys are the ones that voted for me and put that faith in my leadership. I've learned a lot from the past guys and past leaders on the Yale hockey teams."
Through his career with the Bulldogs, Hayden has 29 goals and 28 assists. Since stepping foot on the Yale University campus, Hayden has seen consistent improvement and wants to keep that momentum going strong heading into next season.
"For a power forward like myself, the most important thing, in terms of improvement, is foot speed," Hayden said. "I think I've gained quickness over the past few years, so from now until I turn pro, my main goal is to continue and work on the foot speed and overall developing the quickness of my game."
While it might seem like the season just ended, the Bulldogs are already working on next year. They have started their spring training and are using their top-notch facilities on campus to their full advantage.
But the hard work and practice doesn't end when the campus empties out for the summer. In fact, it's just the opposite.
Hayden plans on working out and the legendary Prentiss Hockey Performance Center in Stamford, the same place where current NHL athletes Cam Atkinson, Eric, Jordan and Mark Staal, Max Pacioretty, Jonathan Quick, Matt Moulson, Chris Krieder, Derrick Brassard, Kevin Shattenkirk and many others have called home.
"Once I get home, I'll be training with Ben Prentiss in Stamford, along with other college and NHL players," Hayden said. "I'll be in Chicago in July for the Blackhawks' prospect camp and overall training and doing whatever I can to improve my game."
Hayden was drafted by the National Hockey League's Chicago Blackhawks in the third round of the 2013 draft.
With being named captain of a perennial power collegiate hockey program and being drafted to a Blackhawks team that has recently made a habit of having deep postseason runs, life is good for the Greenwich native.
"It's very motivating," Hayden said. "I am hungry to make it to the NHL and I am going to do whatever it takes to get there. Chicago is a first-class organization, with a great front office. For them to express interest in me is really an honor. I see the way they operate in the offseason when I'm there for development camps, so I want to get there and another year at Yale will be very beneficial for my game."
Going to Chicago to learn from the best will be a thrill for Hayden. However, it's back home at Brunswick School where Hayden got a chance to make a name for himself. And it's something he will never forget.
"I'll never forget 'Courage. Honor. Truth.'" said Hayden. "Coach [Ron] VanBelle, coach [Michael] Kennedy and coach [Steven] Mandes were amazing people and I'll always be thankful for what they did for me those two years at Brunswick. I have incredible memories from there and I, without a doubt, developed a significant amount during my time there."
As a member of the Bruins, Hayden got to compete against some of the toughest teams in the country. More importantly, Hayden said that being a member of the Bruins taught him the importance of leadership, a strong work ethic and the foundation for how to move on his hockey career.
"Anyone who has had the chance to play with or coach or John Hayden knows he will be a successful captain because he leads by example and he has the ability to be a leader, both on and off the ice," VanBelle said.
While the future is certainly bright for Hayden, he's focused on the present and that's getting another championship banner hanging from the ceiling at the Whale.
"It's great knowing every day that you get to go to the rink with our best friends," Hayden said. "That is unbelievable. Our fans are incredible and every Friday and Saturday night we get to play in Yale and in front of the students here is an amazing feeling. It's a lot of fun and I couldn't be happier to be at Yale."
Tags:
Brunswick
,
Brunswick Hockey
,
Chicago Blackhawks
,
cthk
,
cthockey
,
cthshockey
,
ECAC
,
greenwich
,
John Hayden
,
NHL
,
Yale
,
Yale Hockey
,
Yale University