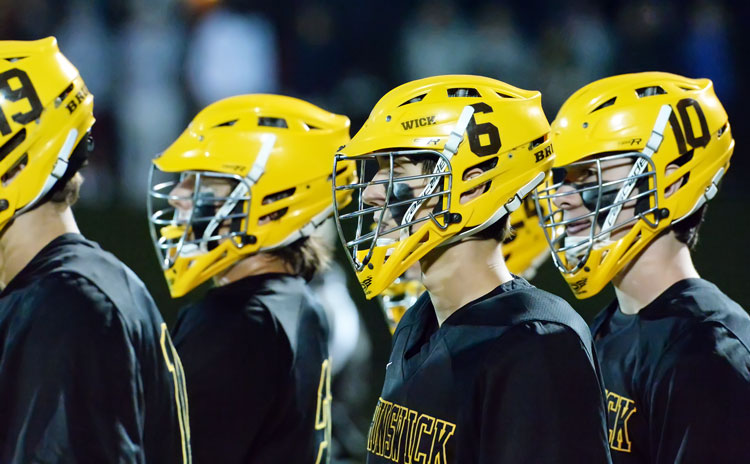 The Brunswick School lacrosse team topped Choate Rosemary Hall at Cosby Field on Wednesday, 14-12. 
The Bruins, ranked No. 17 in the latest Inside Lacrosse national poll, improve to 11-2 overall and 5-1 in New England West 1 conference play.
Brunswick jumped out to a 3-1 lead in the first quarter, as Alex Buckanavage chipped in a pair of assists for the Bruins. Choate (4-4, 3-4) closed the quarter with two goals, to tie the game at 3-3.
In the second quarter, Brunswick scored three goals to take a 6-3 lead at intermission. Reilly Walsh netted his first goal of the game during the run, finishing a pass from Xander Dickson. 
Choate battled back with a pair of goals, slicing the Brunswick lead to 6-5, before the Bruins countered with their decisive run to close out the quarter, leading 11-6.
Five different Bruins scored in the flurry, as Walsh set up David Pasini for his second goal of the game, while Buckanavage netted his first to cap the scoring with a lefty dodge to the crease.
Leading 11-7 in the fourth, Brunswick allowed a man-down goal to Choate, before netting a pair of tallies for a 13-8 lead midway through the final quarter.
Trailing by five goals, Choate netted the next four goals, making it a 13-12 game with 46.1 seconds left to play in regulation.
A two-man advantage led to Choate's first goal at 5:32, as another Wild Boar goal nearly two minutes later cut the Brunswick advantage to 13-10.
With 1:07 on the clock, Choate closed the gap to 13-11 on a goal after a Wild Boar timeout. Choate made it a one-goal game 18 seconds later with their fourth straight goal.
Leading 13-12, Brunswick's Ben Shapiro won the crucial faceoff and grabbed the groundball, as Brunswick called a timeout with 40.7 second left to play.
When play continued in Brunswick's offensive end, Choate pulled its goalie to double-team the ball. Buckanavage deftly avoided the pressure and netted a diving shot to stop the comeback.
Jack Stephenson made eight saves for Brunswick, while Shapiro won 22 of 30 faceoffs.