April 29, 2016
Greenwich Baseball Scores Seven in Two Innings, Beats Warde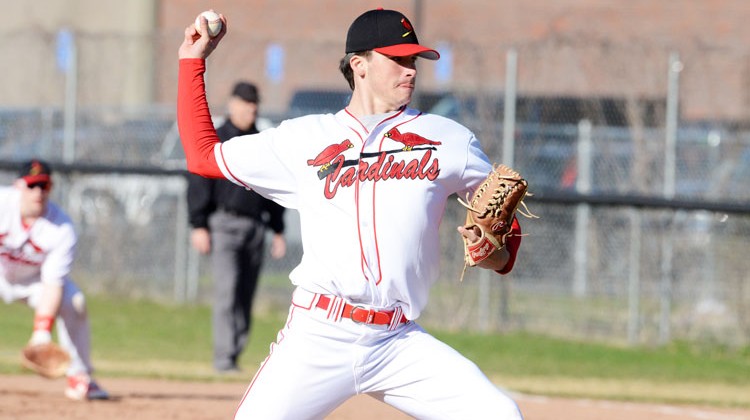 Friday afternoon's game against Fairfield Warde High School was certainly a big game for the Greenwich High School baseball team.
Keyed by Paul Williams' three-run home run, the Cardinals picked up the 7-3 victory on the road.
"It's a good feeling right now," Williams said. "This was a huge win for us. We were tied with a bunch of teams in the FCIAC and hopefully this puts us ahead of some of them. I hope this game is a real booster for us. We were 2-1 this week and I'm hoping this will be a good kick start for us."
More importantly, Greenwich finished a very tough week of baseball with a 2-1 record. They started with a 4-3 victory over Trumbull High School at home. On Wednesday the Cards had a setback, falling to Norwalk High School in a close 2-1 contest.
"Today the kids really swung the bats great," Greenwich High School head coach Phil Tarantino said. "Paul Williams' home run gave us some breathing room and that was great on the road. We are always going to run, but in terms of swinging the bats.
Against Fairfield Warde, Big Red got some big performances. Leading the way was Ryan King, who had three hits on the day and scored two runs. Not to be outdone was the combo of Williams and Kevin Woodring, who each finished with two hits. Williams added four RBIs and a three-run homer and Woodring chipped in with two runs scored and two RBIs.
On the mound, Brett Collins threw six sharp innings. In 83 pitches, he gave up three runs, one earned run, two hits and one walk while striking out four batters.
"Brett has been strong all year," Tarantino said. "We threw him against New Milford earlier in the year. They were 9-2 and he beat them. That started to open our eyes and every time we give him the ball, he's done an awesome job. He throws strikes and competes, so he's been giving us great outings every time he steps to the mound."
Anthony Ferraro came on for the seventh and allowed no hits while striking out one Warde batter.
With the score 3-0, Big Red iced the contest in the second inning. Colin Kelly led off with a single to right and stole second. After Ryan King was hit by a pitch and Erik Mini lined out, up stepped Woodring and he smacked a single to left that plated Kelly for the 4-0 advantage.
Still with one out, Williams was up next and got a hold of a pitch, launching it deep over the left fielder's head and over the fence for the team's first home run of the season and extended the lead to 7-0.
"It's actually my first home run in a game, so that was exciting," Williams said. "Hard work pays off. It's a good feeling. I just wanted a base hit. I knew we had two runners on and I just wanted to move them over and do my job. I wasn't planning on it being a home run."
"Last year we hit one home run the entire season, so when I saw the ball go over the fence, I said that I couldn't believe it and it was a three-run home run," Tarantino said. "This was awesome. The way we pitch and play defense, nobody has scored more than three runs on us in the last two weeks, so we are tough if we can get the runs. I thought that when he hit that we were in a good spot."
Big Red scored its first three runs in the top of the first inning. With one out, King drilled a hard single to left field and Mini followed that up with a single of his own to left. Woodring kept the single parade going strong, connecting on an RBI single that plated King for the 1-0 lead.
Williams hit a single of his own to right field that scored Mini. After a walk to Connor Lagan loaded the bases, Marco Pastore was patient at the plate and drew a walk that forced home Woodring for the 3-0 advantage.
"It's nice when we can score all those runs because I know we can pitch and play defense," the GHS head coach said. "We have to do a better job scoring runs and if we can do that, I think we will be really tough to beat."
With the victory, Greenwich improved to 6-4 overall this season. More importantly, Big Red kept up with a very tight race in the FCIAC.
"We had Staples, Trumbull, Norwalk and Warde," Tarantino said. "For us to go 2-1 this week and three of four [against conference teams], I couldn't ask for anything more. Every win is huge and there's no rhyme or reason why one team beats another. I just told the kids that every win they can get is one less at the end. We are trying to play good baseball and I thought we did today."
While the team has been lights out when it comes to pitching and defense, offense has been coming at a premium. However, Tarantino decided on Thursday to have a little fun with his team during practice at GHS.
"Yesterday we had some fun with it," Tarantino said. "They seem to be trying too hard. So I pitched and they clobbered me. They did a really nice job swinging the bats. They were a little more relaxed and we swung the bats well today."
Tags:
CIAC
,
ctbase
,
ctbaseball
,
Fairfield Warde High School
,
FCIAC
,
GHS
,
greenwich
,
Greenwich baseball