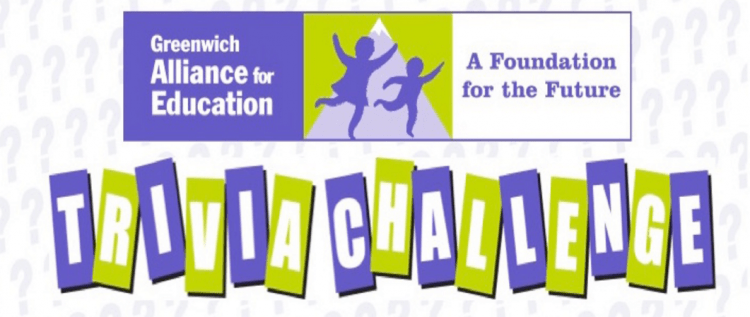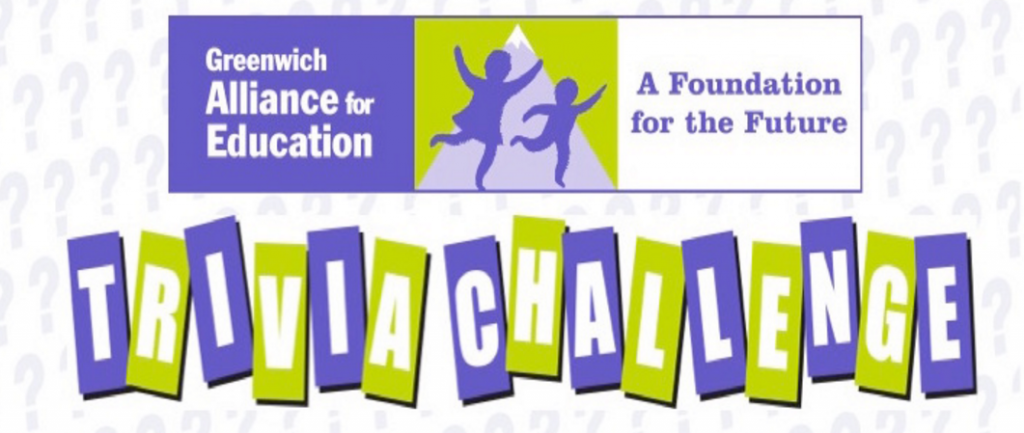 Round up your smartest friends and try to beat the competition at the Greenwich Alliance for Education's

Trivia

Challenge! To celebrate its tenth anniversary, the nonprofit Greenwich Alliance for Education is having a night of dinner,

trivia

, and fun on May 7
th
at First Presbyterian Church. "This will be a fun night—you can bring anyone from high-school-age on up," said Julie Faryniarz, Executive Director of the Alliance. She emphasized the welcoming aspects of the event: dress is casual; it is entirely team play, so no one will ever be on the spot to answer a question by him or herself; and there will be prizes. "There will be medals for the winning team and a prize for the best team name!"
The Greenwich Alliance for Education was founded by local parents and leaders in 2006 with the mission of offering Greenwich Public School students additional opportunities for success. The Alliance funds several programs: a Storymobile which brings early literacy enrichment to 300 preschoolers twice a month;
Tuning In To Music,
which provides free instrument lessons to 70 GPS students each year, and a granting system which has awarded over $800,000 for programs including AVID and GHS Innovation Lab. Greenwich Superintendent of Schools William McKersie praised the
 Alliance as "an essential philanthropic partner for the Greenwich Public Schools.  [They are] at the leading edge with the district as we identify new ways of organizing schools and teaching and learning."
Jane Hentemann, Chair of the Greenwich Alliance, noted that the organization runs on donations and fundraising and does not receive town money. "Last year we awarded nearly $100,000 in grants to benefit Greenwich Public School students, in addition to our ongoing Storymobile and music programs. This month we received new grant requests totaling over $470,000. We also continue to support our [former] AVID students who are now in college. This year
these students were short over $190,000 for college even with all their scholarships and loans, and we will have more AVID students graduating in June and each following year. They will always
need help with tuition and expenses. So we are constantly fundraising and looking for support."
The

Trivia

Challenge on May 7
th
will contribute to the fundraising effort. Marlene Gilbert, the Greenwich Alliance Board Member in charge of organizing the

Trivia

Challenge, explained the structure of the game: participants will be sitting at tables of eight for dinner; each table is one team. Gilbert clarified that "people can sign up with friends as a group of eight, or if you're signing up by yourself or with a smaller group we'll sit you together with others to form a table." After the buffet dinner there will be six rounds of

trivia

. Gilbert added, "There will also be an online auction with lots of great stuff which will start two weeks before the 7th and continue at the event." She noted that they are actively seeking sponsors and silent auction items. "Any individual or company who can sponsor the

Trivia

Challenge or donate an auction item please let us know," said Gilbert. "It's going to be fun and we hope to make it an annual event!" Potential sponsors or auction item donors should contact Executive Director Julie Faryniarz at
julie@greenwichalliance.org
. 
Not a sponsor, but still want to support the Alliance and play

trivia

? Tickets can be purchased online from the Alliance's website,
www.greenwichalliance.org
.