April 15, 2016
Riverside Landmark Gets Recognition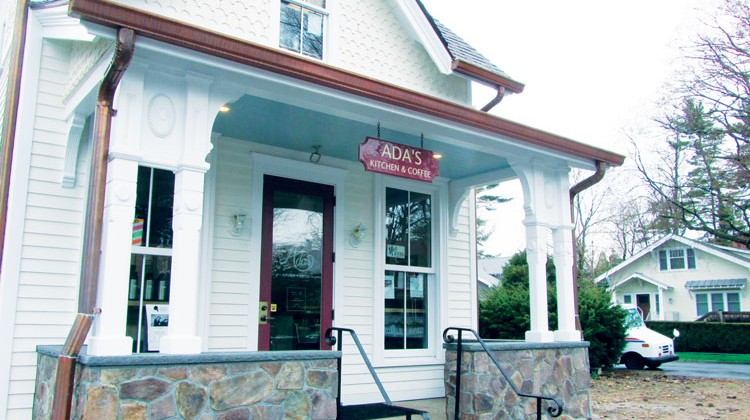 By Bill Slocum
Contributing Editor
For over a century the tiny house-like structure in Riverside has been a community hub. Depending on the generation, one alternately went there to pick up mail, the morning paper, or an afternoon's supply of candy.
Last week, the Connecticut Trust for Historic Preservation made it official, bestowing an Award of Merit on the newly renovated building at 112 Riverside Drive to honor both its architectural interest and its outsized cultural importance.
"It's not a huge building, or something that was built in an incredibly high style, but it is something that has been very important to Riverside and to Greenwich as a whole," Cameron Henry noted.
Henry, an architect with Charles Hilton Architects in central Greenwich, is an advisor to the Greenwich Preservation Trust who shepherded the nomination from initial identification to last week's presentation in Hartford.
This culminated in an expensive renovation project undertaken by the family which has owned the property since 1949. For Ronald Romaniello, the old Queen Anne-style building carries deep, fond associations of his beloved late aunt, Ada Cantavero, who operated a variety store there from 1954 until her death in 2008.
"My mother would send me and my brother to Aunt Ada's store to be looked after and do work while she was out on errands," Romaniello recalled. "It was a very positive part of our life, always a fun place to go, with people coming and going all the time."
Today the building is known as the home of Ada's Kitchen and Coffee, which opened there just last month, serving customers breakfast, lunch, and dinner while simultaneously keeping Ada's name alive for those who may never have known her in life.
The structure itself dates back to around 1900. A post office, it was decided, was just the thing needed for Riverside to get its own train station. Delivering mail was a key function of trains, so the idea was to build a place where mail was collected. Thus up went the building that still stands there, some 116 years later.
An early photograph shows what it looked like as a post office in 1914. From the short front porch to the tall windows, the building appears almost identical to today's. Two exceptions: Curlicue filigree trim then lined the eaves, and a horse is visible standing on the road, apparently in harness. Horses were still the default mode of transportation then, and of mail delivery.
One complication the Romaniellos ran into during renovation was discovering a back part of the structure had been built directly on the ground, with no flooring, apparently from a time when that section was used as a stable. The masonry there was more exposed to the elements, and needed replacement. Otherwise, Ronald said, the structure proved surprisingly sound for such an old building.
By World War II the post office had moved; the building now housed a general store. For a while it was "The Louise House," after then-owner Louise MacDonald, who in 1949 sold the building to Agostino Cantavero, who set up a variety store. He was Ronald Romaniello's grandfather and the father of Ada Cantavero, who beginning in 1954 put her own distinctive stamp on the store, not to mention the surrounding community.
For the next half-century and change, Ada's Variety Shop was a bustling center of activity, not only for commuters heading to and from the Riverside Train Station picking up a newspaper, but for bicycle-riding schoolchildren who dropped by to exchange a few coins for a bag of candy.
The result was a building that played a key role in three phases of Riverside's development: First, as a mail depot for the new railroad hub; then during the postwar boom as commuter pit-stop; and finally as a social center for young Baby Boomers who found in Ada's a place they could call their own.
"Generally, when you think of civic structures, you think of something large and imposing," Henry noted. "But it doesn't have to be that way. Ada had a lot of influence on that part of town, and for a long time."
Romaniello and his surviving siblings took over the just-begun renovation project after the death of the building's prior owner, his younger brother Kelly, in 2014. As much of the extant structure was respected as possible. Original shingles covered by siding over the decades were found intact and restored to their prior condition. So too was the wainscoting on the first floor, and extensive beadboard work on the second floor.
The cost for such delicate restoration was "sizable," Romaniello said, but worth it. For him, brother Don, and sisters Rosemary and Sandra, the building stands today as a labor of love as well as a marker of commitment to the community both they and their Aunt Ada loved.
"We wanted to keep Ada's going, and carry something forward from our ancestors that we can in turn pass on to our children," he said. And so it does, as a high-end take-out eatery that bears her name. Ada's still sells candy, too, at $9.99 a pound.
Tags:
112 Riverside Drive
,
greenwich
,
landmark
,
riverside