March 18, 2016
Blumenthal Talks Goals, Accomplishments with Sentinel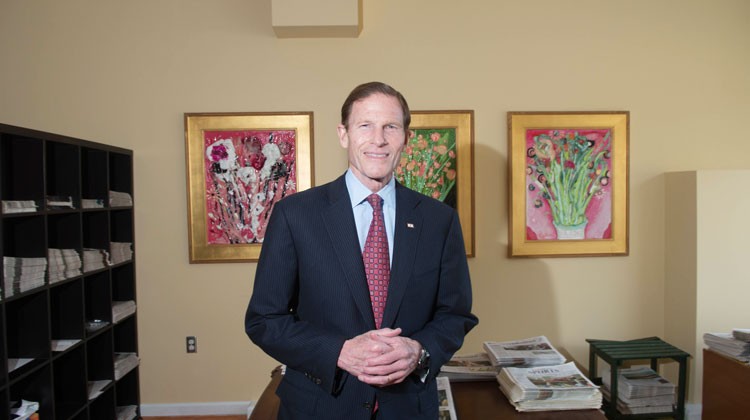 By Bill Slocum
Contributing Editor
While the business of being a United States senator sends him trekking back and forth across the Nutmeg State during a single day, Richard Blumenthal says there is no trip he enjoys more than on his way to Greenwich, his home for over 20 years.
"I love Greenwich as a community," Blumenthal said. "It has such diversity and people. Smart people, and very socially aware and generous people."
In an exclusive interview at Greenwich Sentinel's office on Bruce Park Avenue on March 11, Blumenthal, the senior U. S. Senator from Connecticut and a Democrat, talked about a range of topics, including his support of the Comprehensive Addiction and Recovery Act, or CARA, to prevent opioid and heroin abuse, approved by the U.S. Senate last week.
He also discussed what has become the latest focus of his energies.
"College affordability is the next big thing we need to do," Blumenthal said. "We need to reduce the amount of college debt in this country: $1.2 trillion. That's an overhang and a drag on our entire economy. Young people coming out of college $60-100,000 in debt can't buy new homes, begin families, or start businesses. Their futures are narrowed, and that means our future as a nation is constricted."
In addition to supporting a campaign inspired by President Barack Obama, known as "In the Red," Blumenthal said he wants to introduce two ideas into the discussion, which is to reduce the cost of college tuition and to enable people to work off debt through public service.
"Why shouldn't someone who is a policeman or a firefighter in Greenwich, or a teacher in our local school system, or working at the YMCA or YWCA, receive credit for the great work they do?" Blumenthal asked.
In the case of CARA, Blumenthal noted the bill's passage was helped by support from fellow Democrats as well as Republicans. He said he hopes similar bipartisanship can be achieved on college affordability.
"It is possible to get things done in Washington, believe it or not, if you focus on the mission and if you make it bipartisan," he said.
The senator, finishing his first term in Washington, D.C., would not declare himself a candidate for re-election. Blumenthal did hint that he is gearing up for another Senate campaign: "I haven't formally declared, but as you can tell, I love my job, and I hope I can continue doing it."
Blumenthal did talk politics regarding the Republican presidential race, decrying what he said is "the incivility of our public discourse."
"I have friends and family who are Republicans," he said. "We ought to be able to work together. Some of my great friends are across the aisle. We can joke, whether it's in the Senate gym at 5:30 in the morning, or on the floor of the Senate, on what we have in common and where we disagree. We ought to be able to get along, and maximize where we agree to get things done."
That includes appointing a new U. S. Supreme Court justice to replace the late Antonin Scalia. Blumenthal said while he does not know who President Obama will appoint, he hopes an appointment will be made soon and receive speedy consideration from the Senate.
"I hope we will confirm a Supreme Court justice because the country deserves it," he said.
Asked what inspires him to seek out a life in public service, Blumenthal said it is about making laws work for people who find themselves up against large entities, whether it be government bureaucracy or the tobacco industry.
"When people say: 'There ought to be a law,' often there is a law," he said. "In fighting the tobacco industry, and leading, nationally, the attorneys general to sue the tobacco industry so they we could recover not only money but also change how they marketed to children, I was using established law. We enforced a consumer protection law that required truthful labeling and honest statements to the public."
Tags:
greenwich
,
richard blumenthal