March 14, 2016
Local Legends: Christ Church, Lemler Prepares for Transformative Years Ahead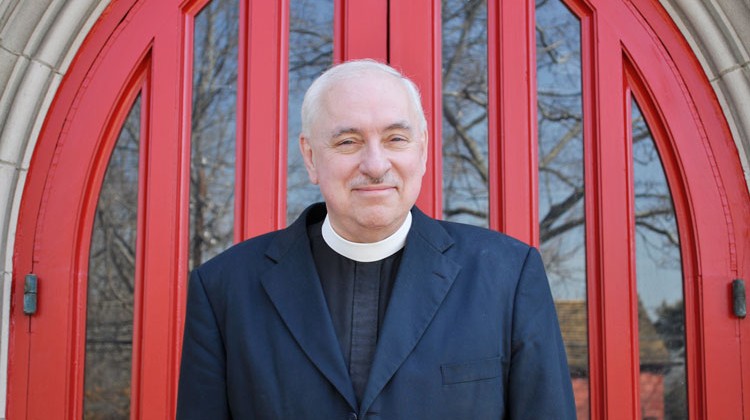 By Sara Poirier Correa
Sentinel Reporter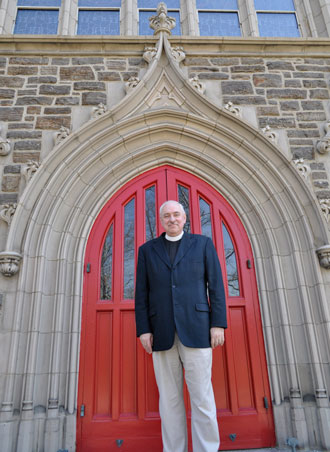 Following a capital campaign that raised nearly $11 million to restore and beautify its buildings, Christ Church Greenwich is continuing in its 267th year, looking to a positive future of "transformation and engagement."
To aid in this journey, church rector the Rev. Dr. James B. Lemler, a mainstay since he began in Greenwich as priest in charge in 2007, said being of service to the community is essential. He credited the congregants and the current church staff with helping guide Christ Church through some tumultuous times, from which, he said, they have emerged anew.
"I've seen changes in some wonderful ways, healing ways from what had been a challenging period," Lemler said of his years at Christ Church, which began following legal trouble for the then-church musical director in the mid-to-late 2000s.
Lemler said he came to the church at "as part of renewal and healing of the congregation." Now, years later, the church is busier than ever, averaging about 500 people at Sunday service, with hundreds more attending events on the church grounds throughout the week, he added.
"We see our role as being a service center for the town of Greenwich," Lemler said.
He added of the church's long term outlook: "We're hoping that people in this community can find many, many ways through learning, music and service to discover engaging things that give them meaning and where they can engage with God."
"We hope this will be a place where people can, through a variety of means, experience the transformation of their lives in important and positive ways," Lemler said.
Spanning 10 acres, the campus at Christ Church Greenwich includes the Tomes-Higgins House for receptions and parties, the parish hall and parish house loft, as well as the chapel and church sanctuary, where services and ceremonies are held. In addition to the church itself, partners on the grounds include the Christ Church Nursery School, Christ Church Bookstore, Neighbor to Neighbor and Greenwich Suzuki Academy.
Hosting more than 5,000 meetings of various organizations in the past two to three years, Christ Church also has the largest number of 12-step addiction program meetings available in the area, Lemler said. In addition to weddings and anniversary parties, the buildings of the church also provide space for concerts such as that of the Greenwich Choral Society.
Lemler told the Greenwich Sentinel that the constant improvements to the buildings and grounds at the church, as well as the recent capital campaign, known as "Rise Up, Restore and Rejoice," have "been like an opera." The first act, he said, involved "lots of planning."
"The big capital campaign that we just completed allowed us to do the entire interior and exterior of the church building itself," the rector said. He called those changes the "pivotal foundational part of the fund raising and restoring" efforts.
Even with the official campaign now done, Lemler added, the church, which began in 1749, is still looking for assistance with beautification of the grounds. In fact, the theme of sermons and work at the church in the past year, he said, has been that of generosity.
"The extraordinary generosity of the Christ Church Greenwich community has allowed us to transform and restore much of our physical plant and we are now actively engaged in developing and planning worship and programs that will invite parishioners, visitors and the community into deeper and fuller lives of faith," said the church's recently published long range.
A native of South Bend, Ind., Lemler has traveled the country throughout his 40 years as an ordained person, and held some high positions, including director of mission for the Episcopal Church. This job, which brought him to New York City, made him the executive for all programs and mission activity for Episcopal churches throughout the United States. Lemler also was dean and president of Seabury-Western Theological Seminary, and also served as a university chaplain.
With long-term goals including offering pastoral support; worshiping in a transformational and accessible way; learning more about the faith in an engaging way; serving those in need; inspiring stewardship through education and example, and being "purposeful in our invitation and engagement" of new and old parishioners, Christ Church has set itself up for a meaningful future, Lemler said.
As for helping congregants navigate the world of today, the rector advised having a "discerning and faithful" attitude.
"There's a lot of people who are trying to instill fear," Lemler said. "What I'm trying to encourage is people to discern things and not to be fearful, and to find something that gives them faith hope and meaning in their lives."
For more about Christ Church Greenwich stop by 254 East Putnam Ave., visit christchurchgreenwich.org, or call 203-869-6600.
Tags:
christ church
,
greenwich
,
Lemler