March 11, 2016
Greenwich Runs to the Sun with 69-60 Win in Class LL Semis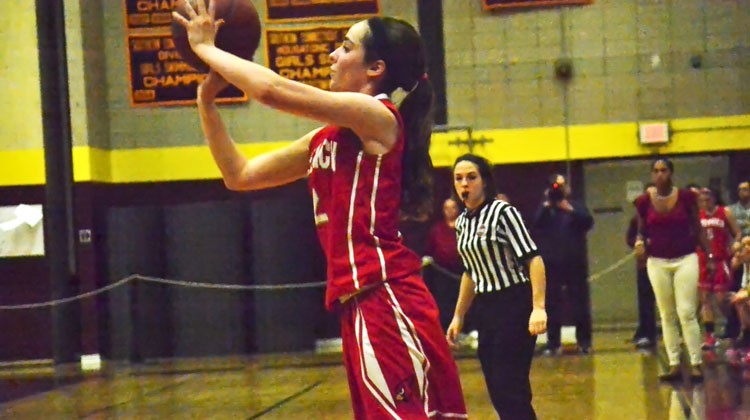 Grabbing a big early lead and holding off a furious comeback, the No. 10 seeded Greenwich High School girls basketball team punched its first-ever ticket to the class LL championship game, beating No. 3 seed E.O. Smith High High School 69-60 Friday night.
"This means everything and hits us on every level," Greenwich head coach Chrys Hernandez said. "Individually, as a team and as a school. It's the first time in school history the girls basketball team has made it to a championship game. This is a goal that we set for ourselves five years ago and to see it come into fruition is great. I think many people would have counted us out. This means everything and I'm so proud of them."
With Greenwich's nine-point victory, they move on to the CIAC class LL championship game, to be played at Mohegan Sun Saturday.
"This is amazing," junior Jayla Faison said. "I've been playing with this team since I was in sixth grade. They are amazing and I wanted to do this for our seniors, Abbie and Caroline. They've been working so hard for this. People doubted us before the preseason and during the season and I think we deserved this. I'm so glad we did this."
In the semifinal victory, GHS was led by Abbie Wolf, as the senior co-captain had 19 points and 19 rebounds.
"I have always wanted to get this and get to Mohegan," Wolf said. "I knew that we didn't have a banner, but getting [to the finals] is a great feeling. Playing in the semifinals is a great feeling, but all I want now is a championship. That's when we can all let is go and celebrate. We are all very excited, but have to stay focused, not only getting there, but finishing it."
Not to be outdone was fellow senior co-captain Caroline Beneville, who finished with 17 points and five rebounds.
"This is great," Beneville said. "We are the first Greenwich High girls basketball team to make it here, so that's incredible. That's such a great feeling and definitely makes you want to win the next game."
Junior Jayla Faison contributed with 16 points and teammate Emily Anderson added 11 points and eight rebounds. Kim Kockenmeister netted five points and five rebounds in the winning effort.
Although she only had one point, Shaye Galletta's defense was lights out, finishing with seven rebounds.
"This feels so amazing to go to Mohegan Sun," Anderson said. "This was one of our goals from the beginning of the season, so we are really happy to be here. The key today was that we pushed in transition and played great defense. Our defense really sparked our offense today."
With Greenwich reeling late in the contest and E.O. Smith grabbing the lead in the fourth, Faison came up clutch. A long jumper with less than three minutes to play helped the lead grow to 59-55. Then it was Faison's defense that paved the way, as she picked up back-to-back steals and calmly drained both her foul shots with 2:05 left to give Big Red the 61-55 lead.
"We have definitely been in this position before, especially during the postseason," Faison said. "We knew we had to slow it down. I knew that I had to feed the ball to Abbie and attack the basket because they left the middle open. We've been waiting for this for so long."
With 1:55 to play, Anderson hit her first foul shot and missed the second, but Wolf was there for the offensive rebound and passed off to Beneville for the layup and 64-55 lead.
"We knew they were going to come back," Wolf said. "They had a good crowd here and have some great seniors and McKenna Dale. They aren't going to stop. We've been down by 20 to Trumbull and came back and knew they weren't going to stop. It's a state semifinal. Both teams laid it all out there, but we were able to sink some free throws, get some key rebounds and pull it out."
The turning point in the contest started with time running out in the opening frame.
Greenwich's Anderson grabbed the offensive rebound and putback to close out the scoring in the first quarter and giving GHS the 20-16 lead.
However, Big Red kept the good times rolling in the second. With 7:39, Wolf was fouled and hit both her foul shots. After a baseline three-pointer by Beneville to make the score 25-16, Wolf was fouled with 6:17 to play.
Although she missed the foul shot, Anderson was there for the offensive rebound and putback. An easy layup under the basket, followed by Faison hitting both her foul shots with 5:16 to play in the half extended the lead to 31-16.
"The early lead was very important," Beneville said. "It was nice to fall back on. We knew E.O. Smith was a great team and were going to come out really hard in the second half. Having that 20-point lead was really important for us. Strong starts are always key for this team."
Another layup underneath by Wolf and a layup off a steal and a driving layup through the paint by Faison built the lead up even more. Finally with 3:22 to play in the half, E.O. Smith's McKenna Dale buried a three-pointer to stop the run and make the score 37-19.
Greenwich ended the half on a 5-1 run to grab the 42-22 lead, paced by Faison hitting two foul shots and connecting on the bucket.
"We knew E.O. Smith was capable of putting up a lot of points and had lot of offensive weapons," Hernandez said. "We just wanted to do our job on executing. This was very similar to our Southington game. We stuck to our game plan and definitely wanted to strike early. We did that. The girls were focused and had a lot of energy coming in here."
Despite the big lead, the Panthers weren't intimidated, starting the second half on a 7-0 run and trimmed the deficit to 42-30.
Dale was a key factor in the run. She hit two foul shots and followed that up with a baseline three-pointer to cut the lead to 42-28. The Panther connected on another layup, but Greenwich's Wolf stopped the bleeding, hitting two foul shots to give GHS its first points of the half with 4:27 left in the third.
Abby Vampatella grabbed the offensive rebound and putback. While Beneville was there for Big Red to hit the big three pointer with 3:34 left in the third, E.O. Smith wouldn't be denied.
Keeley O'Keefe hit the floater in the lane and Cierra Brescia followed that up with a long distance jumper. Another three-pointer from Dale with 2:07 left in the third trimmed the lead to 47-39. Two foul shots by Brescia ended the third with Greenwich holding onto a thin 47-41 lead.
"I think experience played on our side," Hernandez said. "We have been in situations like this a lot this season, where we got ahead early and know that it's a game of runs. We had to keep our composure and had to go back to what got us our lead in the first place. During the timeouts, we said that we had to take care of the ball and eliminate the sloppy turnovers."
Early in the opening quarter, it was a battle between Wolf and Dale, as both were exchanging buckets early. With 3:36 to play, Wolf nailed the inside layup to give Big Red the three-point lead, but Dale came right back and drained a three-pointer a few seconds later to knot the game at 10-10.
Yet again the two battled tough. With 1:16 left in the quarter, Wolf connected on the inside layup to give the Cards a 18-14 lead, but Dale came right back and hit the layup to cut the deficit to two.
For Big Red, beating the Panthers had some special meaning. When Hernandez started the program in the right direction, Greenwich played in its first class LL playoff game in quite awhile up on Storrs and battled E.O. Smith. Although the Cards, a heavy underdog, were eliminated with a 44-39 loss, they were hoping to see the Panthers again deeper in the playoffs.
They got their wish Friday night.
"This is incredible," Beneville said. "My freshman year we made it to states and played E.O. Smith in the first round. We lost, but to come back and play them again my senior year and win is nice. We continue our season and I definitely don't want to stop the season now."
Tags:
Abbie Wolf
,
Caroline Beneville
,
Chrys Hernandez
,
CIAC
,
class LL
,
ctgb
,
E.O. Smith
,
FCIAC
,
Greenwich Greenwich Basketball
,
Mohegan Sun
,
Run to the Sun