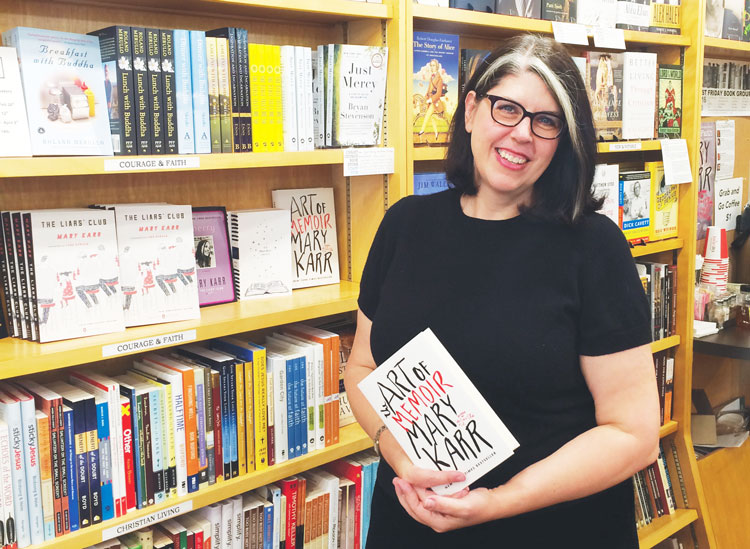 By Anne W. Semmes
Sentinel Correspondent
Christ Church Greenwich has a storied history, but it's also a lively spiritual hub in the present day—a destination for sacred music; a place to buy spiritual books; a place to relieve our suffering with the new support group co-led by psychiatrist Dr. John Tamerin. This summer, the church will again host the churchless Trinity Church in its Parish Hall.
Another outreach is the popular Courage & Faith Speaker Series, the brainchild of Ian Cron, the founder and former pastor of Trinity Church, in partnership with Christ Church's Rev. Dr. Jim Lemler and a patron. It has brought many thousands to the church to hear the likes of Maya Angelou, Desmond Tutu, Anne Lamott and Marcus Borg. This Saturday Courage & Faith relaunches under new leadership with tell-it-all best-selling memoirist Mary Karr. Karr, who teaches literature at Syracuse University, will share her spiritual experiences in a time she sees as lacking in faith: "The American religion—so far as there is one anymore—seems to be doubt."
Karr is a prime example of Courage & Faith's on going mission: to bring in the best thinkers on divergent views to stir the waters and to create a conversation that stimulates people to think about the ultimate questions of life.
"I have admired Mary Karr for many years," says Becky Ford. Meet the new force behind the Courage & Faith series, Christ Church parishioner Becky Ford, manager of its bookstore, and founder of the First Friday Book Group that meets in the expansive new quarters of the Bookstore.
Ford arrived on the Christ Church scene the same year as Courage & Faith did, in 2009. "The series shook up beliefs I'd grown up with," says Ford. "I had not stopped to question my family's evangelical faith in many years." Hearing the historical Jesus scholar Marcus Borg had especially shaken her. "He made me think about Christianity in a new way. He sent me searching." Speaker Richard Rohr, a Franciscan friar, had provided her "deep healing." "Rohr really cracked open my heart," she says. "He changed my life."
Ford took a course in Education for Ministry, then assumed leadership roles in the church, joining the vestry, chairing the bookstore committee, making the bookstore a place where authors would come and speak. But there was something amiss. "There had been a petering out of Courage & Faith," she says. Ian Cron, an accomplished writer himself, was caught up in his creative pursuits. Would he be willing to let Ford take over Courage & Faith? "Sure," he said.
"It has been great watching Ian over the years he's 'curated' Courage & Faith grow out of his role," says Ford. "He's much more someone who would come speak at one of these things than direct them these days."
Ford took on her new duty as project director last summer, creating a Courage & Faith committee to choose six to eight speakers per year. "The committee is not only parishioners," she says. "It includes two outside clergy, Craig Higgins of Trinity Church, Rye and Paul Zahl, a retired Episcopal priest and writer."
The choices for this recent series that started in February grew out of the committee, Ford's First Friday Book Group and suggestions from Ian Cron. Augustinian priest Father Martin Laird led off with a retreat about contemplation on Feb. 20. Mary Karr's book, "Lit" was read in Ford's book group. "It's the best conversion story of our time," she says. "Pitch-perfect authenticity, totally accessible, with no agenda for anyone else's salvation."
"Mary has her AA sponsor teaching her about submitting to the act of prayer whether she wants to or not, and all kinds of wild stuff happens. Then her young son asks her to take him to church. When asked why, he replies, 'Because God's there,' in a 'duh' kind of way. It's such a human story that sends her down the path of spiritual awakening. So full of brokenness, surrender, love, community and the miraculous. In a town like Greenwich, a town so full of families blighted by alcoholism for multiple generations, it's a spiritual awakening story that will ring true for many."
Roland Merullo, who follows Karr on April 9, is an acclaimed novelist and memoirist. "Merullo's Breakfast with Buddha' is one of my favorite books. It's about a man who gets tricked into going on a road trip with a Rinpoche and ends up being utterly changed."
Old Testament scholar Peter Enns, scheduled for May 14, may be the most controversial in the lineup. His book, "Inspiration and Incarnation" so challenged the conservative/mainstream evangelical methods of biblical interpretation that he lost his 14-year teaching stint at Westminster Theological Seminary.
Slated for Sept. 24 is MacArthur Foundation "Genius" Prize winner Bryan Stevenson, known for his legal defense of death row prisoners in the Deep South, and founder of the Equal Justice Initiative non-profit. "His book 'Just Mercy' had me bursting into tears over and over again," says Ford. "It's one of the most powerful documents of our time."
The last speaker in the series will bridge the Jewish and Christian faiths when Amy-Jill Levine, a Jewish feminist teacher of New Testament studies at Vanderbilt University, comes for the weekend of Oct. 21-23. "She will speak at both Christ Church and Temple Sholom," says Ford, "with teaching times in between, touching on the ways in which Jews and Christians read scripture differently."
Staying on top of the series is a challenge for Ford, even with husband John Ford heading the speakers committee, "Especially," she says, "if you have other jobs and creative pursuits." Ford is a skilled painter and is working on a book with a faith dimension.
"I don't imagine this is something I will do forever," she says, "but I'm pretty sure that, like Ian, I've got a good five to six years in me. I really feel like a product of Courage & Faith."
Ford gave a call to Cron recently and found him teaching Enneagram studies to a crowd of 500, she says. "He is also finishing his book on the Enneagram. It would be wonderful and a full circle moment if he would launch his new book through Courage & Faith next year."
The Courage & Faith Speaker Series will present Mary Karr on Saturday evening at 7 p.m. at Christ Church Greenwich, with a book signing and reception to follow in the Christ Church Bookstore. For more information, visit the Christ Church website at www.christchurchgreenwich.org, or email info@courageandfaith.org.