March 3, 2016
Youth Group Holds Homeless Sleep Out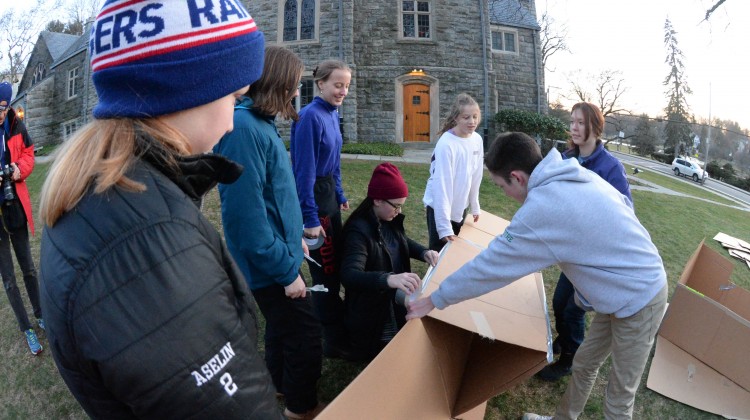 Youth-group members of the First Congregational Church of Greenwich camped out on the lawn of their Old Greenwich church last Saturday evening, Feb. 27, from 5 p.m. until 10 a.m. the following morning in an initiative to raise awareness of homelessness.
The teen and preteen participants built shelters out of cardboard boxes and tape, similar to methods used by the homeless to shelter themselves outdoors in cold weather. Youth Group Coordinator Donald Haviland and Associate Pastor Meghan Young supervised the teens through the night, but did not instruct them on how to fashion their cardboard structures.
I'm thinking of the best way to get in and out and keep the most warmth in – and fit two people, said 16-year-old Drew Mohn as he built a shelter with his sister Elizabeth, 14.
The group said they wanted to tell the community that homelessness is still an issue no matter where one lives.
 ͞We are doing this because we wanted to raise awareness about homelessness in this area, Haviland said. I think there's a little bit of a misconception that because we're in an area that is relatively well off that homelessness isn't a problem around here and that's just not true. There are a lot of people that are homeless or living below the poverty line that need help.
For three weeks leading up to the event, the First Congregational Church Youth Group collected a wide range of items from the congregation.
We're doing this to raise awareness but also to collect goods for Inspirica and Neighbor to Neighbor – both of whom work with families that are in need or that are homeless, Haviland said. 
Donation bins were left out at the edge of the lawn. People were urged to show their support for the cause by leaving items there.
If we're sleeping out here and someone sees what we're doing and decides to donate, we'll take it, said Haviland. We've gotten coats, we've gotten canned foods – all of which are fantastic. 
Haviland noted the youth group can use more unopened donations.
 ͞We need unopened twin-bed sheets, we need unopened silverware and plates, unopened laundry detergent, and unused towels, said Haviland. Inspirica is state-regulated and they run a homeless shelter and a cold shelter to help homeless people when it gets too cold outside and you have to go inside, but because they can't take used goods they have a bit more trouble getting donations than other organizations. Most people tend to only donate after they've used their stuff and they're done with it. So we're specifically trying to help them out with that need. 
The week before their sleep-out, the Youth Group gave themselves a Food Stamp Challenge, where participants had to create a meal from food that could be bought with food stamps.
We shopped using a budget you would use if you were on food stamps, which is $1.25 per person – per meal, said Haviland. It was hard. I told them you have to get a nutritionally-balanced meal for everyone that's here.
Many of the Youth Group members said they enjoyed what they described as a community-building experience.
I've been in church my entire life and I sort of just like the feeling of community it brings to us,͟ said Mohn. ͞It brought a bunch of people that you wouldn't normally meet in the same place…I like bringing the community together and letting them know about what we're doing and how important this is to us.
Youth group members expressed pride in the chance to shine a light on the issue of homelessness.
Jenny Olmsted, 12, said she wants to raise awareness that this is a real situation and we need to help the people who actually have to live in these situations.
We believe that you love your neighbor and so we want the kids to learn empathy and experience what it is that their neighbors go through, said Pastor Young.
Haviland added: To truly understand the people we are called to help, we're walking a mile in their shoes and showing everyone what it looks like to live as an otherwise invisible demographic.
Tags:
First Congregational Church
,
greenwich
,
homelessness
,
hunger