March 3, 2016
VIDEO: GHS Hockey Beats Ridgefield, Advances to FCIAC Title Game
[jwplatform eWM62F8J]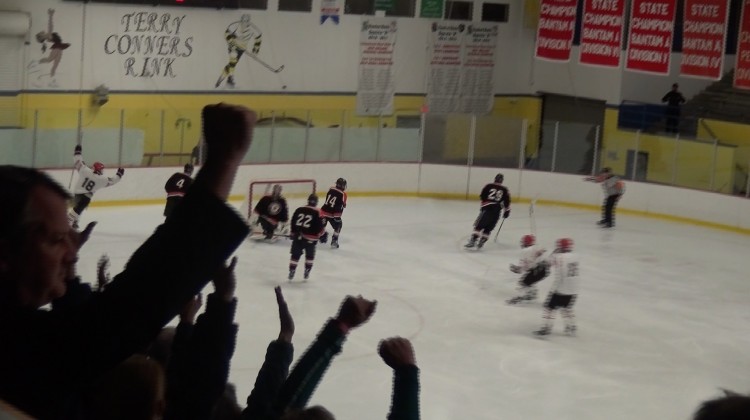 It's FCIAC playoff time. The number one seeded Greenwich Cardinals faced the fourth seeded Ridgefield Tigers at Terry Conners Rink in Stamford.
Mike Mozian starts this game out hot. Just 1:35 into things he skates the puck down the ice and gets it past the Tiger's mgoalie. 1-0 Greenwich and the Cardinal Crazies, well, they go crazy.
Now to the second period where the two teams battle it out. Greenwich goalie Nick Bozzuto gets this save, and this save, and this save, and this save during a play that sends Colin Kelly to the penalty box. The Cardinals play a man down, but the Tigers don't score and it's 1-0 heading into the final 15 minutes of play.
And that Kelly kid who was just in the box- he lights a fire under the Cardinals skates here. He places the puck perfectly int he top corner of the net to put the Cardinals up by 2.
The rest of the third is a bit scrappy, but Bozzuto protects the net with he help of his defense. Playing with a man down, KC Cunningham gets the face off to Mozian who then scores on an empty netter.
The Cardinals win 3-0 and advance to the FCIAC Championship game.
"Bozo really showed a lot of character today, the way he played, the way he got himself square, and how hard he fought to get the puck. Really impressive job by Bozzuto," said Head Coach Bob Russel.
"We knew we had to come out string against their D. They are a good team, they have some talented players. We had to work hard and put our full effort in," said Mozian.
"We are feeling amazing. The locker room is so confident right now. It's great coming into FCIAC's getting huge wins," said Bozzuto.
The Cardinals will face St. Joe's on March 5 at 3:00 p.m. at Terry Conners Rink.
Tags:
boys hockey
,
ct boys hockey
,
FCIAC
,
greenwich
,
Greenwich High School
,
high school hockey
,
Ridgefield
,
ridgefield high school
,
terry conners rink