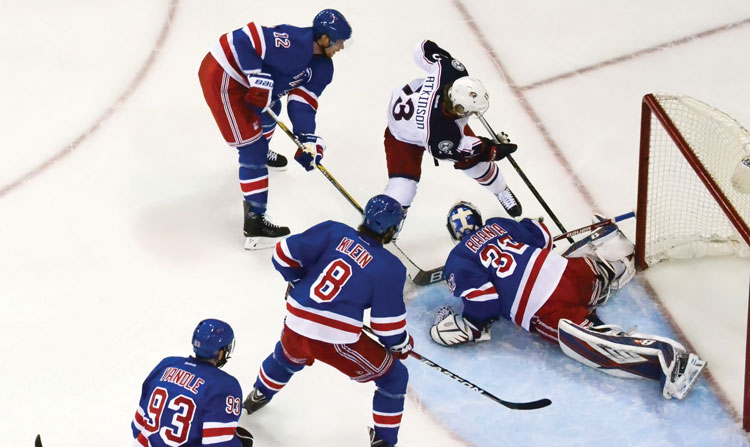 Confidence really does go a long way. Just ask Greenwich native Cam Atkinson.
In his third full season in the National Hockey League, the Columbus Blue Jackets forward is consistently making his mark in Ohio and it's easy to see that all his hard work and determination is paying off.
"I think it's been going great," Atkinson told the Greenwich Sentinel after his morning skate Monday at Madison Square Garden. "I think this year I have definitely been more consistent than I have been in previous years. Overall our team has definitely taken a step forward in the right direction, creating an identity for ourselves and hopefully we can keep this thing going to the end of the season."
And on Monday, playing less than 60 minutes from where he grew up, he gave his friends and family in attendance at MSG reasons to cheer.
Although the New York Rangers came away with the 2-1 victory against Columbus, Atkinson scored the lone goal for the team.
Trailing 1-0 heading into the third period, Atkinson turned heads when he stole the puck deep in the Rangers' zone, darted up the middle of the ice and outran New York's Dan Giradi for the breakaway.
Atkinson fired a point-blank shot at New York goalie Antti Raanta. Although Raanta made the pad save, Atkinson corralled the rebound and buried the shot to the lower right side of the net for the unassisted goal.
"I thought we played a pretty solid game and I don't think we gave them too many chances," said Atkinson to Fox Sports Ohio after the game. "When you play against the Rangers, they want to play kind of a track match back-and-forth, up and down the ice."
Atkinson was seconds away from sending the game to overtime. After Derek Stepan hit the shorthanded goal with 2:48 to play in the game to give the Rangers a 2-1 advantage, Columbus was looking for the equalizer late.
With the seconds winding down, there was a mass scramble in front of Raanta and Atkinson pushed the puck in back of the net. However replay showed that time ran out just before Atkinson's shot crossed the line.
Atkinson's goal was his 20th of the season and it's the third consecutive 20-goal season.
"Consistency is very important," Atkinson said. "For me, it's all about having confidence and when you have confidence moving the puck, you're going to be a threat every single night and every single shift."
Having that consistent play has been crucial to Atkinson's success. Atkinson walked through the narrow hallways at Madison Square Garden Monday morning like a seasoned veteran.
He took his morning skate with the Columbus Blue Jackets with the same hard work and determination that has made the Greenwich native so popular in Ohio.
"It's always fun to play here," Atkinson said. "I grew up a Rangers fans and will have a lot of family members in the building and a lot of friends here as well."
And for his success on the ice, Atkinson said that he credits his linemates, Brandon Dubinsky and Boone Jenner.
"I have been playing with those guys for the majority of the season and we seemed to have clicked in a great way and I hope we can keep it going," Atkinson said. "It's great playing with them because each one of us brings something different edge to our game. I am smaller and speedier and I like to get open for the shot, Dubi works his tail off and is great with the puck and Boone just forechecks and gets into greasy areas. We all bring something different and it works."
While the trio have been solid since being put on the same line, the trio of Atkinson, Jenner and Dubinsky has been the team's most productive line lately.
"I think we all bring something," Jenner said. "They are all good players and it's fun playing with them. We are big, fast, can wear teams down and make plays too. Having Cam is great because he's really fast and has a great shot. He creates a lot out there. Dubi and myself are a little bigger and we like to get in on the forecheck and wear teams down that way."
Jenner, who just signed a two-year extension with the Blue Jackets, certainly has high praise of Atkinson.
"He's a great player, an elite player," Jenner said. "He has that electrifying speed and quickness out there. His shot is so quick and he just makes plays. We're getting better as we go along reading off each other and knowing where to be and where to go."
Playing for Columbus has been a pleasure for Atkinson to say the least. His first NHL game with the Blue Jackets took place during the 2011-12 season.
Being considered a veteran on the Blue Jackets and playing the grueling hockey season in its entirety has taught Atkinson some very important hockey life lessons.
"You can never get too high on yourself and never get too low," Atkinson said. "You need to find that happy medium. Shooting the puck and skating are my two best assets, so when I am doing that, I think my line has chances to score goals."
Also being considered one of the veterans on the team has given Atkinson a different perspective on the game, something that it's really enjoying.
"I think it's great," Atkinson said. "I love that I am accepting a higher role and more of a leadership role. That's what happens when you've been in the league a little bit, which is funny to think. I still consider myself young, but you look at the team and there are a lot of people way younger than I am. So it's been good and great to learn and teach whatever I can to the young guys and learn from them as well."
And the Columbus forward loves the team he plays for. Almost a year ago to the day, Atkinson was signed to a three-year contract by the Blue Jackets.
"I love playing in Columbus," Atkinson said. "I tell everybody that it's where I started and it's where I hope to finish my whole career. I think we have something great and special. We are starting to figure it out. We had a hard time at the beginning of the season, but I think with the coaching change, it's been great for us."
And playing in the league has given the Greenwich native a stronger focus. A perfect example is earlier this year when Atkinson was one of the names thrown out for a possible trade. At the start of his career, hearing his name involved in a possible trade rattled him. Not any more.
"It hasn't been the first time thing that my name has been brought up in trade rumors," Atkinson said. "My first year when I was in the trade rumors kind of took me back and I didn't understand. But now I know it's a part of the business and it is what it is. It's obviously out of my control and all I can control is my play. You have to play your game and not worry about the background noise."
Helping Atkinson's game this season has been the coaching change that took place early in the season. With the Blue Jackets starting the season a disappointing 0-7-0, Todd Richards was ousted as head coach and replaced by John Tortorella on Oct. 21.
Atkinson has thrived with Tortorella behind the bench, adding key moments on the power play and penalty kill, as well as working the top line with Dubinsky and Jenner.
"I think [Tortorella] holds people accountable in all situations," Atkinson said. "Doesn't matter if you're old, young guy, whatever. If you're working hard out there and you want to win, he's going to see that and throw you out in opportunities to have success. For me, I've been playing hard for him and he seems to like that, so I need to keep that going."
With 18 games to play in the regular season, the Blue Jackets, a team picked preseason to be one of the teams fighting for the top spot in the Metropolitan Division, are currently 26-30-8 and have 60 points this season.
While playoffs might be a stretch, Atkinson said it's all about finishing out the season strong and keeping momentum going towards the future.
"I think we need to play the way we've been playing," Atkinson said. "It's all about playing with consistency and playing for a full 60 minutes. The majority of our games lately have been 1-1, 2-2 games going into overtime and shootouts. We need to keep playing hard. We are a blue collar team, forechecks hard and creates opportunities and chances off the rush and off those turnovers. If we keep playing hard, we will have success."