March 3, 2016
Boy Scouts to hold Food Drive for Neighbor to Neighbor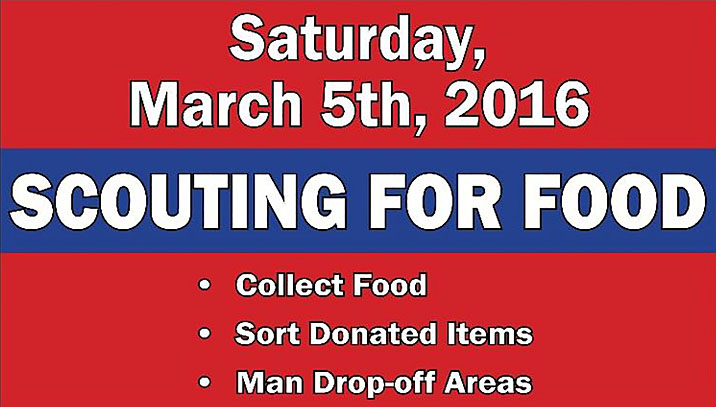 The Greenwich Council, BSA, announced that CT State Representative Fred Camillo (District 151) will again serve as Honorary Chair of the Council's annual "Scouting for Food" drive on Saturday, March 5, from 9 to 11:30 a.m. Greenwich Cub Scouts and Boy Scouts will participate in the "Scouting for Food" drive by collecting food from local residents to benefit Neighbor to Neighbor.
Food donations can be brought to one of the three drop-off locations: Glenville Volunteer Fire Company, 266 Glenville Road; Cos Cob Volunteer Fire Company, 200 East Putnam Avenue; and Sound Beach Volunteer Fire Department, 207 Sound Beach Avenue, Old Greenwich. Greenwich residents are encouraged to drop-off non-expired items, such as canned beans (not green), canned fruit, tuna, boxed milk, pasta sauce, pasta, jelly, peanut butter and more. All donated food will be sorted and then delivered by Scouts to Neighbor to Neighbor, with a goal of surpassing the 2015 collection of 140+ crates of food, which was over two tons.
Cubmasters, Den Leaders and their Cub Scouts will be collecting food from 9 a.m. to 12 p.m. at the following supermarkets in Greenwich:
Alex Zisson and Pack 37: Stop & Shop, 161 West Putnam Avenue, Central Greenwich.
Derek DeVries and Pack 3: Kings Food Markets, 26 Arcadia Road, Old Greenwich.
Carol Zelenz and Pack 23: ACME Markets,1261 Boston Post Road, Riverside.
Boy Scouts will be pre-sorting food for delivery to Neighbor to Neighbor at the following Fire Stations:
Chief Jim Heavey & Troop 35: Glenville Volunteer Fire Co., 266 Glenville Road, Glenville.
Dev Hawley & Troop 9: Cos Cob Volunteer Fire Co., 200 East Putnam Avenue, Cos Cob.
Bill Gordon & Troop 5: Sound Beach Volunteer Fire Dept., 207 Sound Beach Ave., Old Greenwich.
Tags:
Boy Scouts
,
BSA
,
food drive
,
greenwich
,
Greenwich Council