February 25, 2016
Brunswick Basketball Falls to Greens Farms in FAA Quarters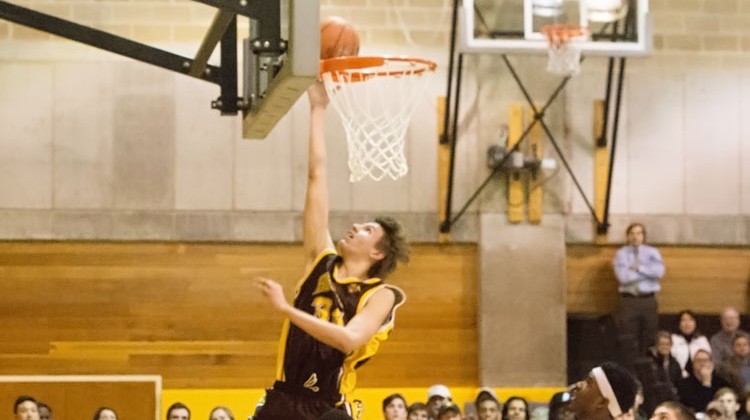 The Brunswick School's basketball season came to an end on Wednesday night, as they fell to Greens Farms Academy in the opening round of the FAA tournament, 79-68.
Senior co-captain Nacho Nwana led the team in scoring one final time, netting 28 points, capping his career total at Brunswick with 1,231 points.
The fifth-seeded Bruins (9-15) traded leads with the fourth-seeded hosts in the early going, before the Dragons pulled away in the final minutes of the first half. Greens Farms' significant front court size advantage gave them some easy looks at the basket late in the half, as the Dragons took a 37-30 lead at intermission.
Brunswick battled back in the second half, as the Bruins quickly erased the halftime deficit. Brunswick regained the lead near the midway point, using timely perimeter shooting, as the visitors sank 11 three-pointers in the game.
While the Bruins relied on the long ball to stay in the game, the Dragons continued to use their size for a number of in-close scoring chances in the second half. For the game, Greens Farms was an effective 21-for-39 (.538) from inside the three-point line.
The hosts countered the Brunswick second half surge with a decisive double-figure scoring run to close out the game, 79-68. 
Nwana finished with team-bests with 28 points and nine rebounds, as junior Charlie Sealy netted 14. The co-captain tandem netted eight of Brunswick's 11 three pointers, as Nwana sank five to Sealy's three.
Tags:
Brunswick
,
Brunswick Basketball
,
ctbasketball
,
ctbb
,
FAA
,
GFA
,
Greens Farms Academy
,
greenwich
,
NEPSAC