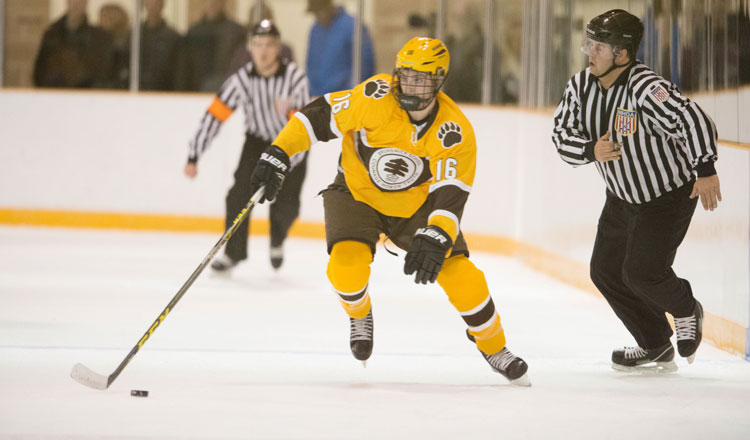 There was no way that the nine seniors on the Brunswick School hockey roster were going to come up on the losing side of the puck during their final regular season home game of the season.
Five of the six goals against Albany Academy Wednesday afternoon were scored by Bruins' seniors, as Brunswick came up victorious with a 6-3 victory.
"A win is a win," Brunswick head coach Ron VanBelle said. "At this point of the season it's been a long season and we got in some good battles today. We are averaging just over three goals a game, so it was nice to get some goals and put pucks on net. We got a lot of rebounds and deflections and the bounces. It was nice. I also thought the special teams did really well."
The duo of Colin Slyne and Jack Stephenson led the way for Brunswick, as both seniors, each finished with two goals. 
"I've been on the team since my freshman year and I have basically been dreading this day ever since," Stephenson said. "I am going to miss this team when I leave the school. But I couldn't ask for a better group of guys this senior year. It's not a team here. It's more like a brotherhood. We are hanging out all the time when we are at school, before practice and on weekends. There's a lot of care on this team."
Also pitching in with a goal was fellow senior Jack Mendillo.
"It's special to play on Senior Night and to get a goal in the game," Mendillo said. "It's something you look forward to for a while and to be here with this group is great. It's better than I expected. It's cool to be with a large group of seniors that I'm really close with. To win tonight was great to get."
In total, Brunswick threw 33 shots on net. Senior goalie Brian Ketchabaw finished with 30 saves for the Bruins.
"It was our last game on the Hartong Rink and we wanted to end on a high note before heading into playoffs," senior Max Fuld said. "This is a great group of guys and we have such a great brotherhood. It's really tight-knot here. We stay together through the ups and downs and it's a real close team."
In addition to the seniors that found the back of the net, Fuld, Matt Sealy, Eric Ganshaw and Colin Bernard all were all honored during Senior Night ceremonies at the end of the first period.
"That's a lot of guys to graduate and a few four-year guys," VanBelle said. "A lot of guys here, Slyne, Stephenson, Sealy and Ganshaw have been here a long time and helped us build this team. Then we added guys like Fuld, Ketchabaw, Bernard and Mendillo as impact players. It's going to be tough to fill those sweaters next year."
For Stephenson, getting that victory on the last regular season home game of his career at Brunswick wasn't an option.
"It's great," Stephenson said. "It's like a feel good story. These seniors have done so much with this program. We have turned it around and made it a perennial powerhouse. It's nice to get a solid win in front of the home crowd one last time."
With the victory, Brunswick ups its overall record to 19-5-2 on the season with only a few more game until the postseason begins. It's still up in the air whether Brunswick will compete in the Elite Eight tournament or in the large school tourney, as the Bruins are a bubble team for the Elite Eight.
"You never want to limp into the playoffs, so it's very important to make sure that we finish strong," VanBelle said. "Part of that is to keep to our game plan. We have been pretty successful all year playing our defense first style of hockey. As a result, if we remember that and finish the way we have been, we will be fine.
"My goal is to keep the boys focused on each game and not let them look too far ahead," added VanBelle. "We need to focus on each period and keep playing our style of hockey. We are on the bubble, just like we were last year at this time.  If we win out, we have a good chance of making the Elite Eight, but we will see how it comes out in the wash. Either way we will have a postseason game and that was one of our original goals."
On Saturday, Brunswick will battle Northwood School at the Gunnery Showcase event. A day later will be a monster game for the Bruins, as they play Gunnery, a team ranked one below Brunswick at the seventh spot.
From there it's only the games played at next week's Empire Cup and it's off to the postseason.