February 17, 2016
Brunswick Wrestling Team Takes Town Crown Over Greenwich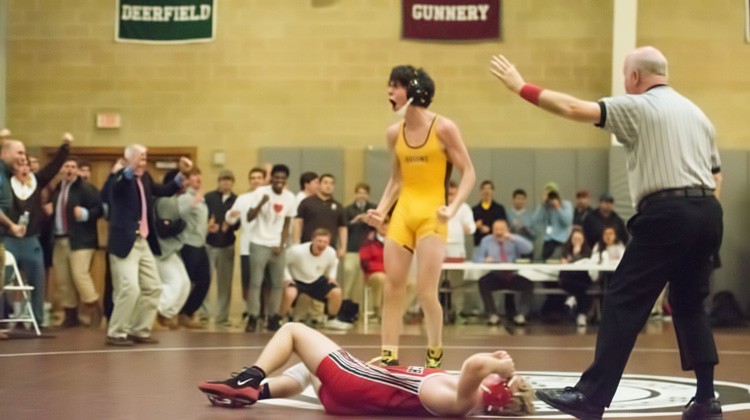 There was no lack of energy and excitement in the Burke Field House Tuesday night as the in-town rivalry of the Brunswick and Greenwich High School wrestling teams was renewed once again in the annual faceoff for town bragging rights.
The Bruins completed their perfect (21-0) season with a 45-25 victory over GHS as the two teams split the bouts 6-6 with two forfeits going in Brunswick's favor.
Brunswick claimed pins from Aiden Reynolds, Andrew Hennessey, Emmett Bell, Sandro Mariani and Jon Errico to secure the victory, but not to be outdone, Greenwich's Ethan Ross and Mike Ceci closed out the match with victories of their own for the Cardinals.
"It's a healthy rivalry," said Brunswick coach Tim Ostrye. "When I was growing up, I went to a small catholic school in upstate New York and we had a rivalry with the local public school. This reminds me of that scenario — a good healthy rivalry."
After Tuesday's match, Ostrye brought the team over to the corner of the gym in front of the banner honoring undefeated wrestling teams in the school's history, where new stitching will be required for the first time since the 2003-04 season. It is Ostrye's eighth undefeated season at Brunswick.
"This was an epic match as they always are. Nobody has an edge when it comes to this match. We may have had a better record, but they showed up ready to go. You don't ever set that as a goal, to be undefeated. It's unrealistic."
Greenwich finished their regular season 11-4 and came in seventh in last week's FCIAC championships. They will travel to Trumbull high school this weekend for the CIAC LL finals.
"I'm grateful to be along for the ride on some of these rivalries," said GHS head coach Greg Domestico after the match. "It stings to lose, but I'm extremely pleased with the effort we got from the kids, including kids that don't normally wrestle in our lineup and the way our underclassmen handled themselves tonight. I'm very encouraged and excited for the future by the way these young guys handled themselves."
In the 106-pound weight class, Mitchell Grimes pinned Wick's Alex Burdick in 1:35 while Dylan Ehret added a second-round pin for Greenwich against Rishi Das in the 113-pound weight class.
Grappling in the 220-pound weight class, Greenwich's Erik Menchaca fell to Joe Fervil in a 7-4 decision and Brian Harvey won over Brooks Hennessey in a dramatic third round comeback where Harvey secured two takedowns and a near fall to take an 11-10 decision in the 120-pound weight class.
Andrew Hennessey defeated GHS' Chris Stanback in the 126-pound weight class with a late third round pin and it was followed by an Emmett Bell pin of Wyndsor Doyle in the 132-pound weight class.
Greenwich's Jack Barter won a 9-4 decision over John DeLucia in the 138-pound weight class, but Brunswick would respond with a second-round pin by Sandro Mariani in the 145-pound weight class.
The fastest match of the day went to Brunswick's Jon Errico who pinned his opponent Finbar Doyle 44 seconds into the duel.
"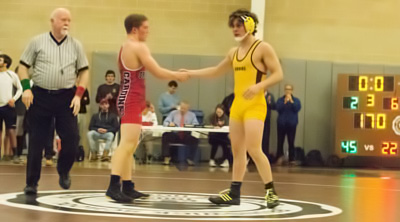 It's a big rivalry and it always gets a good crowd," Errico said. It gives our boys at school something to look forward to. It gets us hyped up when we know we get to wrestle in front of a crowd."
The senior reflected on the perfect season and what makes the Bruins almost untouchable on the mat.
"I've never seen more guys that push each other to a whole other level. Our heavyweights push our smaller guys and we even have our little guys pushing our bigger guys. Our JV pushes our varsity and I think that what makes this team so great."
Greenwich rounded out the day with a 9-0 decision from Ethan Ross in the 160-pound weight class and a 6-2 decision from Mike Ceci in the 170-pound weight class.
"With my team behind me, it kind of got my adrenaline pumping," said Ceci.
Trailing 2-1 heading into the final round, Ceci brought the crowd to their feet when he secured a reversal on 'Wick's Lucas Bell and came back to win in the final minute of the meet.
"It's a great rivalry and Brunswick is a great team. Lucas played a great match and he's a great wrestler too."
Sitting undefeated and with a WNEISWA title under their belt, Brunswick has 13 wrestlers who qualifed for the New England Championships later this week, with several expected to compete in the National's later this month.
Greenwich will finish their season with a trip to the CIAC LL's this weekend.
Tags:
Brunswick
,
Brunswick Wrestling
,
CIAC
,
ctwr
,
ctwrestling
,
FAA
,
FCIAC
,
GHS
,
greenwich
,
Greenwich Wrestling
,
Greg Domestico
,
NEPSAC
,
Tim Ostrye