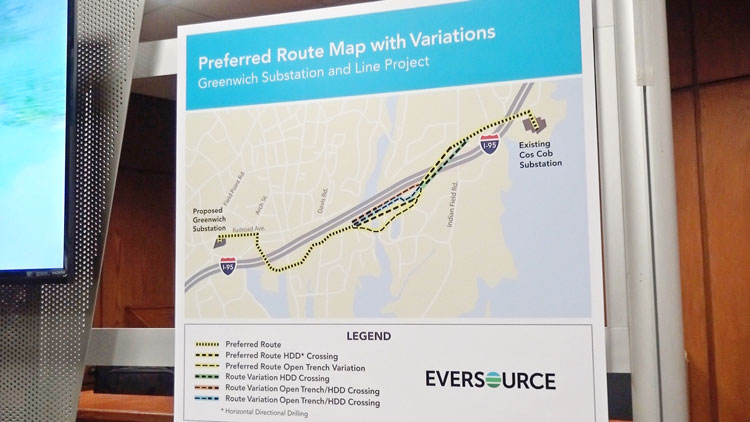 In a letter dated Jan. 29, U.S. Sen. Richard Blumenthal told the executive director of the Connecticut Siting Council, Melanie Bachman, that the CSC should adhere to environmental protection policies and reject Eversource's bid to lay power transmission lines in Bruce Park.
Blumenthal, a Greenwich resident, writes: "Of particular concern is the proposed installation of underground transmission lines encased in a petroleum-based fluid through Bruce Park—a 100-year-old storied and historic park and green, tree-lined oasis within the town of Greenwich."
"Bruce Park is a long established and legendary park," Blumenthal added later. "It's a gem that should not be diminished or degraded. The costs outweigh the benefits and alternatives should be found."
According to Eversource's proposal to the town of Greenwich, approximately 2.3 miles of cable would run between the existing Cos Cob substation and the proposed Railroad Avenue substation site; the cable would contain more than 100,000 gallons of a petroleum-based fluid.
The need for a new substation in Greenwich stems from projections from Eversource, formerly CL&P, that say the current substation in Cos Cob will overload in 2017, and that an additional substation would add an estimated 30 years before the overloading issue arises again.
The town of Greenwich and many of its elected officials, including First Selectman Peter Tesei, Town Planner Katie DeLuca, and state Rep. Fred Camillo have all spoken out against the placement of transmission lines through Bruce Park and other points of Eversource's proposal. 
DeLuca argued in an earlier report sent to the CSC that, based on Eversource's energy consumption data, it wouldn't be until 2031 that the system would exceed its designed capacity.
 However, a spokesman for Eversource, Frank Poirot, cites the "growth of demand for electricity and a concentration of that growth" where the proposed substation would be located, at 290 Railroad Ave, as the reason for the additional substation.
"We think, logistically, it's the best place to cite a substation which is close to where customer need is," Poirot said. "We're looking at very modest gains in population. We're watching the demand in electricity grow in such a way that it is disproportionate to population growth."
Poirot says that a changing real estate market and the businesses that occupy Greenwich also play a role in the future need for electricity.
"You only have to look to what is happening in the real estate market. For residential real estate to see that older homes that had very nominal need for electricity are being replaced by much larger homes with more electrically powered devices. That's a large part in what is driving the growth.
"Another part is the growth in business in Greenwich. Specifically, in the financial sector. They also have some very critical and some significant energy needs. They are critical in that these are businesses that cannot afford to go with power interruptions. The quality of power that is provided to these businesses has to be quite high."
A decision from the CSC is expected in the second quarter of 2016, with a fourth and final evidentiary hearing coming up soon. If approved, a development and management plan will be submitted to the CSC for approval, and construction would begin in the fall of 2016, pending all necessary approvals.
Blumenthal echoed what the town of Greenwich stated in a letter and report to the CSC, dated Nov. 23, 2015: He said he supports the town's mission to "work in concert with Eversource and the Siting Council to develop an economical, responsible solution, one that in no way jeopardizes the public's physical or environmental safety, during construction of any improvements or during their eventual operation."