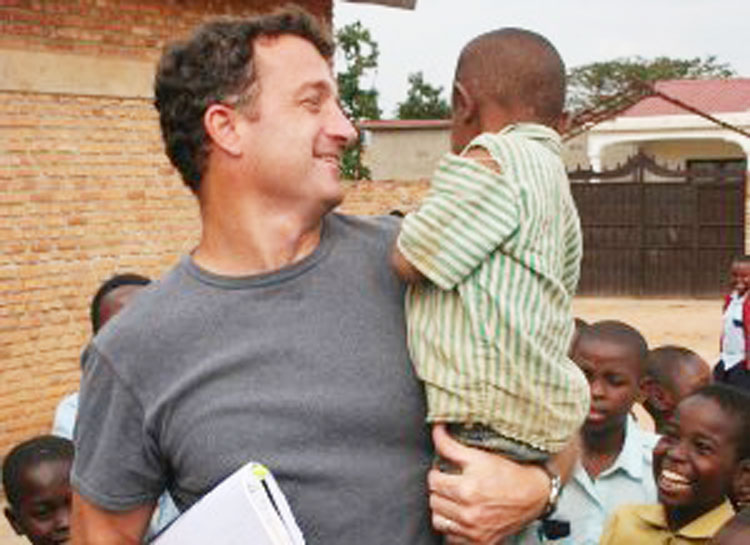 By Anne W. Semmes
Sentinel Features Reporter

Stephen Paletta's  GiveBack.org was created for everyone – "those who give $500 to $1,000 a year." Paletta's mission is "to empower, inspire, and celebrate the everyday philanthropist." "Philanthropy is often thought of as a privilege of the rich," he said, "but each of us has the opportunity to give back, to volunteer. Each and every one act makes a difference."
As a way to grow individual GiveBack accounts, Paletta created an online shopping portal where percentages of purchases made from a choice of some 500 retail stores would be added to their account. (In the works for next year is a GiveBack credit card.)
Paletta next invited companies themselves to create charitable savings accounts with payroll deductions coming from giving-minded employees. "Say, you take out $10 of each paycheck," said Paletta. He partnered with three companies – Kelly & Associations – an insurance company, Harvest Capital in New York City, and Stanley Black & Decker in Hartford. "It took off," said Paletta, "a lot of employees signed up."
With the expansion of GiveBack, Paletta looked for a wider network by partnering with a major service company – TASC or the Total Administrative Services Corporation. "With TASC," he said, "not only can people set money aside into their GiveBack account, our members can set up regular recurring donations that go directly to their favorite charities. And half of the companies that TASC services offer matching gifts."
These new features translate to an updated platform called GiveBack 3.0, noted Paletta,  to be realized by end of this year.
"GiveBack 3.0 will also enable companies to run their annual giving campaigns more effectively, such as the United Way," he said. "It's all about making it easier for everyone to be a philanthropist."
"Just imagine," said Paletta, "if every company would offer a giving program and if the company had that value." But instead he said, "for every company, their investment philosophy is their return on investment. We're trying to make the case that company and employee giving is a long-term investment that has its own set of returns. We have to get this more positive message out there."
"When you are involved in goodness it actually makes you a better person," said Paletta who learned firsthand from Dr. Stephen Post of the positive effects that giving has on a person.
It's now 11 years since Paletta volunteered to go to Africa with a Trinity Church group that led him to create the International Education Exchange, a nonprofit providing aid to schools in Rwanda where he has visited numerous times. It was that philanthropy that brought him to the attention of Oprah Winfrey.
"If you come out of a life with a faith perspective," he said, "There's a tendency to move towards that life of giving, of community. But there are a lot of generous people who don't have a defined faith."
He was grateful for the generosity of a number of Greenwich residents who had contributed to the launch of GiveBack.org. "My initial investors were all Greenwich people," he said.
"Americans are incredibly generous. Approximately 300 billion dollars is given by Americans every year. You might figure that most of that amount must come from corporations. But 220 billion dollars comes from people like you and me."
"It is the people who have the least to give – the family that gives $25 to the Boys and Girls Club that I wanted to engage and support.
Reprinted excerpt from July 17, 2015 article.