January 8, 2016
Greenwich High Boys Swim Team Ready For Another Big Year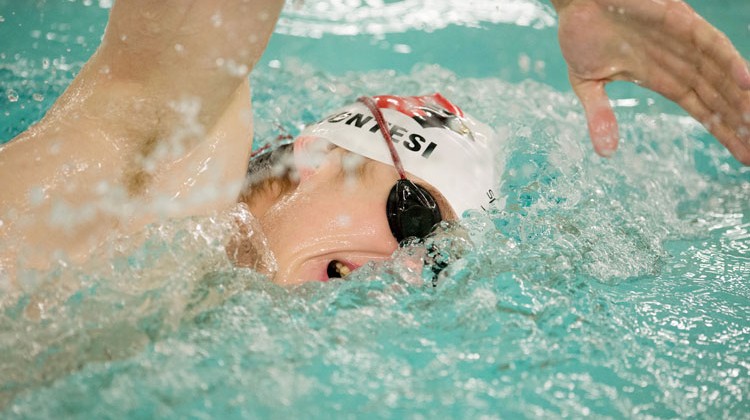 While it won't be as easy, the Greenwich High School boys' swimming and diving team will be looking to once again be one of the top teams during championship season.
Last year Big Red took the state by storm, smashing countless divisional and open individual records. As a team, Greenwich won the class LL meet with 836 points. The next closest team was rival Fairfield Prep, with 489.5 points. At Opens, the Cardinals were golden once again, finishing with 658 points, while Ridgefield took second with 311.5 points.
"The last couple of years really have been golden years for us," Greenwich High School head coach Terry Lowe said. "They have really been super. This year's team won't have that depth that those other teams had. We lost some really key individuals who swam at a super-high level."
With the victory at the state Open finals, Big Red lost a plethora of talent to graduation.
Thomas Dillinger took top honors and broke a record in the 200-yard individual medley (1:47.22) and also won the state championship in the 100-yard freestyle with a time of 45.17 seconds. Edward Moss won the 50-yard freestyle at Opens (20.18) and broke a decade-long state record. He also took third in the 100-yard freestyle with a time of 45.89.
Iain Edmundson claimed gold in the 100-yard breaststroke with a time of 57.89 and also took the bronze in the 200-yard individual medley (1:52.88). Diver Andrew Bologna took top honors in the class LL meet with 473.50 points.
Despite the great talent that left the program, Big Red still has the same high expectations as always. And with an abundance of young talent, plus some key returners from last year's team, Lowe still sees his squad as one of the teams to beat this year.
"We're probably not as strong in the front line, but no one is going to cry alligator tears for us, because are still going to be a solid and very competitive team," Lowe said. "We are able to cover almost every event with really top-quality swimmers. Our relays should be strong."
Helping the team reach its potential will be three captains, Jack Montesi, Nicholas Handali and Nick Hyden.
Leading the way for the Cardinals this year will be senior Montesi, who dominated last year. During last year's state opens, he took home two first place medals and broke a state record. In the 100-yard butterfly, he finished with a time of 49.09. Montesi was also golden in the 100-yard backstroke with a time of 49.67.
"He's a solid all-around swimmer and is going to give peak performances in the back, fly and freestyle events," Lowe said.
Hyden, who dominated the competition this past fall with the GHS water polo team, also fared well during last year's state Open swim meet, taking seventh in the 100-yard freestyle with a time of 47.65 and eighth in the 50-yard freestyle with a time of 21.91.
Handali will be another solid all-around swimmer for Lowe, as the head coach said that Handali could swim anything from the 50-yard freestyle to the 200-yard individual medley. During last year's LL meet, the senior finished 11th in the 200-yard IM (2:01.32) and 16th in the 100-yard freestyle event (49.93).
"They pretty much give us coverage across a bunch of events," Lowe said. "Jack shows day in and day out what it means to really train hard. You give those three a workout to do and you could turn your back on them and know that they can get everybody to do it at a high level. That's made a huge difference for us. If they could continue to do that for us, we will have a good year."
In addition to the captains, Greenwich High will have some strong depth this season. Junior Aedan Lewis competed in two events at the class LL meet, taking eighth in the 100-yard breaststroke (1:00.71) and 11th in the 200-yard IM with a time of 1:59.55.
Senior Raymond Warner will be a long distance threat for Big Red this season and has some experience in big meets, taking sixth in last year's class LL meet with a time of 4:48.27. He fared better in the 200-yard freestyle, grabbing the bronze and touching the wall with a time of 1:44.84.
Junior Patrick Clisham was a standout in the butterfly event during last year's divisional meet, taking seventh in the 100-yard butterfly event (53.35) and 10th in the 200-yard freestyle (1:47.28). Fellow junior Tyler Jester also gained experience during last year's class LL meet, competing in both the 500-yard freestyle and 100-yard backstroke events.
Coming on strong for Greenwich last season was Conrad Moss; the junior will be looked to for big times in the sprint freestyle events this year. Also, two seniors, Russell Winget and John Dustin, will be in the hunt for a state tournament appearance in the butterfly events.
Last year Ryan Lynch was able to advance to the class LL meet in the breaststroke and this year, as a sophomore, he's looking to improve on that time.
A big loss for Greenwich early this season will be on the diving board, as junior Justin Sodokoff, who placed second at the class LL meet (444.95) and third at Opens (480.40), will be sidelined for the majority of the regular season with an injury.
Picking up the pace for the divers this year will be sophomore Devon Satir, who was solid at the FCIAC championship meet and took ninth in the class LL meet with 337.75 points. Right behind him last year was Sergei Shaw, who last year as a freshman took 10th overall with 336.25 points. Joining the duo will be freshman Michael McNulty.
"We have what it takes to put together a very balanced, solid team here," Lowe said. "We want some All-American individual performances from some of the leaders that we have. I also think that some of our relays should be All-American as well by the time we finish championships. I don't see us shooting for records, but we will be one of the top teams in the state."
Joining Big Red this year is Alex Jahan, a senior who certainly knows his way around the pool. With the Greenwich YMCA swim team, Jahan took home a time of 2:18.38 in the 200-yard breaststroke and qualified for the Olympic Trials later this year.
In addition, sophomore Matt Li will be coming from prep school swimming to help Big Red this season in the backstroke and freestyle events. Freshman Parker Scott will be an addition, as will sophomore Brian O'Leary, a sophomore that will strengthen the team's sprint freestyle events. Senior Josh King will contribute in the breaststroke.
Freshman Stephan Todorovic will help Greenwich in the individual medley and distance freestyle events, while Noah Sorensen will pitch in during the dual meet season and is a solid all-around swimmer.
"I think we have three or four guys that will make it in the state open at the butterfly and we will have three or four guys make it to the state Open in the breaststroke," said Lowe. "We should get somebody in the state open at every event, but it's all about getting more than one swimmer in events. Depth is very important."
One of the changes Big Red had to get used to was its schedule. For the first time that Lowe could remember in his decades-long career, his team's first regular season game will take place in January instead of December.
"I'm a little frustrated," said Lowe, who is also on the CIAC Swim Committee. "We left our April meeting and the start of the season was the same as always, the Monday after Thanksgiving. That means our January and February schedule is absolutely packed without any sort of break. It's a lousy schedule to say the least, but we will make the most of it."
With the schedule so compressed, Lowe is concerned about his team's ability to train for the postseason meets.
"It's going to be hard to get the kind of training time in that we need," Lowe said. "Thankfully we have a lot of home meets this year, so that will couple up some sort of training for a number of those meets. That way we are not losing a day because of a dual meet."
And Greenwich will get a chance to see how good they are right away. After starting the season against Trumbull High School on Wednesday, Big Red will return to the GHS pool and battle Ridgefield today at 3:30 p.m.
Last year the Tigers were second to Greenwich at the CIAC State Open meet and took fourth overall at the class LL meet.
"They are one of the teams to beat this year," Lowe said. "They had a very young team last year and have really super swimmers. They have at least two trials qualifiers and the core of their team is as good as it gets."
Tags:
CIAC
,
ctdive
,
ctswim
,
FCIAC
,
greenwich
,
Greenwich Diving
,
Greenwich Swimming
,
Jack Montesi
,
Terry Lowe