January 7, 2016
The Jeff Grant Story: A Worldly Fall, A Spiritual Ascent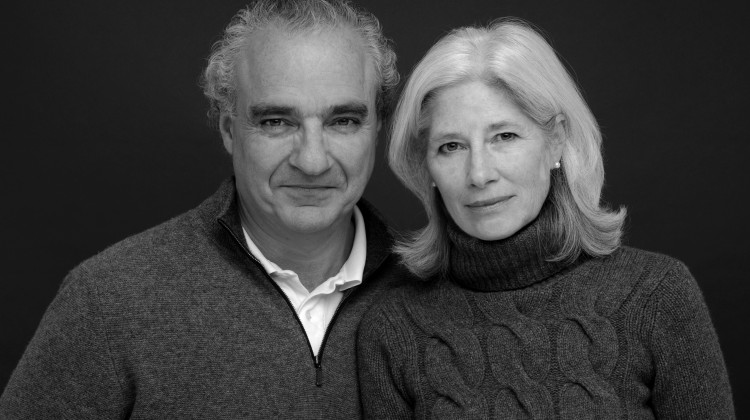 When the Rev. Jeff Grant speaks at conferences like the Correctional Ministry Summit and the Greenwich Leadership Forum, he speaks as a pastor who spiritually guides and supports people who have lost their way—namely white–collar criminals, along with and their often-neglected families.
"The darkest days of a person's life can still lead to hope and redemption," said Grant, co-founder and minister-director of the Progressive Prison Project/Innocent Spouse & Children Project, the first ministry of its kind in the country. It was founded in Greenwich and remains an outreach ministry of Christ Church (among other churches), though Grant now lives in Weston.
Grant speaks from personal experience, having spent 14 months in a federal prison for a financially motivated crime stemming from bad decisions made under the influence of prescription drugs.
"There's a transformation that goes on in every single person I've ever met that has gone through incarceration issues," Grant said. "Whether they recognize it or not, at some point it becomes clear to them that they are no longer the people that they had been. That's generally a good thing. These are life-altering experiences."
Grant was a corporate and real estate attorney practicing in a high-flying law firm in Westchester County. His fall from grace started innocently enough: He suffered a ruptured achilles tendon while playing sports in 1992, and was put on the prescription painkiller Demerol.
"In the course of the rehabilitating that injury, I got hooked on the prescription narcotics," Grant said. "Doctors were more than happy to continue to prescribe them to me, and I took them for about 10 years. Over the course of that time, I was abusing the painkillers and my judgment became more and more impaired."
Grant gradually began losing control of his firm—until the day arrived when he couldn't meet payroll, and he made up the shortfall by dipping into client escrow funds.
His prescription drug abuse continued unabated for a decade. In July of 2002, Grant attempted suicide, taking an entire bottle of Demerol at once.
He woke up at Silver Hill Hospital in New Canaan—where, he says, "I started my new life." 
"I joined a recovery group in Greenwich," Grant said. "We had been living in Rye before moving to Greenwich for around 10 years."
After 20 months of sobriety, Grant received a phone call saying there was a warrant out for his arrest having to do with a loan he'd been granted based on falsified paperwork filled out during his days of Demerol fog.
Shortly after 9/11, Grant had taken out a low-interest loan of $247,000, claiming he had suffered economic injury at Wall Street office that he did not in fact have; he later pleaded guilty to fraud and was sentenced to 18 months in federal prison. (He repaid the loan, penalties and all.)
On Easter Sunday 2006, after Grant had been sober for almost four years, he reported to Allenwood Low Security Corrections Institution in Pennsylvania, and served 14 months.
"It was very frightening," Grant recalled. "It was a harsh environment. The way I got through it was to focus on my mind, body and spirit."
Grant took more than 200 guitar lessons while in prison, sought out religious services, and ran on the track for three to four hours a day.
"I walked 14,000 laps around the track, which is the equivalent of walking 3,500 miles. I was able to get myself out of my own head by being on the track for hours. It also gave me the opportunity to talk to the other inmates and learn what their issues were."
Along with losing 60 pounds in prison, Grant recalls there being one former lawyer (himself), two former doctors, and five former stockbrokers serving time behind bars.
In 2012 Grant earned his Master of Divinity from Union Theological Seminary, with a focus on Christian Social Ethics.
Grant's first job out of prison came in Bridgeport, where he was hired as a practicing minister and later was appointed associate pastor and director of prison ministry at the First Baptist Church of Bridgeport. His Bridgeport experience has given him the unusual distinction of working with both the inner city poor and the backcountry rich.
Also in 2012, Grant and his wife, Lynn Springer, founded the Progressive Prison Project/Innocent Spouse & Children Project to lend a guiding hand to people who have been accused of, convicted of, or incarcerated for crimes ranging from DUI arrests to financially motivated felonies; as the project's name suggests, it also aids their families, a largely invisible class of victim.
In 2014, for the first time that anyone knows about, the project helped an innocent spouse recover assets of hers that had been frozen by the federal government. (Her husband had been a defendant in a white-collar crime case.)
 Springer, the project's founding advocate, concentrates on working with the families. She says many of the people she works with are quite privileged, but adds that having a lot of money isn't the same as living a life of abundance.
"We are first-hand examples of how something very, very dark and seemingly tragic has become something beautiful, hopeful, productive, and far better than the lives we had before," she said.
Springer wasn't married to Grant when he committed his crime, in 2001, but she remained with him when he was sentenced to serve time in prison. She describes the burden of prison on a family as confusing and life–changing, and recalled her own mistakes during the process.
"Initially, people have a lot of questions," Springer said. "Typically in the upper-middle class, where white collar criminals tend to come from, the husband has been the bread winner. Generally, these are people who are considered to be very well off. All of a sudden, all of their assets may have been seized by the SEC. They don't know how they are going to buy food, how they are going to heat their home, or how they are going to put gas in their car. These are the things that happen initially.
"I think living in shame and lying are no way to go," she continued. "I learned that because I didn't initially tell my daughter [Jeff's stepdaughter] the truth about Jeff's crime and where he was when he went to prison. She ended up very disappointed in me for lying to her and for assuming that she couldn't handle the truth. Because of what I have learned from my daughter, I have learned what to say to other people. Children need to know the truth because children know when something is not right."
Springer now talks with families that are going through the same punishing legal and financial ordeals, offering immediate and practical solutions such as guiding them toward local food banks and Operation Fuel banks.
Grant, in addition to heading the Progressive Prison Project/Innocent Spouses & Children Project, is editor of Prisonist.Org, a blog site focusing on local, national and international criminal justice and incarceration issues.
He has made appearances and speeches at the Harriet Beecher Stowe Center in Hartford, Yale Divinity School, The Nantucket Project, and in churches throughout the Northeast. He serves on the boards of Community Partners in Action, Healing Communities Network, and the Creative Projects Group, and has been written about on the websites of New York and Forbes magazines.
"Most don't believe that they are going to come out of this okay," Grant said. "The fact that we dedicated our lives to faith and restoring dignity, we're examples of these things to them and to the community. It brings them hope."
Tags:
Innocent Spouse & Children Project
,
Jeff Grant
,
Lynn Springer
,
Progressive Prison Project