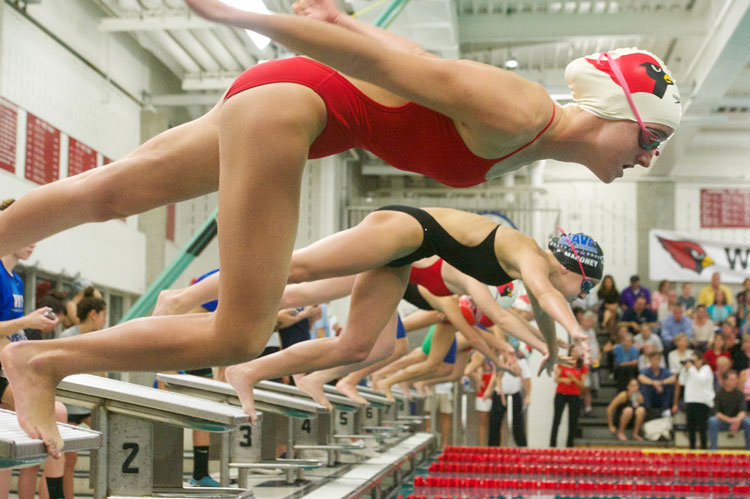 It's been another amazing year for Greenwich when it comes to its athletic teams. Whether it was on the ice, on the turf, on the hardwood, or in the pool, teams from across town have excelled.
As we are about to say adieu to another successful year, here's a list of some of the 2015 top sports stories, in no particular order, throughout the town of Greenwich.
GHS Swim/Dive Flexes Its Muscle During States
Just recently, the Greenwich High School girls swimming and diving team had a postseason to remember. After placing a disappointing fifth in the FCIAC championship meet, Big Red exploded onto the state scene.
Competing in the Connecticut Interscholastic Athletic Conference class LL championship, the Lady Cardinals smashed the competition, taking the class LL title with 897 points. Ridgefield High took second with 555 points.
At the LL finals, freshman Samantha Scott took top honors in the 100-yard freestyle, posting a time of 52.48 seconds. In addition, sophomore Kelly Montesi took second in both the 200-yard IM (2:05.75) and the 100-yard butterfly (56.30) and sophomore Julia Merrill placed silver in the 100-yard freestyle with a time of 52.90.
A few days later, Greenwich was back in the pool for the State Open championship and once again was the best in the state, grabbing first with 581 points. New Canaan was second with 470 points.
"This felt great," said sophomore Kelly Montesi after the class LL meet. "It was especially great because I got to do this with my team. It's such a great team and I couldn't be happier with how we swam. I think we really proved ourselves today. It was a great day today."
Brunswick Water Polo Goes Back-to-Back
While GHS was celebrating two championships in the pool, on the other side of town the Brunswick School water polo team was celebrating as well. The Bruins, after winning the New England Water Polo League last year for the first time, came back this year just as strong and ended 2015 with another New England title.
After finishing league play 13-1 and earning a top seed in this year's Liquid Four, Brunswick blasted Hopkins School, 13-5, in the semifinals and then took care of Suffield Academy, 18-8, to win its second consecutive championship.
"It's very satisfying to watch these kids work as hard as they have and to achieve that goal," Tillman said. "As a long-time coach, my goal is always to get to the tournament and see what happens. And our future looks bright. We only graduate three kids. They are good kids but we have some really talented youngsters."
In the final game against Suffield, Brunswick, which scored nine goals in the first half and had 14 in the third quarter, was led by a trio of Bruins. Pat Stefanou, Simon Derby and Will Marvin each netted five goals. Thacher Scannell added two goals and Nico Apostolides rounded out the scoring with a goal. In net, Charlie Pang finished with 15 saves to help Brunswick claim gold.
Marinelli Steps On Cardinal Stadium as Head Coach For the First Time
Throughout the winter, first-year head coach John Marinelli was itching to get on the football field for the first time with Greenwich High School. After Rich Albonizio left the team at the end of last season, Marinelli, who was on his father's coaching staff at New Canaan High School, was hired to be the team's new coach.
Finally, during the team's annual Red & White game, he was finally able to get the ball rolling on his tenure with Big Red.
"This is a great place to be," Marinelli said. "It really is. It's such a great town and community. Everybody here has been so supportive over the past couple of months. I don't know if you can count this as a first game, but I got my feet wet a little bit. It's a lot of fun. It's great to put your stamp on something and it's nice to bring these guys back a little bit."
Although the Cardinals finished the season below .500, Marinelli couldn't have been more proud of the way his team fought this season.
"I love this team and the senior class," Marinelli said. "They meant the world to me. It's emotional, definitely emotional, but I'm excited for my first offseason here to put together a program, something they haven't had here in a long time. You can see the pieces that we have coming back and what we have done with the program. I know the record doesn't show it, but it's something a lot bigger and greater." 
Brunswick Baseball Steamrolls Competition En Route to Title
Earlier in the year, it was the Brunswick baseball team that dominated the competition.
With a 3-0 victory over Hamden Hall Country Day School in the Fairchester Athletic Association championship game, the Bruins claimed the school's second conference title and also entered the record books as the first Brunswick School team to capture the FAA regular season and the conference crown.
"That means a lot," head coach Johnny Montanez said. "For a coach, you enjoy it most when you see how much your kids and coaches are enjoying it. This was a family and we talked about it since day one. We want everybody to understand that we are going to be there for each other all all times. This group really took to it and pushed forward."
The Bruins finished the season 18-2 overall and ended the regular season with a 16-2 mark. In the FAA, Brunswick was a perfect 14-0 and outscored its opponents 134-38 during the regular season.
Brunswick's pitching staff was lights out throughout the season, as the team had an ERA of 1.49 during the regular season. Leading the way on the mound was Will O'Brien and Ryan Popp with three wins each, while Mike Marzonie netted two wins.
Greenwich Girls Volleyball Advances to Class LL Title Game
After falling to Darien High School in heartbreaking fashion during the semifinals of the Fairfield County Interscholastic Athletic Conference tournament, the Greenwich High School girls volleyball team was determined to make some noise in the class LL playoffs.
And that they did. After finishing the regular season 13-4, Big Red started play in the state tournament by blasting both Bristol Central and Brien McMahon high schools. They then took care of No. 2 seeded Amity Regional High School 3-1 in the class LL quarters and blitzed third-seeded Southington High School 3-0 in the semis at Trumbull High.
"This feels so good right now," senior Morgan Rafferty said. "After getting out at semis in FCIACs, we wanted this so badly. This is our year. We have been planning this since the beginning of the season. This is so amazing."
Leading the way for Big Red against Southington was Rafferty with her standout all-around game. She finished with six kills, three aces and 11 points on serve. Not to be outdone was Abbie Wolf, who once again dominated in front of the net, finishing with 14 kills and one assist. Senior Samantha Schecter netted eight kills and one dig in the winning effort.
However, in the championship game, the Lady Cardinals saw its season end with a 3-0 loss to Fairfield Ludlowe High School.
"To have your last practice on the last possible day you can practice is a good feeling," Lapham said. "They are a great bunch and really worked hard. The coaching staff is really proud of what the kids brought to practice at every practice and game. Even how they played in the third game when the lights appeared to be out, but the kids kept on fighting hard and didn't give up."
GA Field Hockey Shows Its Usual Dominance
Despite playing on a new turf at Greenwich Academy, the field hockey team had the same results as usual, an Fairchester Athletic Association championship.
After a standout regular season, GA entered the FAA tournament and faced a very tough Convent of the Sacred Heart team in the semis, winning 2-1 as Sofi Viola and Juliann Whitman helped Greenwich Academy advance to the finals at play Rye Country Day School.
In that game, GA dominated a tough opponent, netting 22 shots on goal and coming away with the 5-1 win for the team's 32nd straight FAA title. No one could stop Olivia LeSeuer, as the team leader in goals finished with the hat trick. Kate DeFrino and Viola added the other two goals.
"I think offensively we really did a nice job adjusting to whatever the defense showed us," said GA head coach Jamie Brower, who saw her team finish the season 17-3 overall. "We had a variety of options and people ready to execute those options. Defensively on corners, we were really understanding their roles and jobs and took pride in shutting down other teams and their options. That was fun to watch because the corners are so dangerous at that point of the year because you're facing a lot of really good corner teams."
Big Red's Rugby Team Wins Eighth Straight State Championship
What would a success story be without the Greenwich High School rugby team. Yet again, the team lit up the competition last spring. In addition to faring well at the national championships, taking sixth place in the country, Big Red won the state championship for the eighth time in a row, beating Fairfield Prep 70-10.
Soh Nakayama scored three tries, while Jack Freiheit and Liam Woodland scored two each. Mitch Nethercott, Eric Menchaca, Luke Bienstock, Jack Weigold and Joe DeMuyt added one each. Nakayama also added five conversion kicks.
Freiheit finished with 33 tries for the season and 56 for his career, both school records, and also finished third all time in career total points with 280. Nakayama also finished with season total points record of 277 and is now No. 2 in career total points with 322.
Brunswick Football Kings at Sean Brennan Bowl
The Brunswick Bruins football team finished 2015 with an 8-2 record capped off by a signature 19-15 win at the Sean Brennan Bowl, capturing another NEPSAC Championship.
A defensive stop followed by a clutch 65-yard game-winning drive was just enough to put Brunswick on top in the final minute of the game over Milton Academy.
After missing the previous game with a concussion, sophomore quarterback Nick Henkel led the Bruins on a seven-play game-winning drive capped off by a 24-yard touchdown pass to Harrison Caponiti.
Over nine games, Henkel threw 29 touchdowns with seven interceptions while throwing for 2,263 yards.
Senior Jourdon Delerme-Brown, juniors John Fox and Peter Wise, along with the lone sophomore named to the team in Henkel, were recently named to the 2015 All-Connecticut Football Team by MSGVarsity.
"The entire season, our defense has stepped up when their backs were against the wall," head coach Jarrett Shine said. "We made some mistakes, but we came together when it counted. It's just a good feeling. It's a good feeling for our seniors to go out 2-1 in bowl games in their career. They helped build this program to where it is now because of how hard they fought."