December 22, 2015
Four Brunswick Football Players Named to All-State Team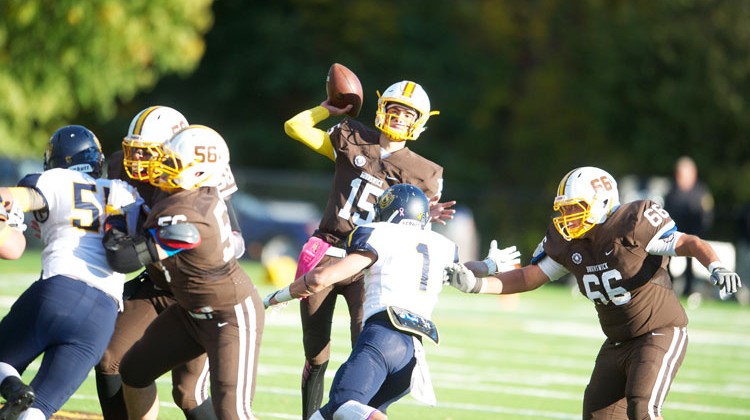 Senior Jourdon Delerme-Brown, juniors John Fox and Peter Wise, along with sophomore Nicky Henkel were recently named to the 2015 All-Connecticut Football Team by MSGVarsity. The four players were instrumental in another NEPSAC Championship Bowl victory this year, as the team finished with an 8-2 record.
Delerme-Brown, an all-league and All-New England pick as a defensive back, made the All-Connecticut squad in 2015. He combined an excellent blend of tackling and coverage skills, along with a knack for punt returns. 
The senior averaged 14.4 yards per return, while making 64 tackles (27 solo) from his safety position. Of his two interceptions in 2015, his grab and return against Trinity-Pawling, late in the game, set up the eventual game-winning score for the Bruins.
Fox, after earning an all-league nod and sharing the Erickson League's Defensive MVP award, adds the All-Connecticut selection to his growing resume. The lone junior on the All-New England team, Fox enjoyed a tremendous season at linebacker for the Bruins. 
The captain finished the 10-game season with 134 tackles (90 solo), 21 tackles for loss, four sacks, three caused fumbles, a fumble recovery, and an interception. Fox had a career-best 24 tackles in the regular-season finale against Cheshire Academy.
Wise earned his first post-season accolade with the MSGVarsity selection. The All-Connecticut junior offensive lineman excelled in his first season as a regular starter. The 6'5" 290-pound lineman was a physical presence for the Bruins, leading the squad in knockdown, or "pancake", blocks. His rare blend of size and athleticism allowed him to start at both guard and tackle positions during the season.
Henkel, the only Erickson League sophomore to earn All-New England honors, is also the lone sophomore of the All-Connecticut roster. Henkel had a fantastic first season directing the offense. Over nine games, the 6'5" signal-caller tossed 29 touchdowns (seven interceptions) and threw for 2,263 yards, completing 166-270 of his passes. 
He set his career-high against Taft, tossing for 357 yards, completing 23-32 passes with five touchdowns. Later in the season against Kent, he nearly matched his career-best with 354 yards, connecting on 21-27 passes with a trio of TD tosses.
Tags:
Brunswick
,
Brunswick football
,
cthsfb
,
FAA
,
greenwich
,
NEPSAC