December 21, 2015
Greenwich Boys Hockey Eyeing the Road to Ingalls Again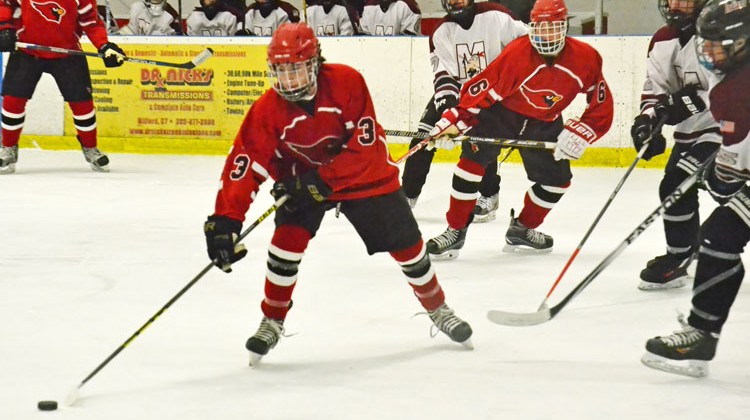 While the Greenwich High School boys ice hockey team couldn't be more thrilled with how last season transpired, there is still something that needs to be rectified.
Last year, Big Red stormed through the regular season, losing only to Xavier High School. The good times lasted throughout the CIAC Division I tournament, beating South Windsor 4-1, Fairfield Prep 5-2 and Glastonbury 4-3 in overtime of the semifinals. However, in the championship game at Yale University's Ingalls Rink, the Cardinals fell to FCIAC rival Darien High School 1-0 to end its season.
"I think last year we were a sleeper and no one really expected much from us because we didn't have the best season before that," senior Kristian Cunningham said. "So we learned a lot from last season. We had a lot of big wins and emotional games. We walked away with our heads held high but we are very determined. We had a disappointing end last year and we want to fix that this year."
With the bitter taste of last season's heartbreaking defeat still fresh in their minds, this year's team is more determined than ever to get back to the Whale and bring home a state championship.
Senior captain Colin Kelly said that the Cardinals have been talking about this upcoming season since the bell sounded for the first time to start the new school year.
"We have this feeling of revenge in our hearts and we feel like we have a team that can accomplish this," Kelly said. "We have a big, talented senior class returning, as well as a lot of grinders and hard working underclassmen. So I think we have all the tools to make another run."
For Greenwich High School head coach Bob Russel, it's obvious that the one thing he doesn't need to do this season is motivate the Cardinals.
"They want to get back," Russel said. "They all talk about getting back to Yale, so there's no doubt about it. Through the first half of the season, you find out the guys who you can trust. We have a lot of people that saw ice time last year back, but we also have some new guys that we don't know yet."
With the loss in the championship game, Big Red lost a slew of talent at the forward position, as Brian Silard, Decker Curran, Montana Larson and Matt Lodato graduated and gave the team close to 90 points last season.
In addition, Mackenzie Larson, Naoya Fukuchi, Tommy Feda and Ian Fulton all contributed offensively. Defensively Phil Glasser, Tommy Rogan, Kevin Piotrkowski and goalie Bryan Archino were also lost to graduation.
Despite the losses, Greenwich is still returning a handful of skaters that were around from last year's CIAC Division I finals appearance.
"That was a great experience for them," Russel said. "I don't think how satisfying it was and how exciting it was to go really deep in the playoffs. Once you do that, you really want badly to get back there and you want to figure out what you need to do to get back there. Certainly we have the right motivation."
Greenwich will be led by senior captains Kelly, Aidien Connerty, Cal McKinney and Cunningham.
"It's a great feeling to lead this team," McKinney said. "This is definitely a group of guys that have worked their tale off for a long time. It's definitely a culmination of a lot of years of hard work and we really want to go far this year. We have a lot of quick guys on offense, good core of experienced defenders that can help us out. We have some good shooters that can really put the puck in the back of the net." 
"To lead this team this year is great," Kelly said. "Last year as the season went along, I took more of a leadership role as our team started to progress. I am glad that I now have a C on my jersey and could take over as a leader."
Russel said that this year's group of captains needs to keep the team focused throughout the season, and that means when the team goes through the good times as well as the possibility of some bad bounces this season.
"We have good leadership," Russel said. "Every good team goes through setbacks and it's easy to be a captain when things go right. But we are counting on these guys when the world comes crashes in. There's going to be a game where we are supposed to win and we lose 1-0 or a game that we had easily and we let up. The question for this team is how they recover from that. I think the captains need to realize that it's a potential outcome and have to be ready for that in advance. I think we have the right character for it."
One of the biggest strengths for Greenwich will be its experience and knowledge of what it takes to make it to a championship game.
"We have more motivation than we did last year," McKinney said. "The ultimate goal is to get back to Ingalls, but we are going to fight and try to get back there. We know what it's like to lose, but we want to know what it's like to win in the last game."
Leading the attack this season will be Cunningham, who at times last season couldn't be stopped.
"It feels amazing to lead this team," Cunningham said. "We had a great team last season and to be one of the leaders on the team and take over a big role is really great. It's all about a bunch of hard work."
Russel said that Big Red expects big things from Cunningham this season.
"[Cunningham] is a really important part of the team," Russel said. "Not only is he very talented, but he has great hockey I.Q. and is the hardest working guy on the team. Nobody works harder, nobody digs in more and nobody plays defense better."
In addition to Cunningham, McKinney and senior Mike Mozian will lead the attack for Big Red.
When it comes to the defense, nobody is better on Big Red than Kelly.
"We are a very competitive team, even in practice, and I think that the younger kids make the upperclassmen better because of that competitiveness. I do think that this will progress throughout the year and we will make a great run."
"He's unbelievable," Russel said. "He's talented and is a big body. He's a great skater, has a strong hockey I.Q. and has great hands. You can't do better than him. He has three guys behind him this year that are all really solid, so that should help his game as well."
In addition to Kelly, Connerty, senior Ben Pratley and senior Ben van Duyne will be the team's mainstays at the defense.
"It's such an honor to lead the team," Connerty said. "We have such a great group of guys here, so I couldn't ask for more. We need to work hard, have to stay grinding and have to get as many ice sheets as we can and play teams whenever we can. We have to stay working."
Replacing Archino will be senior Nick Buzzuto, who has seen his fair share of success during varsity games and will be starting between the pipes for Big Red. In addition, Greenwich will also have fellow senior Dan Gazaille as back up.
The puck drops on the season tonight when Big Red travels up to Middletown's Wesleyan University for a game against the same Xavier team that handed Greenwich its lone regular season loss last year.
"It's a great opportunity to play that one loss that we had last year," Russel said. "They are a really good team, so regardless of the outcome, it propels us to really think of the season the right way. Going up there, getting ready mentally, coming out and really ready to battle will help us learn what it's going to take us to succeed."
And the schedule doesn't get any easier for Big Red this season. Since Iona Prep wasn't going to play Greenwich this season, Big Red added perennial powers Hamden to its schedule. In addition, the Westhill-Stamford team was dropped from the schedule and Greenwich added a second game against Darien High School.
Tags:
Bob Russel
,
CIAC
,
Colin Kelly
,
cthk
,
cthockey
,
Division I
,
FCIAC
,
GHS Hockey
,
greenwich
,
Greenwich Hockey
,
ice hockey
,
Kristian Cunningham