December 18, 2015
Round Hill's Henderson Named PGA Professional of the Year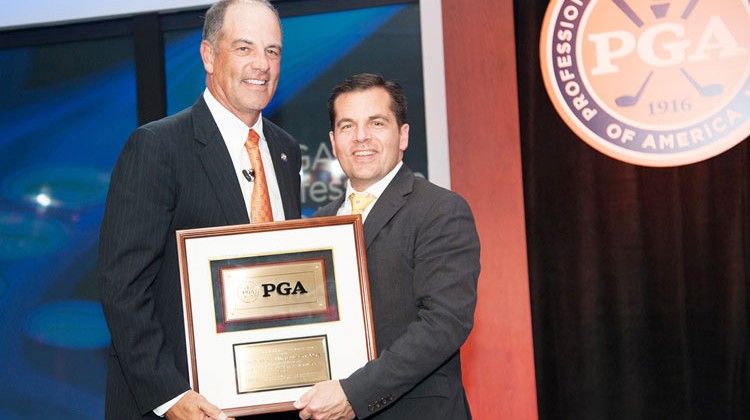 Tom Henderson, 58, of the Round Hill Golf Club, was named the PGA's Golf Professional of the Year—the highest annual award given to a PGA of America professional.
Henderson, the head pro at the club for nearly three decades, recalls answering the notifying phone call with the question: "Who's joking here?"
In conjunction with the 99th annual PGA meeting in Palm Beach Gardens, Fla., held on Nov. 11,  Henderson headed the awards ceremony, during which 11 of his peers were also honored with other awards last month.
"It's a truly great honor to be singled out over 28,000 other professionals," Henderson said.
Previously the president of the Metropolitan PGA Section, Henderson was the first PGA member to obtain a PGA certification in player development in 2012.
Two hours into the ceremony, Henderson was the final recipient to receive his award and says it was an honor to be mentioned in the same breath as other award-winners that night, including PGA Tour coach Cameron McCormick.
Henderson described the experience as "unbelievable" and added that he got to have a chat with the Golf Channel's Dave Marr III when he accepted the award.
Currently, Henderson serves on the PGA's Board of Control, which he calls the "Supreme Court" of PGA America. The Board of Control meets for times annually to hear roughly 170 cases about ethics code standards.
"I just started my second year of my four-year term," Henderson said. "It's an honor to have been appointed."
The PGA pro has earned multiple awards in the Metropolitan PGA Section, including the 2013 Player Development Award, the 2008 and 2009 Ely Callaway Award and the 1997 Horton Smith award for his dedication to professional education.
Henderson splits his time between seeing golf friends, family and mentors and hitting the links in sunny Florida, but he still credits his upbringing in Greenwich to his early and continued success in helping grow the game of golf.
"I'm very fortunate to call Greenwich my home," Henderson said. "I couldn't think about raising a family anywhere else."
When asked about what's next in his nearly 30-year career as a PGA professional, Henderson responded simply, "Well, it's back to reality."
Tags:
ctgolf
,
Golf
,
Golf Professional
,
greenwich
,
PGA
,
PGA of America
,
Round HIll
,
Round Hill Country Club
,
Tom Henderson