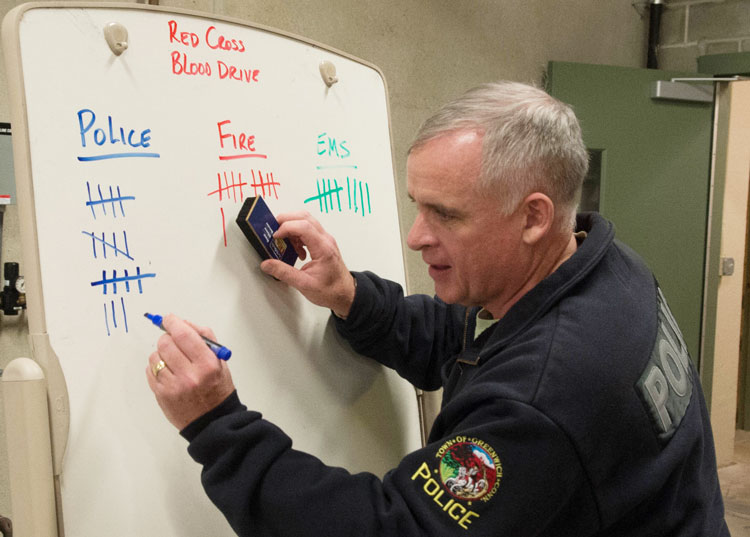 Have you noticed? Our days are getting shorter and our nights are getting longer. It is happening at the exact time when we are frantically trying to get more done during the day. The holidays are here, and there is much to be done. There are parties, gatherings, Rob Mathes' concert next weekend—and that's just on the social side. If you're a merchant in Greenwich, you are at your busiest of the year; others—office workers—are finishing up year-end projects or putting the final touches on next year's budgets. We seem to be at our busiest and most stressed when we should be finding time to enjoy family, friends and co-workers.
Add to the frantic pace of life news of the recent horrific events from San Bernardino, California, and we sense something different in the air. The people we meet in town, the conversations we hear, convey an acute desire for a greater sense of community. We are reminded of the poem Henry Wadsworth Longfellow wrote in 1863 titled "Christmas Bells." 
And in despair I bowed my head;
"There is no peace on earth," I said;
"For hate is strong,
And mocks the song
Of peace on earth, good-will to men!"
One of the terrific things about living in Greenwich is that if you seek a greater sense of community, you don't need to look far.  We come together easily in large and small ways. This past weekend, Old Greenwich was turned into a festive Currier and Ives holiday scene (minus the snow and low temperatures) as residents and shop owners came together to celebrate the First Light Festival. There were horse-drawn carriage rides, musicians, s'mores and more. A portion of the weekend's proceed were donated to Neighbor to Neighbor, Greenwich's nonprofit that serves residents in need by providing food and clothing to those who can't afford them.
Look how our community has rallied to support Kids In Crisis, as reported on our front page. What started as a report on a funding cut has turned into a groundswell of support. We as, a community, should be proud of that effort. When we are at our busiest and most distracted, we have paused, briefly, to make sure they have the resources necessary to fulfill their mission.
There are many examples throughout town of our community coming together: the Interfaith Tree Lighting, Putnam Cottage Candle Light Open House, Holiday Stroll, Toys for Tots drives, the Battle of The Badges blood drive, and the Jingle Bell Jog, to name but a few. Our town, our people, come together to support one another in strength. The strength of our community lies in the diversity of our community. Because we come from all sorts of backgrounds, we bring individual characteristics that collectively are the ties that bind our community together.
As the national media overwhelms us with details of the acts of terrorism in California and its fallout, Longfellow's poem seems a stark indictment: He writes of "no peace on earth" and that "hate is strong." Fortunately, the poem does not end there.
Then pealed the bells more loud and deep:
"God is not dead, nor doth he sleep!
The Wrong shall fail,
the Right prevail,
With peace on earth, good-will to men!"
Our days may be getting shorter, but soon the Winter Solstice will occur and the trend will reverse. By next June there will be almost seven hours of additional sunlight. For now, let's not rush the clock or the calendar. Let us find ways, large and small, to enjoy the holiday season, to celebrate what makes our community so great, and to not focus on the dark.