November 25, 2015
GHS Homeless Club Visits Pacific House Shelter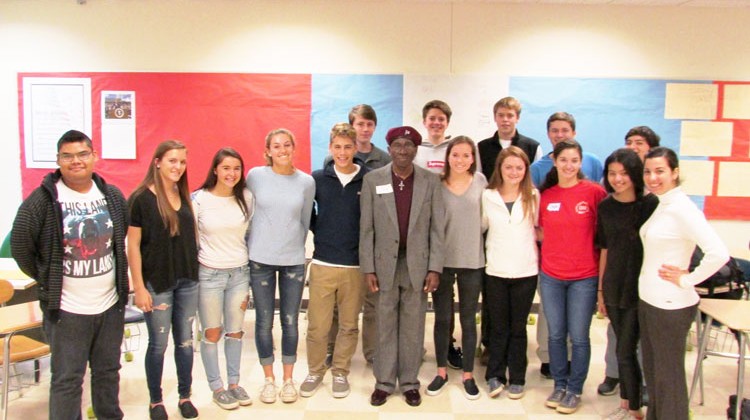 "It's wretched, you disconnect from everything," said a man named Chris who spoke to a group of students at Greenwich High School last Thursday about his experience being homeless. "All ya think about is where you're gonna get your next meal, your next change of clothes, how you're gonna get clean and where you're gonna sleep,"
That was one of many insights shared with a group of transfixed students comprising the school's Help for the Homeless Club. The club was visited by representatives from Pacific House Shelter, which is located in Stamford, to thank them for their efforts, raise awareness and to provide a memorable and inspirational story of a person they've positively impacted.
"Through this experience, these students are learning that they possess the ability to have a profound impact on the world around them," said Andrew Barer, Director of Development at Pacific House.  "By reaching out in service to their broader community, they are deepening their understanding of our interconnected world.  We are enormously grateful for their help."
Chris, an Army Veteran afflicted with Post Traumatic Stress Disorder, told the group that he found it difficult to adjust to civilian life after being honorably discharged. He drifted in and out of employment and area shelters until a Pacific House Outreach Case Manager encouraged him to come into the shelter for triage services – like basic medical care and nutritious meals.  Today, two years later, he has a positive outlook, his health is improved, has a place to live thanks to help provided by Pacific House and has taken computer classes as a first step towards going back to school.
"Listening to Mr. Barer and Chris speak was inspiring," said Vayle Povinelli, Co-President of the club. "Chris's appreciation was heartwarming, hearing about his familial upbringing and unstable life shocked me considering how stable he seemed now. It was also surprising how he initially denied help from The Pacific House, since his description of homeless life was not pleasant. Chris's experience made me realize how our contributions to the Shelter are greatly acknowledged."
The Help For The Homeless club was started three years ago by a group of students wanting to make a difference, under the guidance of Sandi Mond, a former educator and principal at North Street School. Four times a year these students purchase, prepare and serve meals for up to 120 very thankful homeless men.
"The students thoroughly enjoyed Mr. Barer and Chris's presentation regarding the purpose of the Shelter for the Homeless and the organization's long term goals for outreach within the Fairfield County community," said Jessica Keller, a GHS Teacher who advises the group. "Meeting Chris and hearing his first-hand experience about his childhood, upbringing and struggles prior to becoming homeless helped the students understand just how significant their service is and the many ways in which their contributions help so many at Pacific House. It was a real pleasure to have them speak to our students at GHS."
Tags:
GHS
,
greenwich
,
Homeless Club
,
Pacific House Shelter