November 17, 2015
Greenwich Girls Swim/Dive Team Strike Gold at Class LL Finals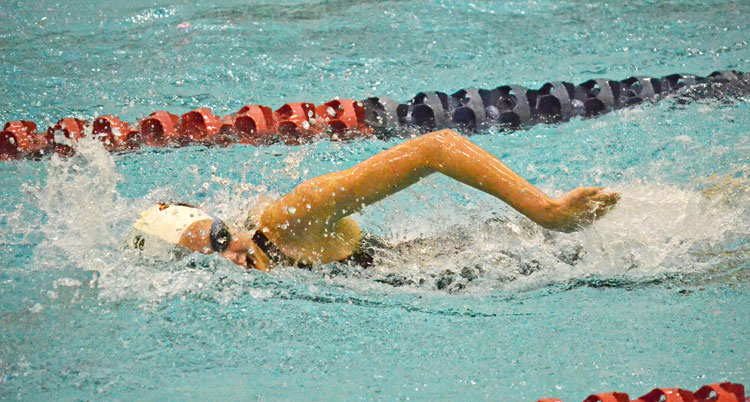 Using the momentum from a stellar swim trials, the Greenwich High School girls swimming and diving team was not only able to take care of business in the Connecticut Interscholastic Athletic Conference class LL finals, but they did it in grand fashion.
During Tuesday night's championship meet at the Southern Connecticut State University pool, Greenwich ended meet in commanding fashion, taking first overall with 897 points.
"This felt great," sophomore Kelly Montesi said. "It was especially great because I got to do this with my team. It's such a great team and I couldn't be happier with how we swam. I think we really proved ourselves today. It was a great day today."
The win gave Big Red's its impressive sixth consecutive class LL championship.
"This is what we work for all season and the kids did a great job today," Greenwich High School head coach Lorraine Hoyakem said. "From the beginning to the end I thought we had great swims throughout. We looked strong and we got more and more excited as last week went on. We knew on Saturday that we were ready for today."
The next closest team was Ridgefield, as they finished silver with 555 points. Staples ended the day with the bronze and 461 points. Glastonbury was the lone non-FCIAC team in the top five, finishing fourth overall with 403.5 points. The combined team from Norwalk/McMahon took home fifth and 385 points.
"We spent a lot of time talking about trials and trials really set you up to win here," Hokayem said. "We got ourselves in good positions and in the right heats. Then you have to go out and race. Today was a lot easier once we got our heats from Saturday. We had a great prelims and did even better today."
Leading the way for Greenwich was Samantha Scott in the 100-yard freestyle. The GHS freshman ended the event by touching the wall first overall, posting a time of 52.48 seconds. Not to be outdone was Big Red sophomore Julia Merrill, who wasn't far behind Scott in second place with a time of 52.90.
"I felt tired and I was excited," Scott said. "It took a few minutes. I think we did really well as a team today. We were working really hard for this. Everybody cheered for each other and had each other's back. That was really important for us. This was a fun meet."
In addition to Scott and Merrill, Greenwich sophomore Louisa Bjerke captured the B-final and ninth overall with a time of 54.25.
In another first place finish, Big Red took home the gold in the 200-yard freestyle relay, as the team of Merrill, Bjerke, sophomore Sophia Jahan and freshman Emily Warner finish with a time of 1:38.30 and just edged out Conard, which took second with a time of 1:38.78.
Although Greenwich was assured of the class LL crown, they ended the day on a perfect note. During the 400-yard freestyle relay, the team of Jahan, Merill, Montesi and Scott were neck-in-neck with Ridgefield. However, a final push by Big Red gave them the top spot, postin a time of 3:30.95. The Tigers touched the wall with a time of 3:31.19.
In the third event of the evening, the 200-yard individual medley, Greenwich sophomore Kelly Montesi ended the day second overall with a time of 2:05.75. Joining her on the podium was senior Brooke Collins, who grabbed bronze and touched the wall with a time of 2:07.46.
Before the 200-yard IM, Greenwich gained serious points in the 200-yard freestyle, as three Lady Cardinals ended the day as top eight finishers.
Leading the way was Jahan, as she took third with a time of 1:54.58. Right on her heels was teammate Warner, as the freshman finished fourth overall with a time of 1:54.77. Rounding out the top five was sophomore Lillian Clisham, as she scored a time of 1:55.65.
"We have a really young team in general," Hoyakem said. "We have a lot of freshmen and sophomores in general and they are excited to swim together. They work hard every day. Brooke Collins, Sarah Bellemy and Riley Ennis are great captains and have shown great leadership. They swam great today as well, but they are definitely leaders in practice and in the meets."
In addition to her second place performance in the 200-yard individual medley, Montesi took silver in the 100-yard butterfly, touching the wall with a time of 56.30. Fellow Cardinal Clisham also competed in the event and placed sixth overall with a time of 1:00.33.
"I thought I performed well today," Montesi said. "I thought my 100-yard butterfly was pretty good because I dropped a lot of time and I felt good."
Greenwich had three more top eight finishers in the 500-yard freestyle event. Once again Jahan was stellar for GHS, grabbing the bronze and a time of 5:11.46. Less than two seconds away was Warner, as she finished fourth with a time of 5:13.68. Ending the day sixth overall was senior Sarah Bellamy, who netted a time of 5:16.08.
A plethora of Cardinals were on the podium during the 200-yard freestyle event, as three finished in the top five. Jahan placed with the bronze and a time of 1:54.58, while Warner was fourth overall (1:54.77). Not to be outdone was Clisham, who took home fifth and a time of 1:55.65.
Once again, three Greenwich swimmers fared well in the 100-yard backstroke. Scott added to her stellar class LL meet with a fourth place finish, posting a time of 58.22.
"Sam is a great athlete and she definitely has a lot of talent," Hoyakem said. "She will do great things for us over the next three years. I knew that she had that kind of swim in her and it was nice to see her finish so well."
Sophomore Taylor Schinto wasn't far behind, grabbing fifth with a time of 59.91. Fellow sophomore Ainsleigh Winget was right behind Schinto, grabbing sixth overall and a time of 1:01.59.
Keeping the good times rolling in the 50-yard freestyle, Big Red took home three more top 10 finishes, as Merrill took third on the day with a time of 24.35. Winget grabbed sixth (24.91) and Schinto took 10th and a time of 24.83.
Competing in the 100-yard breaststroke, Big Red's Collins touched the wall fourth overall with a time of 1:08.73. Riley Ennis, another senior, finished seventh on the day, posting a time of 1:10.17. Freshman Allison Brea grabbed 10th overall (1:10.29), while junior Emma Himes took home 11th (1:10.31).
Greenwich started the day in the 200-yard medley relay, as the foursome of Scott, Collins, Montesi and Winget combined for a second place finish and a time of 1:48.09. They were two seconds away from Ridgefield's time of 1:46.46.
Earlier, the Greenwich High School dive team has strong strong finishes during the diving championship. Pacing the team was sophomore Katherine Russack, who took third overall with 416.45 points. Not to be outdone was teammate Madeline Muldoon, as the freshman finished sixth on the day with 394.60 points.
Fellow freshman Annabelle Pollack took home ninth on the night, ending the event with 382.90. Junior Emily Murphy rounded out the scoring for Big Red by taking home 11th place with 376.00 points.
Up next for Greenwich is the CIAC Open championships. On Thursday the divers will travel to Middletown High School for competition to see who is the best in the state. Two days later, the Greenwich swim team will travel to Yale University for competition in the state open finals starting at noon.
"The finals really set yourself up for Opens, just like prelims," Hoyakem said. "I thought we swam really well and we had a lot of best times today. We will see where people land over the next couple of days, but we feel good about where we are now."
Tags:
CIAC
,
class LL
,
ctdive
,
ctswim
,
FCIAC
,
greenwich
,
Greenwich Swimming and Diving
,
Lorraine Hoyakem
,
Samantha Scott