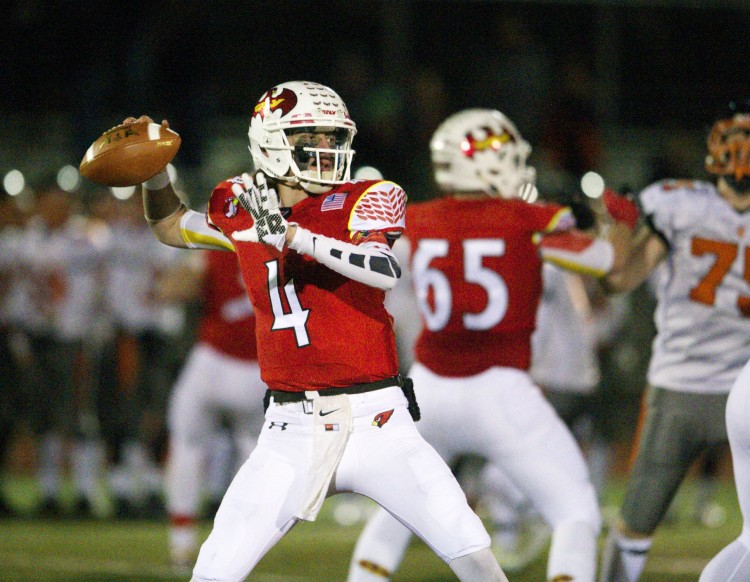 Cardinal Stadium hosted senior night festivities just before kickoff between Ridgefield High and Greenwich High on Saturday, but the Tigers spoiled the final home game of the year for the Cardinals in a 37-7 beat down.
Limiting Greenwich to just 77 yards of total offense, the Tigers came out hungry to once again flip the script on an opposing team's senior night after Ridgefield handed a loss to Staples on their senior night just a few weeks ago.
"We try not to let many outside things like that affect us," said Ridgefield head coach Joe Arcieri. "We try to take each game as just another game. Obviously, we know Greenwich is a very good opponent and they are very well coached with some very tough kids. That's where we try to focus."
"Our defensive line played easily their best game of the year. They are such a hard working group and I'm so proud of them. For us to put up that kind of performance makes me so proud of these guys."
Ridgefield's Drew Fowler completed 14 of 24 passes for 253 yards, three touchdowns and an interception while Petros Papadopoulos led the Tiger's rushing attack for two touchdowns on 12 carries and 48 yards.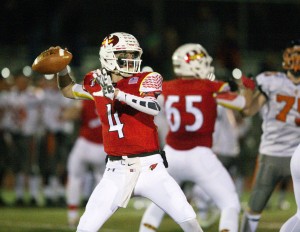 On the Greenwich side of the ball, Connor Langan struggled in his first start of the season after head coach John Marinelli opted not to start either Frankie Alfano or Nic Smoller in Saturday's game.
"It was a team decision," Marinelli said about the choice under center for the Cardinals.
"We thought we were going to be able to run the football on them. Luke has been incredible this year, but we didn't show up in the running game and they did a great job defending it. Credit to them. It was more them than it was us. They tackled and defended the pass really well."
Luke Bienstock finished with 44 yards on 17 carries and led Greenwich with three receptions for 16 yards.
Following the coin toss, Greenwich deferred to the second half and proceeded to squib kick the opening kick off. The play resulted in their favor with the Cardinals recovering the ball and taking over in enemy territory to start the game.
However, even with great starting field position, Greenwich was turned back on 4th and inches from the 10-yard line to turn the ball over to Ridgefield.
The Cardinals would get the ball back after recovering a fumble, but would be without Langan for the drive as he was being checked by the team trainers after the defensive series.
In the wildcat formation on 4th and goal from the goal line, Greenwich's Matthew Circelli took the direct snap, took one step back and powered his way into the end zone for the game's first score.
It would be Greenwich's first and only touchdown of the game.
After trading punts, Ridgefield would go to the air for a 43-yard pass to find an open Collin Lowe who brought it all the way down to the 1-yard line. Papadopoulos would fight for the score on the next play to put the Tigers on the board.
The Cardinals would go 3-and-out after Joseph Lanni's interception off Ridgefield's Fowler in the second quarter. Ridgefield would then turn to CJ Varian on their next drive for two of his seven receptions.
Varian's longest reception of the game came with seven minutes remaining in the half when Fowler found him without a defender within 15 yards of him for a 79-yard touchdown pass down the left sideline.
Varian finished with 140 yards and two touchdowns on the night.
"We knew Greenwich was a good team," Varian said. "We have faith in all of our players. We were preparing throughout the week because Greenwich is a good team with a good coach in Marinelli. We knew we had to study for this game."
The nearly unstoppable receiver duo of Varian and Lowe combined for 247 receiving yards and three touchdowns for the Tigers.
"You can put any defense in front of us, but teams don't have enough players to double team our wide receivers."
Varian's second score of the game came with 3:57 left in the first half as Fowler found him for a 14-yard connection. Big Red would commit consecutive defensive pass interference penalties to all but hand the Tigers 30 free yards to set up the score.
Ridgefield would score twice more in the third quarter via Papadopoulos on the ground and Lowe through the air. A fourth quarter field goal would pad their lead to 37-7 as the Tigers improved to 6-2 on the year.
The Cardinals would only convert three of their 17 third down chances and gave up 16 first downs to the Tigers, compared to Big Red's low tally of seven first downs.
"There was a lot of hype for this game," Varian said. "We were heated, but the players just had the one goal of leaving it all on the field. Forget all that Facebook nonsense."
The 6-foot-3 senior added that extra motivation was put on the game after a back-and-forth online argument between the two student sections prior to the game.
"At the end of the day it's about respect and I respect those players. It's a game of respect."
Greenwich(4-4) will travel to Staples High on Thanksgiving morning to finish out their season with hopes of a plus-.500 record as a result.
"We're not as bad as we played," Marinelli said. "We got to keep building and eventually we'll get there.
"You're going to face adversity in your life and you either have to come back from it or let it defeat you. The message is that we got Staples. It's our rivalry game and it's our time to go out and do something."