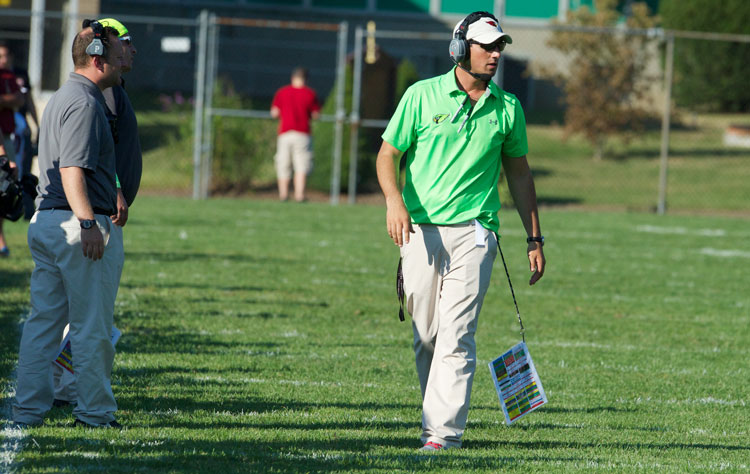 With the week winding down, Greenwich High School is gearing up some excitement at Cardinal Stadium this weekend.
The Greenwich High football team will be showcasing its talent to friends, family and alum during its Homecoming football game.
"Homecoming is definitely a big deal for us," senior captain Scooter Harrington said. "Around school there are posters everywhere, but we are just trying to get better after every practice. New Canaan is a great team and if we don't get better every day, then we don't stand a chance against New Canaan."
Fellow senior captain Ian Bannon also looks forward to this game every year.
"It's awesome," Bannon said. "Being around it last year with the seniors really showed how they love the program and how they would do anything for it. It's good because you get to walk around with your parents, get to be seen by everybody and it's really great."
Even first-year head coach John Marinelli has been impressed with enthusiasm for Homecoming at GHS.
"It's great," Marinelli said. "It's my first Homecoming here. The town, school, students and parents have been so supportive. So this is going to be a lot of fun for everybody. The kids get to come out in front of a big crowd, so it's going to be great for them. It's a chance to show them what we can do and what we've been working on."
For Harrington, his favorite part of Homecoming week is playing in front of the large crowd that gathers at Cardinal Stadium. Whether fans are in the bleachers, on the hill or leaning on the fences, the Cardinal Crazies come out in force.
"The crowds for Homecoming are always amazing," Harrington said. "I am really looking forward to playing New Canaan."
"Greenwich is used to playing in front of large amounts of people," Marinelli said. The town does such a great job supporting the program. It will be fun for them because it's a great atmosphere and a great day for high school football. Any time Greenwich has a Homecoming or a home game, in general, they get a big crowd."
"We don't really take much part in all of that," Marinelli said. "We will be in the locker room doing our thing. But during the week the kids understand the meaning off Homecoming and that they have to win the game. We are really focused, energetic and excited to get out there."
And waiting for Big Red will be New Canaan High School, a team that has basically smoked everybody they played so far this year. They are currently 4-0 and have most recently blasted Danbury 48-7 and a week earlier unloaded on Westhill 55-12. The Rams started the season with a dominating 45-17 win against Ridgefield.
"Everybody just has to do their job," Harrington said. "Some kids today were working really well in practice and a lot of the younger kids are doing really well too. Hopefully, we can put everything together for this weekend."
In the GameTimeCT / Register Top 10 poll, the Rams are ranked second in the state, with only Southington ahead of them.
"We need to run the ball and got commit any turnovers," Bannon said. "On defense we need to get a run on the ball and special teams we need to play strong. We need to win all three aspects of the football game if we are going to come out on top."
For Marinelli, it's all about playing their style of football.
"We haven't really done that yet," Marinelli said. "I am hoping we can come out and play our style of football and let the chips fall where they may. Our special teams are going to be key for us. They do such a great job for us. If we can come out and do our little wrinkle against them and make sure we can execute in the third phase of the game. It's probably the most important phase and we're trying to win the special teams battle."
While the rest of the FCIAC, and most of the state, have made a big deal about the game, mainly because Marinelli will be coaching against his father Lou Marinelli for the first time, the younger Marinelli has remained laser-focused on the task at hand, which is to bring home a victory to the Cardinal fans on Homecoming.
"It's just another game for me," Marinelli said. "Everybody's making such a big deal about it, but I am just focused on my kids, what we are doing here and what we are building here. This is something really special. I'm not really an emotional guy, so you won't see a lot from me. I'm looking to playing against him in front of a big crowd and showing everybody what we've been working on here."