October 13, 2015
Greenwich Volleyball Blanks Mustangs, Qualifies for States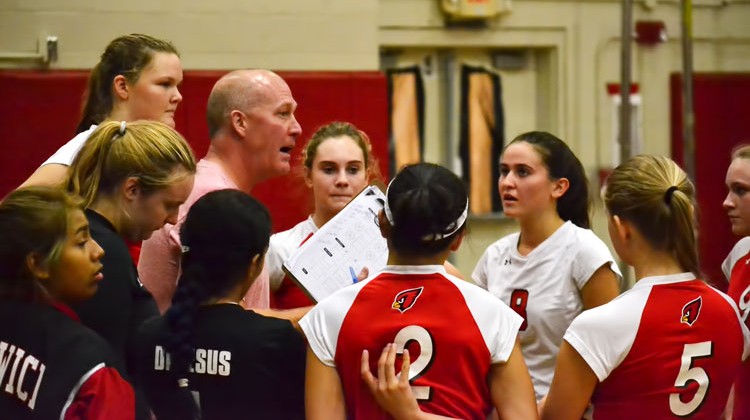 The Greenwich High School girls volleyball team is in a groove right now and that not good news for its competition.
Fairfield Warde High School got to see Big Red firing on all cylinders Tuesday afternoon, as the Cardinals came away with the 3-0 sweep over the Mustangs.
"I thought that we gave their passers a lot of trouble," Greenwich High School head coach Steve Lapham said. "I thought the game was won with the serve. We never really let Warde get going with their top person because we had them scrambling off the pass.
Greenwich dominated the Mustangs with its serving. Caroline Beneville led the way with four aces, however teammates Maggy Egan, Micaela Lew and Morgan Rafferty each added three aces. Nadia Sotgiu finished with two aces and Samantha Schecter added one.
"I thought we all did really well tonight," Beneville said. "I thought it was one of our best games so far, probably since our first game of the season. We were doing a lot of little things right tonight, which made a huge difference."
When it came to kills, no one was better than Abbie Wolf, who finished with a team-high 13. She also added two blocks. Schecter also added six kills, while Sotgiu netted three kills and three digs.
In addition to her three aces, Egan paced Greenwich High with four digs and led everybody with 22 assists. Beneville also added three digs, but also pitched in with three kills and averaged close to two passes in the contest.
Lapham believes that the team's performance against the Mustangs was its best to date, other than the first Fairfield Ludlowe High School match of the season.
"We knew that Warde is a good team and we would have certainly been happy to get out of here just with a win. So to go three and out is great," Lapham said. "Everybody moved well, talked well and we didn't have that many unforced errors. Abbie got going and Maggie did a great job setting the ball, so I am really excited for this game."
Getting a victory against a tough Fairfield Warde High School team was key for Big Red, as they are gearing up for a tough run in the second half of the season. Yesterday, Greenwich battled Stamford High School, but results were unavailable at press time.
"You need this kind of game, especially in the middle of the season," Lapham said. "There's a lot of stress and the girls have a lot of work in school and in everything else, so to come out here, get off to the start that we did and finish strong is great. I'm very happy."
"This game was definitely good for our momentum," Beneville said. "This game will help us in games down the road. It's really cool that we played so well and I'm really excited. We want to finish the season as strong as we started it, so hopefully we will be able to do that."
With the win, Greenwich upped its overall record to 8-1 and also qualified for the upcoming Connecticut Interscholastic Athletic Conference class LL postseason.
"It's always great when you can get into the postseason so early in the regular season," Lapham said. "I'm really happy right now because this team just keeps on getting better. That's all that we ask. When we play well, we are tough to stop. We just have to play consistent, ball-control volleyball and if we serve like we did tonight, we are going to give a lot of teams some problems."
Since the start of the 2015 season, Greenwich has really improved on keying in on its strength and using them to their advantage.
"We go to our strengths a lot more now," Lapham said. "We don't throw it every which way without a purpose. We are playing with a little more purpose now when we have the ball than we did at the beginning of the season. Abbie is such a big strength for us in the middle, but our passing is great. Caroline, Nadia and Micaela are putting up good balls for our setter all the time and that's one of the toughest skills in volleyball. I really need to hand it to those three, along with Abbie."
Tags:
CIAC
,
ctvb
,
ctvolley
,
FCIAC
,
GHS
,
greenwich
,
Greenwich High School
,
greenwich volleyball
,
Steve Lapham