October 12, 2015
A Unique World Traveler Makes a Greenwich Pit Stop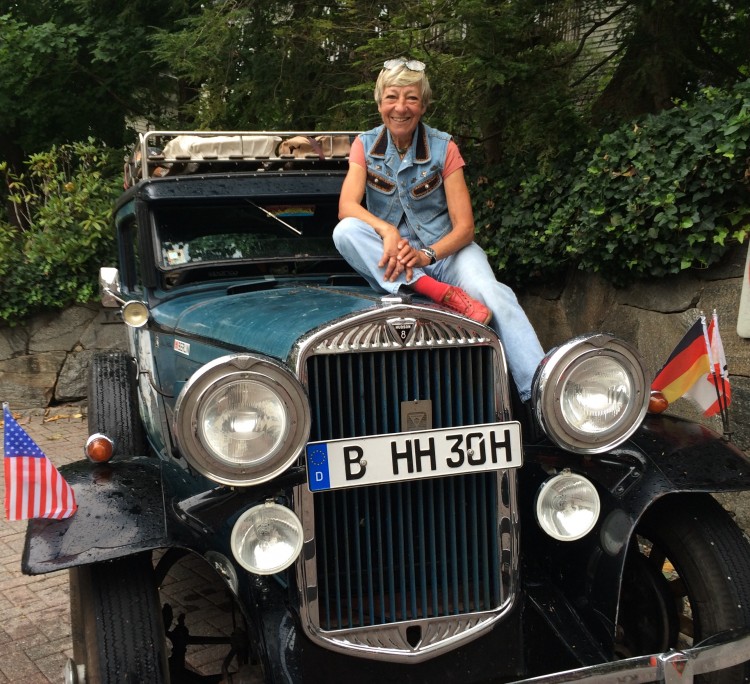 Traveling around the world in a 1930 Hudson, 78-year-old Heidi Hetzer has been on the road for 14 months, with her latest stop being none other than Greenwich, Conn.
The resident of Berlin, Germany, sold her automobile business and set off on her great adventure on Aug. 1, 2014. She has since driven through the Middle East, China, Singapore, New Zealand, Australia and Canada.
Hetzer was motivated to circumnavigate the world via automobile by the first woman to ever do so. Clarenore Stinnes, a 26-year-old German racecar driver, made her round-the-world trip from 1927 to 1929, in the company of a Swedish cinematographer and writer whom she married afterward.
Hetzer, herself a former racer, is taking a route similar to that of Stinnes but traveling solo. She displays Stinnes' face as one of dozens of bumper stickers for encouragement.
"She was the first to go around the world in 1927," Hetzer said, pointing to her decorated car. "But her inspiration was just to go around the world—not to really see anything. For me, I want to see more. I want to see the five continents. Her car looked just like my car, and that's why I bought it."
Hetzer arrived in the United States in June, meeting her classic set of wheels in Los Angeles before traveling to the northwest corner of the country.
From Washington to Maine, Hetzer straddled the Canadian border.
While making repairs to the car herself in Ontario, Canada, just three weeks ago, Hetzer suffered a freak injury that caused her to lose the tip of her finger.
"I was underneath the car and was rag-cleaning the oil off," Hetzer recalled. "The rag got caught while the engine was running and pulled the rag up with my hand."
But that was just a hiccup. After a bit of recovery time, she was on the road again, heading south into Massachusetts and eventually Connecticut.
The Hudson Great Eight 1930 reaches a top speed of 60 miles per hour and is equipped with a 3.2-liter eight-cylinder engine.
"People see the car and they want to show their children. You can see these at a museum, but it's different when you see them on the road. I don't want the car just for show. I want to drive it and have fun with it."
But the trip hasn't been your average vacation. Hetzer endured temperatures as low as minus-21 degrees in China and Russia last November.
She keeps her spirits up on the trip with photos of her family lining her dashboard.
Necessary engine repairs on "Hudo," Hetzer says, have put her two months behind her initial goal of completing the trip in two years.
"People always ask me why I decided to go alone," Hetzer said. "Well, for two years, you cannot really get along with somebody."
During her time in the United States, Hetzer has seen the Grand Canyon, Zion Park, Las Vegas and Seattle. Her stop in Greenwich provides a resting point with friends before setting off for New York City and Hershey, Penn.
After touring New York City, Hetzer will be a featured speaker at the Hershey Fall Meet next week, answering questions about her antique car and her around-the-world trip.
Hetzer will then take a boat from Florida through the Panama Canal and land in Peru.
She wants to complete the trip in June and won't let any obstacles, technical or physical, get in the way.
"I said, 'Well, you have nothing to do but die if you don't go to work,'" Hetzer said. "So I decided to drive around the world.
"People ask me if I'm ever afraid, and I say no, because people have been so nice to me and I've had no problems so far."
Tags:
1930 Hudson
,
greenwich
,
Heidi Hetzer