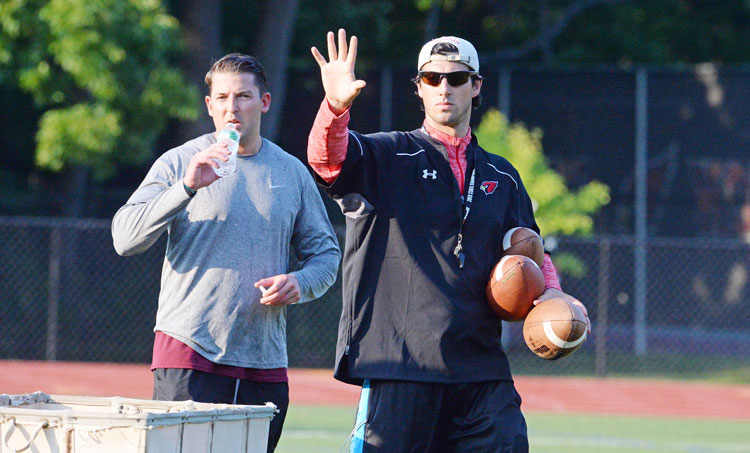 It's finally time.
All the hours dissecting film, all the time speaking about his new gig at Greenwich High School, all the excitement about the future of the football program and all the hype that has surrounded Big Red since well beyond the spring practices are finally finished.
It's time for first-year head coach John Marinelli to take the field with his group of highly talented Cardinals.
"This is fun," Marinelli said. "Being on the field is the best part of my day and I'm sure any coach on my staff will say the same thing. That's where you want to be. Game planning and the chess match itself is challenging and it's when you really dive in with your coaching staff and get to know each other. You watch a lot of film and that's the second-most fun."
Tomorrow at 4, the Greenwich football team travel up I-95 a few exits and start the season against Trinity Catholic High School.
"We have to be able to throw the football," Marinelli said. "They are big up front and run a lot of cover-two and they are a base four front, which is going to open up a lot of passing lanes. We have to be able to run the football. They love to bring the pressure, so it's going to be a lot on our offensive line to make sure that we can stop them. It's going to be a tough challenge for us on defense and offense."
Marinelli said he has his players prepared for the Crusaders and knows that he wants to keep them positive, upbeat and focused. As for himself, Marinelli believes he'll remain calm once the clock starts rolling at 4 p.m.
As an assistant coach at New Canaan High School and learning the art of coaching from his legendary father, Lou Marinelli, John Marinelli certainly got his experience with game situations and how to prepare for certain opponents.
"When the coin toss is over and the ball is kicked off, that's when I'll get my true test as a head coach in live game situations," Marinelli said. "I've been in tight games before. Coming from where I came from, I had a lot of responsibility, especially on game day. So I don't know if it will be much different, if at all. I am just hoping to put our guys in the best situation and adjust to what Trinity is going to do to try and beat us."
It's obvious that this year Marinelli will be relying heavily on senior captains Luke Beinstock, Ian Bannon, Scooter Harrington and Kevin Woodring for their experience, not just on the gridiron, but being involved with other varsity programs at GHS.
Beinstock is a standout rugby player, while Bannon excels on the GHS golf team.
"It's amazing to lead this team," Beinstock said. "It's such a privilege. It's a great responsibility, but the captains are handling it well. We are a lot faster team now and using a lot more technology now. It's a big change from where we used to be, but it's definitely moving the program in the right direction."
Harrington has been a part of state and FCIAC titles with the GHS lacrosse team, and Woodring with basketball and baseball.
"Being a captain is such an honor," Harrington said. "We are focusing on telling the younger guys how to create a new culture here. That's the biggest thing. We are trying to create a different environment where everybody is trying to obtain the same goal of winning. Right now the whole team has bought into the system."
"Their leadership is crucial," Marinelli said. "We have four captains that have all played other sports. There is a multiple sport philosophy that we are trying in instill in our players and there's no better true examples than our four captains. With them being put in situations before in other sports, it does come back to the football field. They can draw from past experiences and know that they've been in certain situations before and fought adversity before."
Senior Nic Smoller and Junior Frank Alfano  are currently in an epic battle for the starting quarterback position. It's such a close call that Marinelli will most like platoon the two quarterbacks to start the season.
"They both had their moments during the preseason," Marinelli said. "There's no clear defined starter at this point. We are trying to see where they fit. It's going to be a nice combination of the two. Nic brings his height and his arm, which is something you can't teach. He goes through his progressions really well and the kids really follow him. He's a tremendous leader. Frank brings that grittiness and he's able to see the field really well. He's also phenomenal outside the pocket."
Last season, Alfano played in seven games and threw for 213 yards on 18 completions.
"Both quarterbacks don't bring the running game from the quarterback position," said Marinelli. "They aren't running backs. Frank is more the West Coast passing style and Nic is the drop back, Joe Montana style."
When it comes to the running game, Big Red has five athletes who could lead the attack at any given time. They are going to have to replace Austin Longi, who finished his career at GHS last season and led the team with 592 rushing yards and 406 receiving yards.
Beinstock will lead the way this season, but junior Kevin Iobbi and seniors Parker Grayson, Elijah King and Marco Pastore will also pick up some key carries.
Last season Beinstock finished third on the team with 464 rushing yards on 74 carries and led the rushing game with five touchdowns. Iobbi found the end zone once last season and grabbed 93 yards on 21 carries.
"It will be by committee," Marinelli said. "We have five kids that can start anywhere in the state and we have them on the same team. For the philosophy that we have of playing a lot of people and to get up and down the field and run people off the field, those backs could carry a huge load."
Greenwich will use the same philosophy with the running game for the receiving core this season, as eight athletes will be looked upon to stack up some big yards. Scooter Harrington will be back from a successful season last year and will be joined by seniors Joey Longo and Joey Lanni, juniors Anthony Ferraro, Matt Morganti, Issac Floyd and Tyler Farris, and sophomore Henry Saleeby.
While recent grad Longi led the receivers last year with 406 yards and six touchdowns, Ferraro was second with 267 yards on 11 receptions and was the only other receiver on the team that crossed into the end zone.
One of the strengths for Big Red will be in its line, led by captains Bannon and Woodring.
"It's great to lead this team," Bannon said. "I learned a lot from when my brother was a captain here. It's a big responsibility, but it's good. It's a blast. Football is the best sport in the world and it's even better when you can play with the guys that are on this team."
"We are trying to work hard right now," Woodring said. "That's our main key. Playing fast is one of our things, but we need to work hard and get better on the field. I can't wait for the season to start. It's a big season for me but I think as a team, this could be a fun season. I'm looking forward to it and I hope we do a great job."
Joining the duo will be seniors Alex Buffone and William Kelly and juniors Chase Piro, Danny Ezquivel and Jake Cohen.
"They are going to be great," Marinelli said. "They worked hard all offseason and put themselves in a great position. The line is going to be the biggest transition. You tell a receiver to catch more passes, he loves it. You tell a running back he's going to get more carries, he loves it. You tell a line that they are going to have to run twice as many plays, it's going to be tough, but they've taken ownership of this and are the driving forces of why we are able to do what we want to do."
On the defensive side of the ball, Harrington and Beinstock will lead the line, while junior Ian Pearson and sophomore Nick McIntosh will join several offensive linemen in adding depth to the defense.
Senior Michael Giansello and juniors Paul Williams, Ben Kraninger, Jon Aziz and Alex Bologna will anchor the linebackers for Big Red. Marinelli said that his linebackers all had outstanding preseasons and he considers them a huge strength for Greenwich.
In the backfield will be the return of Lanni, who logged some clutch interceptions for Big Red last season, finishing with four. Floyd will play the corner, while junior Mike Ceci and senior Kyle Christensen will be at safety. Ferraro and junior Connor Weigold will also be in the backfield helping out.
"Our strength right now is probably in our defense," Marinelli said. "Offensively we are where we want to be, but we can develop a lot further. Defensively in the preseason we have been great. They have really taken ownership. When you run the offense that we do, defense is something that has to be a top priority."
Now that John Marinelli took over the Greenwich High School program he's taking what he learned and is adding his own mark in Cardinal Country.
"I am bringing in the new wave of football," Marinelli said. "It's not just line up and play any more. It's more on the lines of that we need technology, just like they have in classrooms, to make sure that we can adapt to our players and put them in the best situation possible. Now with the use of technology and what we are able to with that, I would say that's my stamp on this program. It needs to be brought into the 21st century in a football aspect."
Despite the drastic changes to the program during the offseason, expectations that surround the Greenwich High School program are all over the place. Whether people have Greenwich fighting for a championship, battling to make the playoffs or hoping to stay above .500, it's safe to say that the majority have the usual high goals for this year's team.
For Marinelli, all the talk of the future stops inside the GHS locker room.
"We want to go 1-0," Marinelli said. "We are going one game at a time. Obviously, if you talk to any kids, they want to win FCIACs and win States. And they should. We have team goals, but our most important goal now is to go 1-0. Every week we need to go 1-0. That's never going to change and we're never going to treat any game like it's above or below another. You go into every single week with the same expectations of 1-0 and this is what you need to do to prepare and put our kids in the best situations."
And the captains couldn't agree more with just winning the week philosophy.
"We are just taking it one game at a time," Bannon said. "We are trying to beat Trinity on Friday."