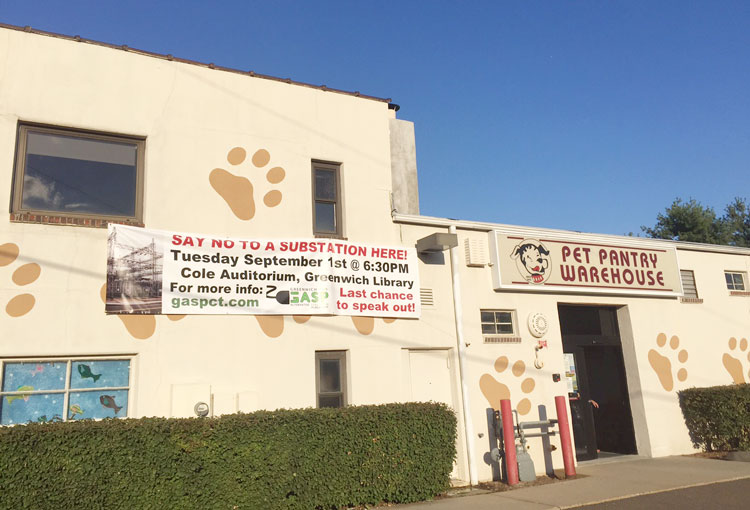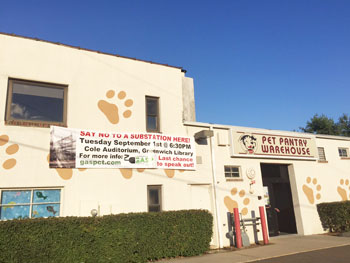 Whether or not Greenwich's energy demands are increasing may be up for debate, but it is still the reason given by Eversource for a new substation.
According Eversource, the power company, that amount of energy may soon be reaching its capacity at the Cos Cob substation, requiring another similar facility to be erected in town. Eversource has proposed building a new substation at 290 Railroad Ave., the current home of Pet Pantry, to the Connecticut Siting Council.
Construction of a substation at Eversource's site of choice would require the laying of 2.3 miles of underground transmission lines connecting the two substations. The project could disrupt businesses, homes, and parts of Bruce Park, and would cost at least $140 million.
A local movement against the substation proposal, called Greenwich for Alternative Substation Placement, or GASP, says there are unresolved questions and risks in the plan, and that Eversource and the CSC should consider another location.
"The issue has to do with Cos Cob overloading," said Dwight Ueda, a town resident and GASP member, as he pointed out data from Eversource's proposal.
Cos Cob's power generation limit of 135 megavolt amps is projected to fall short of the need in 2017. If that happens, Eversource says, certain patches of town might find themselves temporarily without power. But Ueda noted that Eversource's projections in 2014 were off the mark and seemed to be based only on the prior year's numbers.
According to the proposal document, drawn up in June, the town peaked at 130.5 megavolt amps (MVA) in 2013, a number that was projected to rise to 131.8 MVA the following year. But due to an "unusually mild summer" in 2014, actual data say the town peaked at 107.6 MVA—a 17.5 percent decrease from the year before.
"They're basically dismissing that number," Ueda said.
In the final weeks of this summer, GASP and members of the community are coming together for what could be a final push against the site, which would take away one of Greenwich's longtime pet businesses.
Pet Pantry currently subleases the property from Eversource, formerly called Connecticut Light and Power.
Adam Jacobson, executive vice president of Pet Pantry, says the substation is a less a store issue than a town issue.
"We just happen to be on the particular site where all this is happening," Jacobson said. "Obviously, there will be some impact to our business and to a good community supporter within the area, but I do think from a perspective of placement, this is probably the worst place they could put it.
"There's access to highways within one or two minutes, you're exposed on three sides here, and I just don't see it really being a proper place to do that, in addition to all the other things that other members of the community have been talking about in terms of EMF's"—electromagnetic fields—"and other potential hazards to the local area. It's a detrimental area to put something of this magnitude, which will be here for future generations. And to be honest, it can be put anywhere."
Pet Pantry has since bought another property, at 1191 E. Putnam Ave, formerly the Asian-fusion restaurant Baang, for $2.7 million.
Eversource argues that its proposed site is the least problematic and provides optimal connections to existing distribution feeders, which send electricity from the substation out to the town and are located outside both the 100-year and 500-year flood zones.
"The Railroad Avenue location was specifically chosen for the new substation to address the high power demand in that area," Frank Poirot, spokesman for Eversource, said in a statement.
"The new substation and underground transmission lines will improve system reliability and provide a long-term solution to the community's growing energy needs. We've had the lease on the Pet Pantry site for well over 30 years with an eye on future use to meet the growing energy demands of the town of Greenwich."
An alternate site for the substation would be just across the street, at 281 Railroad Ave., adjacent to a multi-business strip and backing onto residential property on Woodland Drive.
Ueda described the area around the proposed sites as the "gateway to Greenwich" and said he would prefer the substation to be built on nearby Old Track Road. But in order for Old Track Road to be considered, Eversource would have to buy the property and extend the length of the current distribution feeders and transmission supply lines by at least a quarter mile.
Ueda argues that the extra cost of extending the length of transmission lines is preventing alternate spots from being discussed. "I think the main reason is that they don't want to have to justify extending the transmission lines," he said. "They also complain that there's no direct access to the street."
Another possible site would be 330 Railroad Avenue, a property once owned by Eversource and still used as a substation. The CSC has all but dismissed this option because of the property lies within the 500-year flood zone associated with Horseneck Brook, an area designated by FEMA as having a moderate risk of flooding, and because of cost issues.
Though Eversource has sold the property for an estimated $8.9 million, it could theoretically still be used for a substation. But the company says the site has constructability uncertainties that could put the project schedule at risk.
First Selectman Peter Tesei, in a letter to the chairman of the Planning and Zoning Commission, said Eversource should "reconsider using the present facility at 330 Railroad Avenue for the new substation" and that the proposed substation at 290 Railroad Ave is "aesthetically appalling and is right on top of a major central Greenwich transportation corridor."
Whichever site is ultimately chosen, the transmission lines will need to connect to the Cos Cob substation. This means portions of Railroad Avenue, Arch Street, Museum Drive, Kinsman Lane and part of Bruce Park will be affected by construction and traffic congestion.
Surrounding businesses fear the construction and risks associated with the substation will harm their day-to-day operations in the near future.
Tony Anthony, owner of Bella Nonna Restaurant and Pizzeria at 280 Railroad Ave., says that the substation will be a nuisance not only when it arrives, but will also affect his business leading up to it.
"I highly oppose it," Anthony said. "Besides the risk factors that come along with it, it's just what leads up to it and what happens afterwards. I'm a small business. We struggle every day. We're not the big name store."
Anthony recalled a time when he lost a night's worth of income because of a water main break on Arch Street, and he doesn't want to experience a long-term loss.
"My biggest fear is losing my business."
In April, the Cos Cob substation caught fire when one if its transformers exploded. Despite having to wait 90 minutes for an Eversource employee to turn off the burning transformer, electrical service was not affected.
An online petition has 738 signatures opposing the proposed Pet Pantry site for the new substation as of Tuesday afternoon.
The public is invited to a hearing scheduled for Sept. 1 at Greenwich Library for comments to be heard from the CSC. Official and expert testimony will begin at 3 p.m., and the public hearing will begin at 6:30 p.m. in the Cole Auditorium.