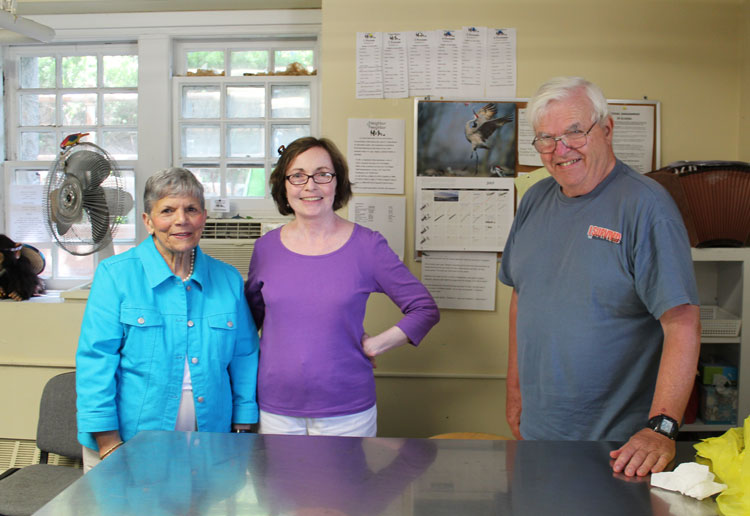 by Carolyn Paletta
Sentinel Correspondent
Neighbor-to-Neighbor is celebrating their 40th Anniversary this year. Looking back on all they have accomplished and people that they have helped generates high hopes for the next 40 years to come.
Neighbor-to-Neighbor is a small, local non-profit with a big impact. Located in the basement of Christ Church in Greenwich, the organization distributes donated food and clothing to low income residents of the Greenwich, Port Chester and Stamford areas.
It all started in 1975, when a group of people in Greenwich started collecting their old clothes and those of their neighbors and redistributing them around the community. For the first few years, Neighbor-to-Neighbor only consisted of one small clothing program, but then in 1984 the Department of Social Services asked the organization to take over their food distribution program. They began to stock and distribute food out of the Christ Church basement, and have served thousands upon thousands of families throughout the area.
What makes Neighbor-to-Neighbor truly unique is the "Client Choice" style food pantry that they introduced in 2005. In this structure, clients get a cart and browse through food options as if in a regular grocery store.
Executive Director Nancy Coughlin highlights the importance of this setup.
"Clients can shop for the foods they like and want," says Coughlin. "Having this grocery store setting not only allows people to accommodate their religious and dietary restrictions, it's also widely recognized as the most dignified way to distribute food. When people come to us they don't feel like they're getting a handout, they feel like they're going shopping".
Using a point system, clients are given a shopping list that lays out the correct amount of items that they are allotted for each category of food so that they come away with a correct distribution of protein, vegetables, starches etc. to make healthy meals with. They even had a nutritionist come in and design the food pantry. Neighbor is the only food pantry in the area that distributes their food this way.
Another unique feature is that the pantry is run on a weekly program, versus the monthly program that is typical of most pantries. Clients receive a weekly supplement equivalent to three days worth of food for each member of the family.
"Most food pantries are monthly, and ours is weekly. There are a number of benefits to that," said Coughlin. "One is that some clients take the bus, so to have a monthly grocery shop is difficult for transportation. The main benefit is that we offer a substantial amount of fresh produce, so clients can come receive fresh produce every week which is something they would not benefit from if it was an emergency pantry or a monthly program."  Under an agreement with the Department of Social Services, the Transportation Association of Greenwich, "TAG" , another local non-profit, delivers food packages to approximately 40 homebound seniors each week. TAG also runs a shuttle each Friday to and from the pantry with stops and Agnes Morley and Quarry Knolls.
The weekly supplemental program is only available to residents of Greenwich, but Neighbor also offers a one-time emergency food program for residents of Stamford and Port Chester. They fill the immediate need for food, and then refer the client to a pantry that services their own area.
In order to qualify for the food and clothing programs, clients must have an income below 200% of the federal poverty guideline. 5-6% of the Greenwich population lives below the federal poverty line, but Neighbor's clientele are generally a population that makes more than poverty, but not enough to get by without some assistance. The United Way of Greenwich has categorized this group with the acronym ALICE, standing for "asset limited income constraint employed" and estimates that 17% of the Greenwich population falls under this broader category.
50% of the people served are children. Neighbor recognizes that during the summer these children no longer receive the free or discounted lunches provided by their schools during the academic year, so they have created a summer supplement for Greenwich students that provides additional lunch food to families with school aged children.
"When they're home in the summer they don't have free lunch, which then puts an extra burden on their parents who can't afford the additional food that they need while they're home," says Nancy Coughlin. "We recognize that there is a gap during the summer that many families face, and do our part to fill it."
Being a small and very local organization, Neighbor relies heavily on volunteer workers and community donations. Regular weekly volunteers assist clients as they shop, sort donations, stock shelves and participate in food drive pickups. Saturday shifts are reserved for corporate and community group volunteers, and students have an online signup that allows them to coordinate service hours with their shifting daily schedules.
Donations are also crucial for supporting Neighbor. "We encourage everyone to hold food and clothing drives in their neighborhoods," says Coughlin.
All items in the clothing room are donated by the community. Neighbor accepts new or gently used clothes, linens, toys, diapers and small household items at their donation center in the basement of Christ Church.
Food donations are accepted as long as they are unopened and unexpired. About half of the food distributed is donated by the community, and the other half is purchased by Neighbor using donated money. The organization has established good relations with local groceries and can purchase food for the pantry at a discount, allowing them to buy three times the amount of food for the price that regular customers pay.   
With a successful forty years behind them, Neighbor-to-Neighbor is planning for the next forty years to come. "Our story in the future is going to be when we are able to build our own building, move out of the basement where we are and be fully ADA compliant and handicap accessible, which we are not now."
With Nancy Coughlin at the helm, a dedicated group of staff members and over 250 volunteers, Neighbor-to-Neighbor will continue serving residents in need throughout the Greenwich area for years to come.
HOW YOU CAN HELP:
1. Donate money. Thanks to relations with local grocers, Neighbor-to-Neighbor can purchase three times the amount of food when they are doing the buying. The organization accepts checks, credit cards, stock transfers, wire transfers and even legacy gifts that can be named and recognized in memoriam.
2. Hold a food or clothing drive. 100% of Neighbor clothing, linens and household items are donated by the community, so gather your neighbors and put the items you don't use towards a good cause. Neighbor can also send a pickup service for large, organized food drives.
3. Volunteer. Visit ntngreenwich.org or contact Duncan Lawson at dlawson@ntngreenwich.org.