July 17, 2015
Greenwich Senior Cannons to Start Playoffs Saturday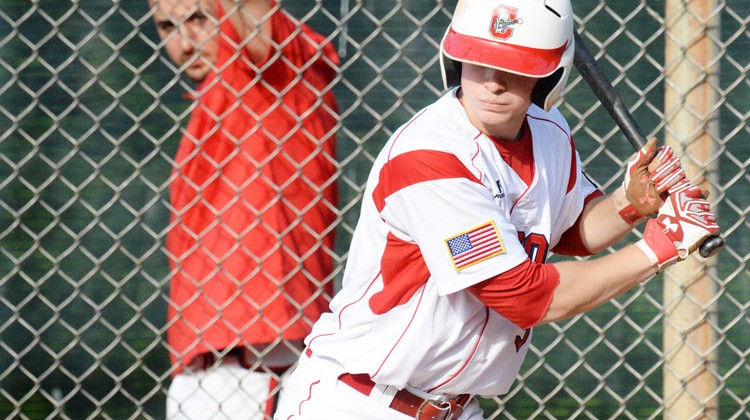 The Greenwich senior legion baseball team is getting into a groove, and that's not a good thing for the Cannons' opposition during their playoff run.
"It's an exciting time of the year, that's for sure," said Greenwich head coach Mike Abate. "Playing 27 games in 34 days makes it a long season, but the fun time is here and hopefully we put ourselves in contention to compete for a state championship. I'm hoping we come out ready to play over the weekend."
On Tuesday, the Cannons hosted Trumbull in the regular season finale and won their fourth game in a row, 2-1, at Havemeyer Field.
"Today was huge," said Greenwich outfielder Billy O'Malley. "We went through a lot of adversity this year, and this team keeps on battling. To be able to come out here today and play for the second seed in the Zone is huge. It certainly helps our standing in States. We came out today and put up a run in the first inning and that was huge. We played a lot of small ball and defense and pitching was strong again for us."
With the victory, Greenwich improved to 19-8 on the regular season.
"Today's win was extremely important," O'Malley said. "Trumbull was also the team that knocked us out of States last year and we have had a big rivalry with them for the past couple of years now. We know Trumbull is a great team, so this gives us a lot of confidence going into States."
The victory closed the book on another successful regular season, but also jumped Greenwich past Trumbull in the standings to finish second overall in Zone IV. The playoffs start Sunday for Greenwich.
"The number two seed was very important for us," Genaro said. "It gives us a bye and we also get to play our only play-in game at our home field. We get to save our pitching as much as possible. That's all huge. It was a good game today and a huge win for us to beat Trumbull."
A few short days ago, it appeared that the Cannons would finish the regular season third in Zone IV.
But Greenwich went on a tear this past weekend in what felt like a must-win atmosphere, going went 3-0 and beating Fairfield 6-1 and 4-2 on Saturday and again on Sunday, 9-4.
"It's very important at the state level to manufacture runs," Abate said. "You're going to be facing some great pitching and really good teams. The opportunity to score runs is going to be limited. When you do have an opportunity to have runners in scoring position, you have to find a way to get that key hit or get a runner over with a productive out. We know this, and that is the kind of team that we are. We know our runs are limited, but we just have to find a way to produce when needed."
On the other side of the coin, the Trumbull legion team was stuck in a three-game losing streak, falling to Stamford, the Zone 4 champions, all three games over the weekend.
The state tournament format has changed since last season. Last year it was more important to get the second seed because of the one-day rest. This season, the No. 2 seeded team played the fifth-seeded team, while the No. 3 seeded team plays the No. 4 team.
"We are still going to have to play two games to get to the best-of-three series with a zone champion, but it's still crucial to take second in the zone, because you play a team with a smaller winning percentage in the first round," Abate said. "And we will get home field for Saturday and Sunday, so that doesn't hurt, either."
Like it's been throughout the regular season, Greenwich will heavily rely on its starting pitching to lead the way.
In addition to Genaro, Hintzen has been dominant on the mound. Throw into the mix Frantz, Connor Langan and John Adimari, and Greenwich has some great depth.
"I expect everything to keep on rolling," Genaro said. "We got the defense, the pitching, and the bats are coming alive at the right time."
When it comes to relievers, Loparco has been able to come in and get outs in key situations. In addition, the team's overall defense has been a massive plus.
"Our defense and pitching is great," Abate said. "We play really well in the outfield and have a lot of speed there. Alex [Loparco] at second has been lights out. I don't like throwing him on the mound because of how important he is at second base. He saves a lot of runs with his ability in the infield, but we will go to him if needed."
Although the team is young, Abate still has high hopes for the Cannon during this year's state tournament.
"I think we need to play it game by game and get caught up in the moment," Abate said. "We need to take it pitch by pitch and inning by inning. If we can compete and have fun and learn from this experience, it will be a good tournament."
"I expect us to compete and hopefully make some noise," O'Malley said. "Coming into the season, no one thought too much of us because we are a young team. But we have a ton of character and heart on this team, and we battle until the end. In States, I expect us to go out there and have fun. That's what we've been doing the past couple of games and it's worked. I know we are going to give 100 percent and make some noise."
Against Trumbull on Tuesday, Greenwich got the ball rolling in the first inning. Alex Loparco led off with a single. With one out, Kevin Woodring moved Loparco over to third on a single. Up stepped Mike Genaro, who launched a sacrifice fly that easily plated Loparco for the 1-0 lead.
The Cannons fired off another run in the bottom of the third inning. Billy O'Malley started the inning by belting a double. After Woodring drew a walk, Genaro laid down a sacrifice bunt that moved both runners over a base. Colin Kelly came up next and hit the sacrifice fly that plated O'Malley and gave Greenwich its last run of the game.
Hunter Frantz smacked a single that moved Woodring over to third, but he was unable to reach the plate as Trumbull retired the side to end the threat.
Greenwich threatened to score again in the fifth inning. With two outs, Hunter Frantz connected on a single and moved to third when JT Hintzen belted a booming double. Yet again, Trumbull was able to end the threat and kept the score a one-run deficit.
On the mound, Genaro was stellar, just like he's been throughout the senior legion season, and held Trumbull to one run and pitched a complete game.
"I felt good out there," Genaro said. "I knew that with this field, if I could get a lot of ground balls it would help a lot. The grass here is usually very thick. I figured to keep the ball down and let my fielders do their work. And they did."
"You can't say enough about the way Mike pitches," O'Malley said. "To come out today, not give up an earned run and help give us the win was unbelievable."
Tags:
ctalbb
,
ctbase
,
greenwich
,
Greenwich American Legion
,
Greenwich Cannons
,
Mike Abate