June 17, 2015
Greenwich Cal 12's Stay Alive in District I Tourney, Beat Norwalk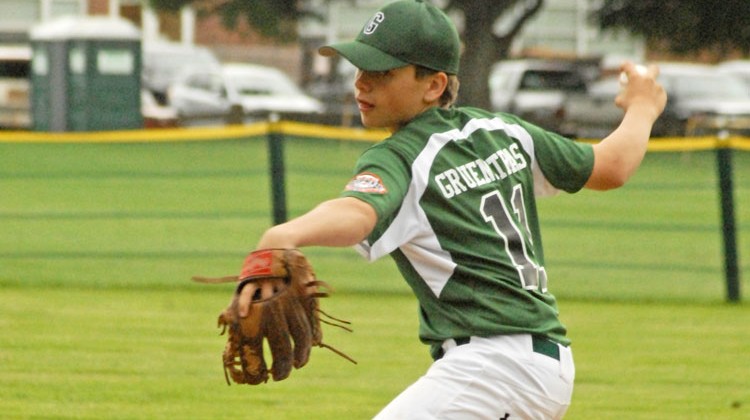 The Greenwich Cal Ripken 12-year-old all-stars took care of business in dramatic fashion Wednesday afternoon to keep its season firing on all cylinders.
Hunter Gruenstrass didn't have his best stuff on the mound for Greenwich, as the starting pitcher gave up four earned runs and seven hits. While he couldn't change the past, Gruenstrass did an outstanding job writing the future, as he calmly stepped up to the plate and belted a walk-off, three-run homer in the bottom of the eighth inning to upend Norwalk and advance Greenwich to the championship round in District I.
Greenwich, the home team against Norwalk on Wednesday, surrendered two runs in the top of the first. The deficit could have been greater, however Gruenstrass flashed some leather and started a 1-6-3 double play with the bases loaded to end the inning.
Although Norwalk took the early lead, it didn't last long, as Greenwich scored five times in the bottom of the first. Leadoff hitter Auggie Bancroft has two singles and Christopher Genaro netted one in the inning. Greenwich was helped by a few defensive lapses by Norwalk.
Norwalk chipped away and finally tied the game at 5-5 in the fourth. No other runs were scored until the eighth.
In that fortunate eighth inning, Jake Mondschein launched a double and A.J. Barber connected on a single. Then it was all Gruenstrass, as he unloaded a homer to left field to end the game.
Winning pitcher Barber was brilliant in relief for Greenwich, as he faced only 10 batters in three innings and gave up just a single walk and no hits.
In addition to Gruenstrass' performance, Genaro and Bancroft each finished 2-for-4 on the day. Bancroft had a single, a run scored and one stolen base, while Genaro added two singles, a run scored and a run batted in.
With the victory, Greenwich will be back in action Thursday at 5:30 at New Canaan's Saxe Middle School and battle host team New Canaan.
Tags:
District I tournament
,
greenwich
,
Greenwich baseball
,
Greenwich Cal Ripken
,
Little League